.
Magic Moments > 2014 > Kyle and Georgia's Wedding Episode 6986

Written by Sarah Mayberry, Directed by Scott Major, Produced by Jason Herbison
Channel Eleven: 06/10/14, Five: 20/10/14
Matt reminiscing about the vow renewal then telling Lauren he's not ready to forgive her yet... Chris is not fit enough to attend Kyle and Georgia's wedding... Kyle and Georgia looking forward to their big day... Georgia planning on heading to Frankston to get Honga to change his mind about attending the wedding...
Sheila and Sonya arrive at the bridal suite to get Georgia ready for her big day and discover that she isn't there and that her bed hasn't been slept in either! They try calling Georgia's mobile but it goes straight to voicemail. Sheila wonders where Georgia could be.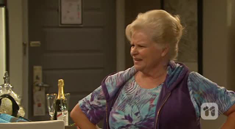 ..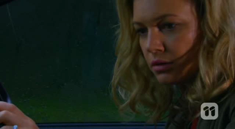 Georgia is stuck in a car park in Frankston with a flat car battery.
At number 26, Toadie and Mark are getting Kyle relaxed for the ceremony by playing indoor golf, even though Kyle thinks he should be getting ready, Toadie tells him that he's got heaps of time. "What do you have to do? Shower, shave, suit on – fifteen minutes tops!" Mark says to Kyle and Toadie agrees, commenting that he has got to be relaxed for the ceremony. They resume their putting.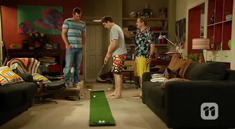 ..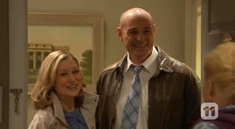 Back at the bridal suite, Sheila and Sonya are ringing around Georgia's friends and it appears that nobody has heard from her since last night. Neither Sheila nor Sonya can believe that Georgia's got cold feet, then there is a knock on the door - Sheila hopes that it's Georgia but instead it's her parents – Patto and Rhonda. Sheila introduces herself to them and shows them into the room, where Sonya then introduces herself, allowing Sheila some extra thinking time, as Patto had already enquired about his daughter's whereabouts. Sheila eventually tells Patto and Rhonda that Georgia's stepped out to do a last-minute thing. Sonya goes along with Sheila's story, adding that she will be back in a second. Just then Sheila's phone starts to ring and Sheila is relieved that it is Georgia. Sheila asks Georgia where she is - "Frankston?!" she shouts out in reply!
Over at number 26, the guys are still playing golf, when there is a knock at the door. It's Kyle's mum, Sharon, who enters and isn't amused that Kyle isn't showered and dressed. Sharon proceeds to flirtatiously introduce herself to Mark and Toadie. Kyle asks where Dwayne, his mother's new boyfriend, is, and Sharon explains that Dwayne isn't coming as he needs some 'space'.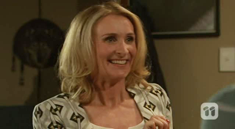 ..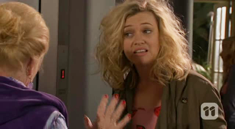 At Lassiter's reception, Sheila is more than relieved to see Georgia back. Sheila asks Georgia where she has been and Georgia explains that she went to Frankston to try and persuade Honga to come to the wedding, they ended up going to a club and she decided to have a nap in the back of her car as she would be over the alcohol limit, but her phone was flat and the alarm didn't go off, then her car battery was flat, so she had to hitch a ride. Sheila is mortified that Georgia hitched a ride from Frankston, but Georgia protests that she panicked and didn't know what else to do. Both Sheila and Georgia head towards the lift to get ready but are caught by Georgia's parents. After a quick reunion hug, Sheila drags Georgia and Rhonda into the lift to get Georgia ready.
Inside the bridal suite, Georgia cries "I look like Chewbacca, I'm not going to make it," after seeing her reflection in the mirror! Rhonda tries to reassure Georgia that it can be fixed, but Georgia starts to panic, Sheila is more than confident they can do this but only if they focus. Sheila orders Georgia to get into the shower but that is delayed when Amber arrives wanting to get pre-wedding photos and delivering a note from Kyle. "Don't even think about it," Georgia yells when Amber goes to take a photo but she does manage to get a quick one despite Georgia's warning: "Don't make me hurt you Amber!"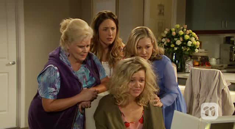 ..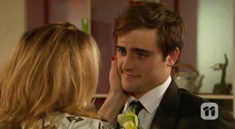 At number 26, Kyle is talking to Toadie, commenting that it's weird doing this without Chris. Toadie tells Kyle that Chris would have hated it if he had postponed the wedding, whilst Sharon, who has been taking photos, is just so happy 'her little boy is getting married'. Kyle reminds his mum that he's been bigger than her since the 6th grade, but she says that he'll always be 'her little Kylie'. Toadie and Mark both say "Aww Kylie", and Kyle asks his mum to leave the embarrassing stuff until later, when there are no witnesses! Suddenly Sharon's phone rings - it's Dwayne! Sharon goes into the kitchen to answer it. Kyle is now all suited and booted, and Mark asks him if he's ready to face the music. Kyle says "Yeah, bring it on!"
Sonya's Nursery is the venue for the wedding where a marquee has been erected and the nursery has been decorated for the occasion. Kyle checks that Mark has the rings - Mark insists that he does and tells Kyle "the only thing you've got to concentrate on is saying 'I do' at the right time!" Kyle nods, certain that he can do that. Mark tells Kyle that Kate would have loved to have been here. Toadie hands out the order of service to those filing in for the wedding. Kyle notices the surprise guest – Chris, pushed in a wheelchair by Nate. Kyle is over the moon that he's there, and Chris says "Didn't think I'd miss this, did you?!" Karl pops up and tells Kyle that Chris got a one day pass as long as he has a carer with him at all times. Mark relinquishes his best man role to Chris as Susan comes over to say the bride is on her way. Chris says to Kyle "Here we go!" and with the aid of Kyle and Nate, Chris is helped to walk down the aisle into position.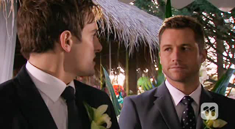 ..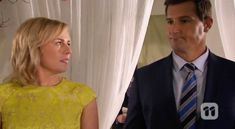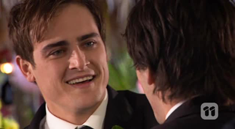 ..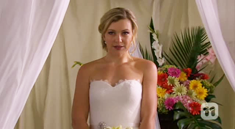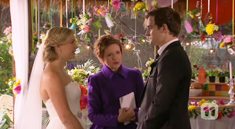 ..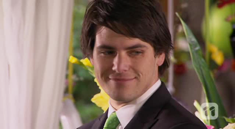 Georgia walks alone down the aisle and beams in delight when she spots Chris standing next to Kyle. Georgia hands her bouquet to her mum as Sheila tries to get Sharon to stop taking photos and sit down. Susan begins by welcoming everyone to the wedding of Georgia and Kyle - "There are many ways in which we find love. Love isn't selective, love doesn't discriminate, so before I start the official part of the service, Georgia and Kyle have asked me to emphasise that we recognise and embrace all loving relationships". Kyle starts "I call upon those present to witness that I, Kyle Canning, take you, Georgia Brooks, to be my lawful wedded wife. Georgia, I love you. Today I give myself to be your husband and I take you to be my wife. Whatever life may bring I will love you and care for you always". Georgia continues "Kyle, I love you and today I give myself to be your wife and I take you to be my husband. Whatever life may bring I will love you and care for you always".
Susan asks for the rings and Bossy heads down the aisle with them. Kyle hands them over to Susan after taking them out of the pouch Bossy had tied to her collar. Susan then asks Kyle to place the ring on Georgia's finger and repeat the following "with this ring I thee wed," which Kyle eventually does after initially going to put the ring on the wrong hand! Georgia repeats the same statement to him as she too places his ring on the correct finger. Susan concludes "Then it is with great pleasure that I declare you husband and wife! You may kiss!"
They do just that to the applause of those gathered before them. Everyone then start to congratulate the couple. In the background, Sharon and Sheila are having a slight disagreement, bickering about Sheila's problems with Naomi, and Sharon's terrible luck with men. As Lauren and Matt are waiting to congratulate Georgia and Kyle, Lauren mentions to Matt that he has something on his suit jacket and goes to remove it but Matt stops her. Lauren, realising that the tense atmosphere is still present, then announces that she's leaving and tells Matt to stay and have a good time.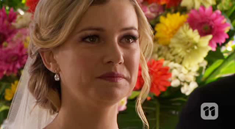 ..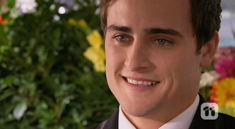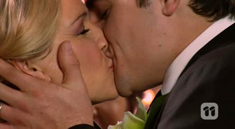 ..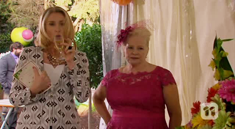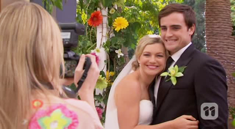 ..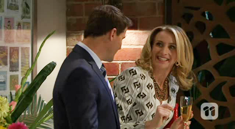 At the Lassiters Complex, the newlyweds plead for a break from having their photo taken by Amber, and comment to each other that the wedding has been disaster free despite the bad omens before the ceremony! Break over, Amber restarts taking photos of the couple.
All the wedding guests have retreated to The Waterhole for the wedding party. Matt catches Sharon re-arranging the place settings and asks if she's not happy with the sitting arrangements, Sharon tells him that she doesn't want to sit next to Sheila. Sharon proceeds to introduce herself to Matt and the pair seem to be getting along well. Sharon doesn't hold back by immediately asking Matt if he is married - he confirms that he is. Amber gives Toadie the heads up that the newlyweds are coming and he quickly jumps up on stage to announce their arrival as they walk through the doors.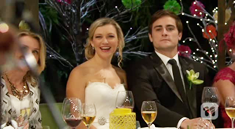 ..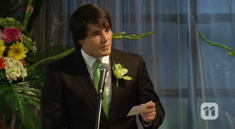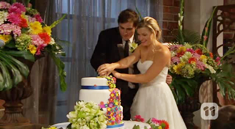 ..
With everyone now seated, Toadie invites Chris up onto the stage to deliver his speech and with the aid of Nate, he makes his way there. Chris begins by saying that he's honoured to be there and thanks Kyle and Georgia for standing by him because they are the best friends and that's why they will have a great marriage. Chris then drops his written speech and as Nate rushes forward to retrieve it for him; Chris tells him that it isn't necessary as he knows what he's going to say. "Wishing you guys love and..." Chris struggles with his words but pulls through... "Laughter, love and laughter every day because you deserve it. I love you both. To Kyle and Georgia!" "To Kyle and Georgia!" everyone says as they raise their glasses!
Later on, Kyle and Georgia are now on stage and they thank everyone for coming, saying that it means so much to them and that absent friends are missed but never forgotten either. Kyle proceeds to raise a toast to absent friends, as Mark looks solemn.
A little later, the couple then cut the cake to cheers and applause from the guests and more photos being taken by Amber before the dancing begins. Matt decides that since Lauren isn't there, he'll invite Sharon up for a dance when he spots her sitting alone.
Later, Toadie announces that it's time to throw the bouquet and it's Imogen who fights off the others to grab it. Imogen apologies to Amber, but Amber comments that she's happy that her friend caught it. Daniel comes across and jokingly tells Amber that she was too nice, she should have got the claws out. Daniel and Amber kiss, as a sad Imogen looks on.
Georgia and Kyle depart the Waterhole after walking through a human archway.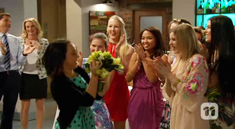 ..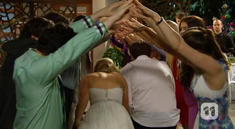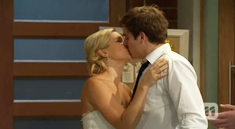 ..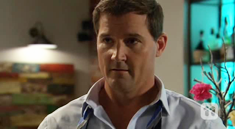 Later, Sharon is drowning her sorrows at the bar with Matt, who tells her that Dwayne doesn't realise how lucky he is. Matt unloads on her that it's dawned on him that Lauren doesn't love him as much as he loves her. Both then decide to call it a night before they get kicked out. Sharon says to Matt "You know, Matt, it's just occurred to me that you and I are in the same boat. Maybe that's not a bad thing". Matt doesn't understand what Sharon means, so she continues "Well I'm sick of Dwayne treating me like dirt and you're sick of being taken for granted. Maybe we should do something about it, even the score a little!" Sharon then puts her room keycard in his pocket and tells him that she's in room 516. Sharon concludes that she goes home tomorrow and he'll never have to see her again. She then departs and Matt goes into his pocket and pulls out the keycard, wondering what to do.
Featured Regular Characters: Karl Kennedy, Susan Kennedy, Kyle Canning, Georgia Brooks, Sheila Canning, Matt Turner, Lauren Turner, Amber Turner, Bailey Turner, Daniel Robinson, Imogen Willis, Mark Brennan, Chris Pappas, Nate Kinski, Toadfish Rebecchi, Sonya Rebecchi
Guest Cast: Natasha Herbert as Sharon Canning, Kim Denman as Rhonda Brooks, Aston Elliot as Patto Brooks
Trivia Notes
• Past characters Kate Ramsay and Angie Rebecchi are mentioned
• Georgia walks down the aisle to All You Need by The Jezabels

Summary by Kyle