.
News Headlines Edited by Aaron, Jamie and Karl

The BBCi Neighbours site reports that when Kym Valentine leaves the show temporarily on maternity leave, we'll also be saying goodbye to Noah Sutherland (Ben Kirk) on a more permanent basis. When the character returns with his mother next year, he will have been recast.
The BBC's message board is also circulating a rumour that Wendy Stapleton, who was the female voice of the Neighbours theme from 1999-2001, is to join the cast as Trixie Tucker, mother of songbird Nina.
| | |
| --- | --- |
| Success for Delta | June 25 2003 |

Congratulations to Delta Goodrem (Nina Tucker) for reaching #4 in the Official UK Top 40 chart on Radio 1 with her second single, Lost Without You. Delta entered the charts in a competitive week, facing stiff competition from the catchy former #1 Ignition Remix by R. Kelly, Bring Me to Life by Evenescence and the slick laid back grooves of I Know What You Want by Busta Rhymes and Mariah Carey.
| | |
| --- | --- |
| Neighbours Repeats Axed | June 24 2003 |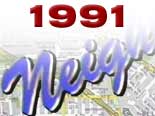 As speculated on our forum, Network Ten appears to have cancelled the afternoon repeat episodes of Neighbours -- at least for the time being. According to Ten's online programme guide, the episodes will be replaced by Iain Hewitson's Huey's Cooking Adventures in the 3.30pm timeslot. The repeat showing will reach episode 1443, originally broadcast in Australia in 1991.

Last month Jackie Woodburne appeared in a critically-acclaimed short film, Ain't Got No Jazz which premiered at the St. Kilda Film Festival. Her role was a far cry from teacher Susan Kennedy - she played a prositute.
Don Bridges (Big Kev Rebecchi) will appear in Gettin' Square, a comedy crime drama which is released in Australia on June 30th.
Stephen Curry (brother of Bernard and Andrew (Luke Handley and Larry Woodhouse), appeared himself as Greg Bartlett in 1992) is playing the lead in Thunderstruck, a new Australian film about the pact of four boys to bury their dead friend next to the grave of Bon Scott.
Radha Mitchell (Catherine O'Brien) has recently completed work on next year's JM Barrie's Neverland, which chronicles the writer's life experiences and how they affected his work. Radha plays his philandering wife, Mary. She is also currently filming Man On Fire, alongside Denzel Washington, Christopher Walken and Robert Downey Jr.
Guy Pearce is starring in 2004's Two Brothers, a French and English collaboration.
Charles Tingwell (Henry O'Rourke and Bert Willis) has a part in the upcoming Australian spectacular, Ned Kelly as the Australian Prime Minister.
Kevin Harrington (David Bishop) has the lead role in The Honourable Wally Norman which screened at the Sydney Film Festival on June 6th, and will open in theatres later in the year.
Mark Little's (Joe Mangel) Boogie-Woogie Beach Bum Bar has two more confirmed dates for July - the 10th and the 24th, both Thursdays, at 7:30pm.
| | |
| --- | --- |
| Delta Number 2! | June 16 2003 |

Delta Goodrem (Nina Tucker) has reached number 2 in the Australian singles charts with her 4th chart hit, Innocent Eyes. Delta is currently doing instore appearances around Melbourne, the next being at the Highpoint Shopping Centre at 1pm next Saturday, 21st June.
Also the UK edition of Delta's second UK single, Lost Without You was released today. The CD also includes a competition in which fans can win a day with Delta, when she returns to the UK in September.
| | |
| --- | --- |
| Romance for Libby | June 10 2003 |

TV Week reports that romance may well be on the cards for Libby Kennedy after losing her husband Drew Kirk in 2002. Cameron Hodder, played by Stephen Philips, is a new doctor at Lassiter's. The first time they meet, they argue - but the more she sees him, the more her opinion starts to change.
| | |
| --- | --- |
| Movie Role for Emma | June 6 2003 |

Ananova.com reports that Emma Harrison (Jo Hartman) has been cast in a new film to be directed by Robert Altman. She will star alongside Neve Campbell in a film about the world of ballet
Moviehole.net reports that she has also recently finished filming alongside George Clooney and Catherine Zeta-Jones for new flick Intolerable Cruelty.
Emma's role in Altman's film is not yet known, but her classical training as a ballet dancer is bound to feature in the film.
| | |
| --- | --- |
| Remembering a Good Neighbour | June 6 2003 |

The fourth anniversary of the death of Anne Haddy, who played Helen Daniels, occurs today. Anne passed away peacefully in 1999 after a long battle with heart and liver troubles. The show's longest serving original cast member, Anne, played the show's matriarch Helen for over twelve years until her poor health forced her to resign in 1997. She is survived by husband James Condon, who twice starred on Neighbours with Anne.
To read our special feature in tribute to Anne Haddy, Remembering Helen, click here
| | |
| --- | --- |
| Summer Spoilers | June 6 2003 |

Alan Fletcher's official site reports that there are some big cast changes coming up on Neighbours. After the departures of Lori, Darcy and Dee, Harold will suddenly find himself surrounded by family. First will come the return of his granddaughter Sky, played by Stephanie McIntosh. Soon after, Harold's son David, last seen at Harold's 1988 wedding to Madge, will return to town with his wife, Liljana (Marcello Russo) and daughter Serena (Lara Sacher). Kevin Harrington, recently seen in Australian films The Dish and Australian Rules, will resume the role of David.
Along with these cast changes, Alan's site reports big dramas in store for many characters, including one who's heading to jail and another who will be diagnosed with a serious illness.

This fortnight's Inside Soap reports that Kristian Schmid (Todd Landers) has recently married his girlfriend Deborah Clay in Sydney. Kristian, who recently starred in the Australian movie Blurred, has also been spotted working as a tour guide at the Sydney Harbour Bridge.
Holly Valance has reportedly axed the release of her fourth single Tuck Your Shirt In, and is now concentrating on writing and recording new material for her second album, due for release late 2003.
Neighbours' afternoon showing on Wednesday the 18th June will air at the later time of 2pm on BBC Two due to the sports coverage.
Jan Russ has given an interview for Inside Soap magazine, and will feature in the publication soon.
To view our archive of past news stories click here