Ned's mum Beth, played by Natalie Imbruglia, announced her pregnancy on-screen during a brief visit to the Willis family in 1994, but Ned has never appeared, and the breakdown of Brad and Beth's marriage left father and son estranged. "Ned is a very complex character, he can be quite manipulative, but he has had a bit to deal with and it's really interesting how his storyline pans out," said Ben of his new role.
Ned Willis will arrive in Erinsborough on Wednesday 6th April, during a very big week for Neighbours.
It's been announced that Nicola Charles will be reprising her role as Sarah Beaumont from next month.
Nicola played Sarah, most famous for coming between Karl and Susan Kennedy, from 1996 to 1999, reprising the role for a 20th anniversary cameo in 2005, and again for six weeks in 2013. The reason for her return is currently unknown, but it's thought that she'll have a shock or two for the residents of Ramsay Street. Sarah's son, Angus, will be played by Jai Waetford, whose casting was announced last month. Neighbours producer Jason Herbison said of Sarah's return: "Sarah Beaumont is a wonderful character that doesn't need an introduction, viewers wait with bated breath for her next move and the latest instalment will surprise everyone. "It's always a pleasure to welcome Nicola back to Ramsay Street."
Nicola will be back on screen as Sarah from Tuesday 5th April.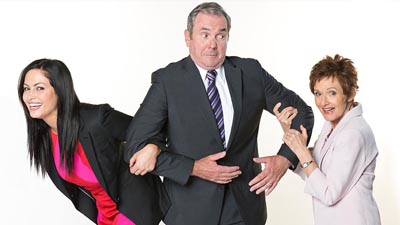 ..
| | |
| --- | --- |
| Sarah Ellen Joins Cast | Feb 21 2016 |
Another new casting has been announced, with news this weekend that model Sarah Ellen has been cast as Madison Robinson, Daniel's younger sister and daughter to Scott and Charlene. 18-year-old Sarah is already well-known, with over 2 million followers across her social media sites, but this is her first acting role. Budding journalist Madison will reportedly visit Erinsborough on behalf of her parents, who are worried about Daniel.
Upon hearing the news, her screen mum Kylie Minogue sent Sarah a congratulatory message via Newscorp Australia: "Congratulations on your first acting job Sarah and welcome to the neighbourhood! A lot has changed since I was in Neighbours, but I have no doubt the family spirit of the cast and crew remains the same. Have a great time. Oh, and Charlene says, 'Don't forget to let me know you arrived safely."
Sarah filmed her guest role as Madison earlier this month, but it's already being hinted that the character may return on a more permanent basis. Madison will first appear on screen on Friday 22nd April.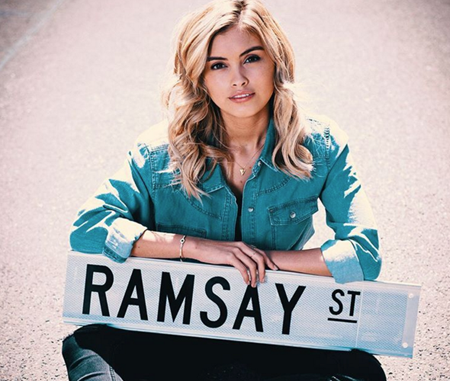 ..
| | |
| --- | --- |
| Jai Waetford Joins Cast | Feb 12 2016 |
Singer Jai Waetford has been announced as the latest addition to the Neighbours cast. Jai, who rose to fame after appearing on the 2013 series of The X Factor in Australia, will reportedly be filming for the next few months, having signed a recurring guest contract.
Jai's character hasn't been revealed yet, but he'll be a 16-year-old rebel, and is the son of someone that Neighbours viewers already know very well...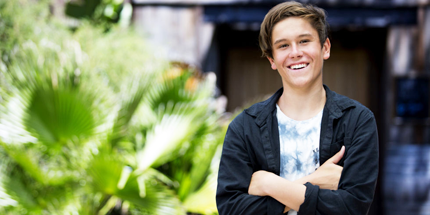 ..
| | |
| --- | --- |
| Andrew Morley Joins Cast | Feb 02 2016 |
Former Home & Away actor Andrew Morley is the latest face to join the Neighbours cast. Andrew, who played Summer Bay's Spencer Harrington from 2013 to 2015, will be playing a new regular, as yet unnamed character, who will simply be known as John Doe. Paige will reportedly help the newcomer piece together his memories, but it will be a little while before his real name and identity are revealed to viewers.
Of the new casting, Neighbours producer Jason Herbison said: "The writers have had free reign with developing our John Doe because we have had no restraints in terms of his history or a family tree, it's a clean slate. Lets just say his arrival is quite explosive – literally."
Andrew started filming in December, and will first be seen on screen in April.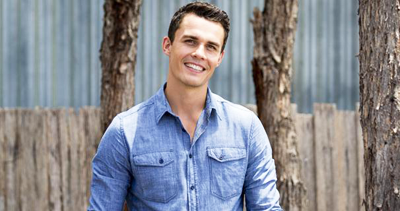 ..
| | |
| --- | --- |
| Lilly Van Der Meer Joins Cast | Dec 03 2015 |
The Canning family looks set to expand in 2016, with news that 16-year-old Lilly Van Der Meer has been cast as Xanthe, granddaughter to Sheila. Xanthe is the daughter of Gary Canning, which means that she's also Kyle's half-sister.
Neighbours producer Jason Herbison said of the casting: "It's part of the Neighbours legacy to nurture and develop amazing new talent from all over Australia and I've no doubt that Lilly is definitely a star of the future."
Lilly will make her first appearance as Xanthe on Friday 22nd January 2016. Damien Richardson, who appeared as Gary Canning during late 2014 and early 2015, will reprise his role for the story.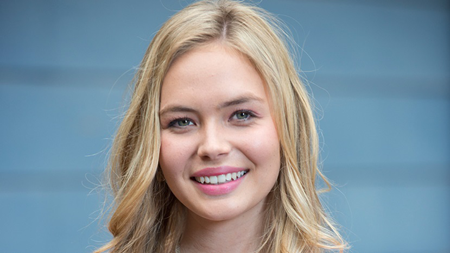 ..
| | |
| --- | --- |
| Xander McGuire Joins Cast | Oct 14 2015 |
With Carla Bonner recently back on screens as Steph Scully, it's been announced that she'll be reunited with one of her sons, when Charlie Hoyland returns to Neighbours early in 2016. The Herald Sun reports that 12-year-old television newcomer Xander McGuire, the youngest son of Australian broadcaster Eddie McGuire, has been cast as Charlie, who was last seen back in 2011, when he and grandmother Lyn went to live in the country. In 2013, it was revealed that Lyn had lost custody of Charlie and he was living with his father, Max, in Fiji.
Xander will begin filming his guest role as Charlie this week.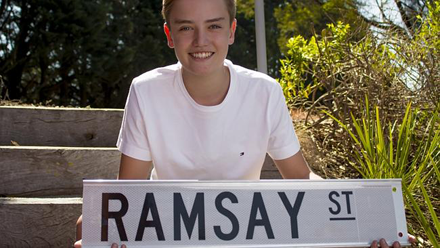 ..
| | |
| --- | --- |
| Mavournee Hazel Joins Cast | Aug 25 2015 |
After two and a half years, the Willis family will finally be complete with news that youngest child Piper, who has been in Canada on a student exchange programme, is finally going to arrive in Erinsborough. 19-year-old Mavournee Hazel has been acting since 2007, and has appeared in Australian series including Catching Milat, whilst the character of Piper has been described as 'feisty' and 'quirky'.
Mavournee's first scenes as Piper Willis will air in Australia on September 16th and in the UK on September 30th.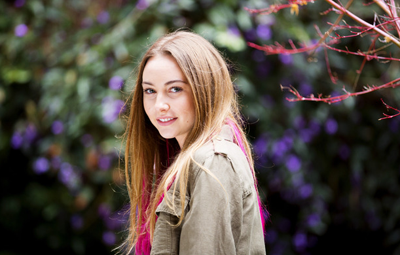 ..
| | |
| --- | --- |
| Carla Bonner Returns | July 19 2015 |
The Herald Sun has revealed that Carla Bonner has rejoined the cast as Steph Scully, the role she played for 11 years between 1999 and 2010, with a brief return in 2013. Carla has already returned to the set, for what will be a permanent return to the cast, and has said: "I feel like I've come home, I feel like a girl who flew the nest to see and explore the world, and has returned an enriched woman."
Neighbours producer Jason Herbison added: "Steph left Erinsborough under dramatic circumstances, after she was arrested for stealing Lucas and Vanessa's baby. Her return to Ramsay Street will be explosive and her presence will divide the residents. It's wonderful having Carla back on set permanently, she is the consummate professional."
Carla's return as Steph will air on Australian screens in mid-October.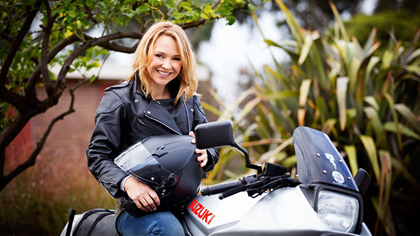 ..
| | |
| --- | --- |
| Russell Kiefel Joins Cast | July 06 2015 |
It has been announced that Russell Kiefel has joined the Neighbours cast in the guest role of Russell Brennan.
Russell, the father of brothers Mark, Aaron and Tyler, will be appearing later this summer, as Neighbours explores his difficult relationships with his children, particularly Tyler. The domestic violence suffered by Tyler has been hinted at over the last few months, and the abuse was mentioned again this week on Australian screens, as Tyler lashed out at Karl when he said something that reminded him of his father.
Kiefel, who will first appear on Australian screens on 29th July, and UK screens on 12th August, said of the role: "He has a lot of ground to make up with his boys and the challenge is to convince them that he is a changed man - but is he?"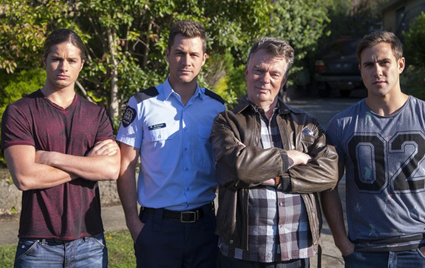 ..
Neighbours has unveiled three new arrivals, plus the return of an old face, who'll all be hitting screens during the next couple of months.
First to arrive is former Packed To The Rafters actress Zoe Cramond, who's taking on the role of Amy Williams, the estranged daughter of Paul Robinson. Described as 'sexy and tomboyish', Amy will arrive in Erinsborough after Naomi gets in touch with her, but there may not be a happy reunion in store for father and daughter. Zoe becomes the third actress to play Amy, a character who previously had two short stints on screen in 1988 and 1992. Joining Zoe is ten-year-old Darcy Tadich, who, in his first acting role, will be playing Amy's son, Jimmy.
Also arriving in Erinsborough will be Matt Wilson, who takes on the role of middle Brennan brother, Aaron. A model and former carpenter, 26-year-old Matt turned to television work in 2011. Rounding out the quartet is Felix Mallard, who previously appeared as Ben Kirk in 2014. Ben will return to Erinsborough to stay with his grandparents, Karl and Susan Kennedy. Felix is the fourth actor to play Ben, a character who was born on screen during the 2001 season finale episode.
"I'm delighted Zoe, Matt, Darcy and Felix are joining the cast and we have a lot in store for their characters," said Series Producer Jason Herbison of the new castings. "There will be a few bewildered faces when they arrive, and one in particular makes a memorable entrance."
Australian fans can see Amy's arrival on Tuesday 2nd June, with her son Jimmy joining her the following week, on Wednesday 10th June. Aaron's arrival will air on Tuesday 16th June, and Ben will make his return during July.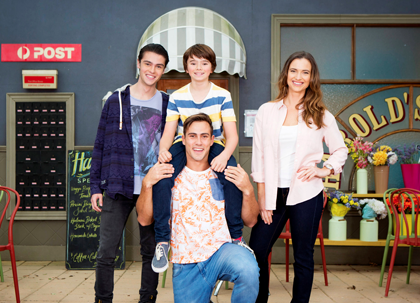 ..
| | |
| --- | --- |
| Tom Oliver Reduces Role | May 05 2015 |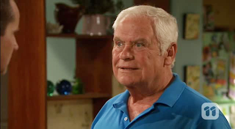 Neighbours has confirmed that Tom Oliver (Lou Carpenter) has cut back his filming time again, and will now only appear for guest stints. For the past six years, Tom has appeared as Lou on a semi-regular basis, filming for a few months at a time, then taking a few months off. The episode aired in Australia on Friday 1st May saw Lou, accompanied by grandson Bailey, leave Erinsborough to live in Queensland, closer to his son, Guy. With Lou then removed from the opening credits in the next episode, fans were left concerned that it was the last they'd seen of the character, who first appeared in 1988, and has been a regular fixture on Ramsay Street since 1992.
However, in a statement to Digital Spy today, a spokesperson has confirmed that Tom will be back as Lou for guest stints: "Tom has scaled back his workload over the past few years and while he will not be appearing as regularly on Neighbours, good news for the many Lou Carpenter fans is the producers have persuaded him to continue to do guest appearances. He will be returning later in the year to film a significant storyline."
| | |
| --- | --- |
| Gina Liano Joins Cast | Apr 07 2015 |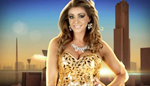 Neighbours has been coy about confirming any upcoming arrivals or departures during 2015, with fans left to do a lot of the detective work to try and figure out who's coming and going. A small piece of casting news has been revealed in this week's TV Week magazine, however, as an interview with Olympia Valance (Paige Smith) mentions that Real Housewives of Melbourne star Gina Liano has been cast as Paige's often-mentioned adoptive mother Mary Smith. Gina hasn't started filming yet, but will be on screen later this year.
| | |
| --- | --- |
| 30th Anniversary Year | Dec 07 2014 |
As Neighbours finished up on air for another year on Friday, both Australian and UK viewers were treated to a preview of some of the upcoming stories, as the show gears up for its 30th anniversary year. The trailer can be viewed here and gives viewers the first glimpses of returnees Lucy, Harold, Madge, Hilary, Janelle, Lucas and Vanessa, as well as a look at the Erinsborough Festival, which seemingly will bring everyone back to town. The video also shows newcomer Tyler Brennan, along with more drama for the Turner family and Naomi, and a cameo appearance by Masterchef Australia judge Matt Preston.
On top of all that, the trailer ends with a look at the new, retro-inspired logo that will debut for Neighbours' 30th year. The official Neighbours Twitter has confirmed that, along with the logo, there will also be a new theme tune and opening title in 2015 - you can see a gallery featuring the new logo, along with some shots from the filming of the new titles, on the official Neighbours website.
In other news, Natalie Bassingthwaighte (Izzy Hoyland) and Craig McLachlan (Henry Ramsay) have both confirmed that they were approached to retun as their characters for the 30th anniversary episodes, but were unable to take part. Whilst Craig told TV Tonight that couldn't fit the filming in around his commitments to The Doctor Blake Mysteries, Natalie was quoted in The Daily Telegraph, explaining that "the timing wasn't right". Both actors have, however, taken part in a 30th anniversary documentary, which will air on Channel Ten in March.
| | |
| --- | --- |
| Nine More Returnees Confirmed | Nov 29 2014 |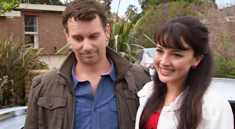 Following the announcements that Ian Smith (Harold), Anne Charleston (Madge) and Delta Goodrem (Nina) will be back in Erinsborough for the 30th anniversary in March 2015, another nine names have been confirmed.
Melissa Bell will be back for another stint as Lucy, following several appearances in 2013 and 2014, and she'll be joined by another Robinson, in the form of Aunt Hilary (Anne Scott-Pendlebury)! Other blasts from the past will include return appearances by Gary Files as Tom Ramsay, Andrew Williams as Lou's son Guy Carpenter, and original cast member Paul Keane who played Des Clarke between 1985 and 1990.
Also returning, from the not-quite-so-distant past, are Nell Feeney (Janelle Timmins), Stephanie McIntosh (Sky Mangel), Alin Sumarwata (Vanessa Villante) and Scott Major (Lucas Fitzgerald).
| | |
| --- | --- |
| Delta Goodrem Returns | Nov 25 2014 |
Delta Goodrem has been revealed as the latest returnee for the Neighbours 30th anniversary episodes. Delta played Nina Tucker between 2002 and 2003, returning for guest appearances in 2004 and for the 20th anniversary episodes in 2005, and will be back on screen for three episodes, which she is currently filming. Producer Jason Herbison has hinted that Nina's return will have a musical element to it.
It was revealed last week that Anne Charleston (Madge Bishop) and Ian Smith (Harold Bishop) will also be back for the 30th anniversary, with more returnees set to be announced over the coming weeks.
| | |
| --- | --- |
| Damien Fotiou Joins Cast | Nov 24 2014 |
A backstage interview with Saskia Hampele (Georgia) on the official Neighbours website has unveiled the show's newest cast member in the form of Damien Fotiou. Damien, who has appeared in series including Thunderdome, Kick and Underbelly, will first appear on screen in early 2015 as Nick Petrides, the brother of Terese Willis.
The video reveals that Nick will come to work at Erinsborough Hospital as an oncologist and will strike up a friendship with nurse Georgia, whose husband Kyle won't take too kindly to another man getting attention from his wife.
| | |
| --- | --- |
| Madge and Harold To Return | Nov 16 2014 |
The first names to return to Neighbours for its 30th anniversary have been announced, with the Herald Sun reporting that Anne Charleston and Ian Smith will reprise their roles as popular couple Madge and Harold Bishop. Whilst Ian last appeared as Harold for a guest stint back in 2011, which saw Harold marry his new partner Carolyn, it's been over thirteen years since Anne played Madge. And as those final scenes in 2001 saw Madge die in Harold's arms, only weeks after being diagnosed with pancreatic cancer, it remains to be seen quite how the writers will bring her back to Erinsborough!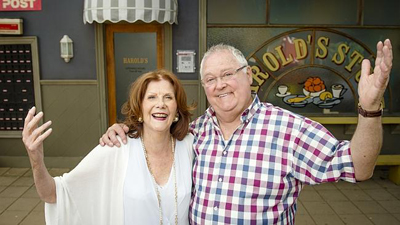 ..
| | |
| --- | --- |
| Travis Burns Joins Cast | Nov 03 2014 |
It's been announced that Travis Burns has joined the Neighbours cast, in the role of Mark Brennan's younger brother, Tyler. Hailing from Bacchus Marsh, Victoria, 23-year-old Travis, a former model, has previously appeared in the American drama series SAF3, but this will mark his first role on Australian television. Viewers can catch Travis as Tyler Brennan from February 2015.
In other casting news, Damien Richardson has also joined the cast in the guest role of Gary Canning - Sheila's son and Kyle's father. Absent from Kyle's life for many years, Gary has a lot of explaining to do - and lot of trust to win back - as he arrives in Erinsborough. Damien first appears as Gary on Australian screens this Friday (7th November).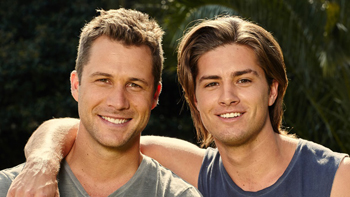 ..
| | |
| --- | --- |
| The Tornado Is Coming | Aug 16 2014 |
In a TV Week interview teasing the 2014 storylines, producer Jason Herbison mentioned that a disaster would strike Erinsborough during the second half of the year, and it's now been revealed that a tornado will hit town. As the locals start battening down the hatches in preparation for a storm, there'll be lives on the line, buildings badly damaged and secrets revealed, as the storm escalates into a freak mini tornado. You can watch the tornado trailer on the Neighbours YouTube channel, here.
The tornado and its immediate aftermath will air during the week beginning Monday 1st September in Australia, and two weeks later in the UK.
| | |
| --- | --- |
| Meyne Wyatt Joins Cast | Jul 21 2014 |
The Sydney Morning Herald reports that Meyne Wyatt has joined the Neighbours cast in the regular role of Nate Kinski. Meyne won 2011 Best Newcomer in the Sydney Theatre Awards, and is known for his roles in television series Redfern Now and the film The Sapphires.
Nate is the nephew of Susan Kennedy's deceased husband Alex Kinski, and cousin to former regular characters Zeke and Rachel, and will be the first regular Aboriginal character for Neighbours. Meyne has already started filming, and will first appear on screen later this year.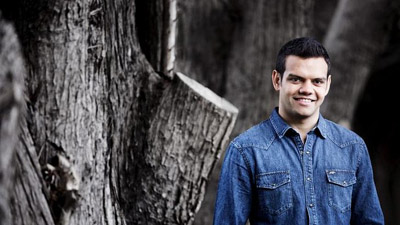 ..
| | |
| --- | --- |
| Sheree Murphy Joins Cast | Jun 17 2014 |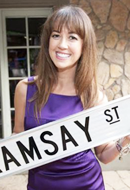 Digital Spy reports that former Emmerdale and Hollyoaks actress Sheree Murphy has joined the Neighbours cast. Sheree is best known in the UK for her six-year role as Tricia Dingle in Emmerdale, and more recently as Eva Strong in Hollyoaks, and was also a contestant on the 2005 series of I'm A Celebrity... Get Me Out Of Here!. She and husband, Australian footballer Harry Kewell, now divide their time between the UK and Australia.
Sheree will be appearing in Neighbours for a six-week guest role, playing British businesswoman Dakota Davies. Dakota is reportedly an old flame of one of the show's regular characters, who has never quite gotten over their break-up, and will be on screen from October.
| | |
| --- | --- |
| Scott McGregor Extends Contract | May 14 2014 |
Digital Spy reports that Scott McGregor (Mark Brennan) has signed an extension to his initial guest contract.
When Scott returned to filming with Neighbours last November, it was reported that he was on a guest contract, which would see him sticking around until at least July 2014. Scott has now revealed on Twitter that he'll be staying on, though it hasn't been revealed just how long Brennan will be around for.
| | |
| --- | --- |
| Meet Daniel Robinson | Apr 23 2014 |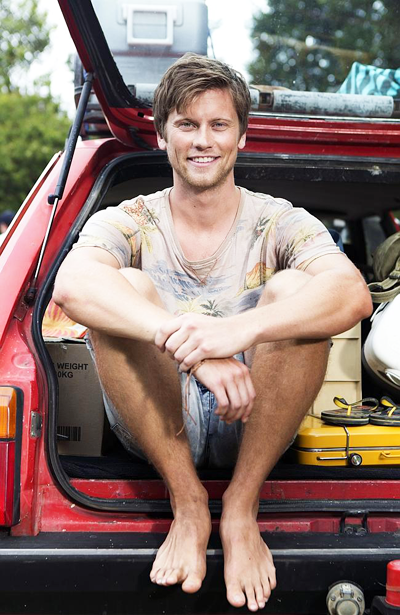 Late last year, it was announced that Daniel Robinson, the son of original Neighbours Golden Couple Scott and Charlene, would be arriving in Erinsborough. This week, it's been revealed that 26-year-old Tim Phillipps has won the role.
Tim, who was born in Adelaide, has previously appeared in Neighbours back in 2007 as Fox, who turned out to be a figment of Paul's imagination when he was suffering from a brain tumour. Tim has described his character as 'a happy-go-lucky, hippie at heart nature boy' who enjoys life and sees everything in a positive light.
Whilst Tim has spent the last couple of years trying his luck out in Hollywood, Daniel will be seen arriving in Erinsborough as part of a road trip down from Queensland. He'll make a stop on Ramsay Street to see the place where his parents first fell in love, and to catch up with his Uncle Paul, but it remains to be seen what, or who, will cause him to stick around in the area.
Daniel will first appear on Australian screens next week, on Tuesday 29th April, and on UK screens from Tuesday 13th May.
| | |
| --- | --- |
| Pam Willis Return Confirmed | Apr 11 2014 |
It's been confirmed, after much speculation, that Sue Jones will be reprising her role as Pam Willis next month. Back in February, fans were teased with the news that a couple of characters from the 1992 cast would be returning, closely followed by the announcement that Terence Donovan would be back as Doug Willis. It's now been revealed that Pam will be joining Doug back in Erinsborough, as she learns that he's about to face the biggest challenge of his life.
Pam's return to Ramsay Street will air in Australia on Monday 5th May, and two weeks later for fans in the UK.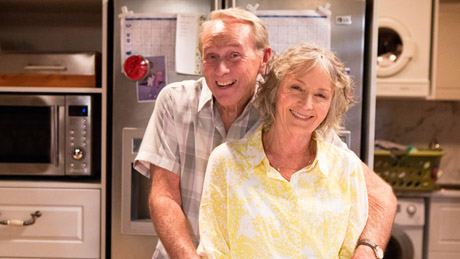 ..
| | |
| --- | --- |
| Morgan Baker To Leave | Apr 02 2014 |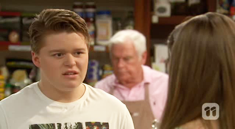 It's been announced that Morgan Baker has left the Neighbours cast. 16-year-old Morgan recently filmed his final scenes after six years as Callum Rebecchi, having decided to leave the show to concentrate on his final couple of years at school.
Morgan's final scenes as Callum will air in June.
| | |
| --- | --- |
| Paula Abdul Films Cameo | Mar 18 2014 |
Singer Paula Abdul has filmed a cameo appearance for Neighbours, in a story involving Karl (Alan Fletcher) and Susan (Jackie Woodburne), in which Karl will reveal a long-time crush on Paula.
Paula is currently a judge on So You Think You Can Dance Australia and her Neighbours appearance will be on screen in June.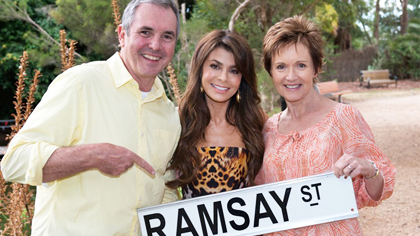 ..
| | |
| --- | --- |
| Terence Donovan Returns | Mar 14 2014 |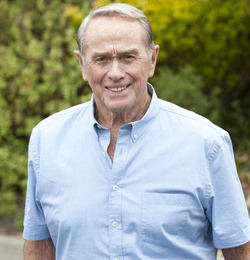 A few weeks ago, we were teased with a 1992 cast photograph, and the news that two of the characters in it would be returning to Ramsay Street. It's been confirmed today that one of those characters is Doug Willis, played by Terence Donovan. A regular face in Erinsborough between 1990 and 1994, Doug last appeared for a guest appearance back in 2005, for the show's 20th anniversary celebrations.
Doug will be seen visiting son Brad, daughter-in-law Terese and grandchildren Josh and Imogen, and is back on Australian screens for four weeks from Wednesday 9th April, and on UK screens a couple of weeks later. The other returning face from 1992, thought to be Doug's wife, Pam (Sue Jones) is yet to be confirmed.
Also today, a video teasing the next few weeks of Neighbours has been released, featuring brief glimpses of Doug's return, as well as Naomi Canning's arrival, and Brennan proposing to Kate. The video can be viewed here.
| | |
| --- | --- |
| The Kennedy Comeback | Mar 11 2014 |
The official Neighbours website has revealed that Kym Valentine is the latest old face to make a return to Neighbours. Kym will reprise her role as Libby for three weeks, as one of several comebacks this year, marking 20 years since Karl and Susan Kennedy first moved to Ramsay Street. Kym starts filming from today and will appear on screen in June, and she will be joined by Felix Mallard, who takes over the role of Libby's son Ben, from previous actor Blake O'Leary.
Libby isn't the only Kennedy offspring making a return in 2014 - it's already been reported that Matthew Werkmeister will reprise his role as Kennedy stepson Zeke Kinski, and it's now been revealed that Benjie McNair, who plays eldest Kennedy son Malcolm, and Lucinda Armstrong-Hall, who made a guest appearance last year as Holly Hoyland - Karl's daughter with Izzy - will also be back this year.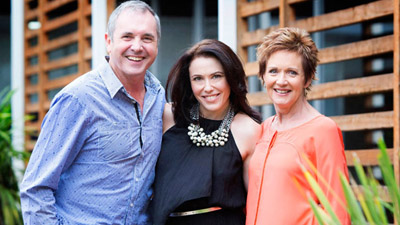 ..
| | |
| --- | --- |
| Olympia Valance Joins Cast | Mar 09 2014 |
News.com.au reports that Olympia Valance, the half-sister of former Neighbours actress Holly Valance, is set to join the Neighbours cast. 21-year-old Olympia will play Paige Novak, who will first appear on screens at the beginning of June. Paige is described by Olympia as 'cool and sexy and a bit edgy', with producer Jason Herbison adding that Paige will 'arrive with a delicious secret that will rock the neighbourhood'.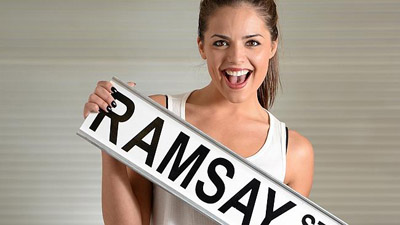 ..
| | |
| --- | --- |
| The Waterhole Refreshed | Feb 28 2014 |
Following on from the confirmation from Series Producer, Jason Herbison, in our interview last week that Charlie's bar was to revert back to the The Waterhole name after 20 years, Neighbours has today unveiled the new set:

..
Discussing the changes and the reason behind them, Jason explained: "After the appearance of Jack Lassiter last year, we felt it was a natural time for Paul to feel inspired to revert to the old name. It's always been my favourite - it's timeless, evocative of the nearby lake and very Australian. Our brilliant Production Designer, Peta Lawson, has created a modern take on a local pub. I was very keen to get natural light in the space, which she has achieved in a clever way."
The new set will make its debut on screen in May.
| | |
| --- | --- |
| Two More Returnees | Feb 20 2014 |
The returnees are coming thick and fast in 2014, as the Neighbours Facebook page has revealed that another pair of past characters will shortly be returning - and this time, they were part of the 1992 cast, with both characters featuring in the photo shown below.
The list of eligible characters this time is a little shorter, as several characters in this shot are dead or already part of the current cast, but the possible returnees are Doug, Pam and Gaby Willis, Rick and Marco Alessi, Cameron Hudson, Dorothy Burke, Christina and Andrew Robinson, Toby Mangel, Phoebe Gottlieb and Beth Brennan.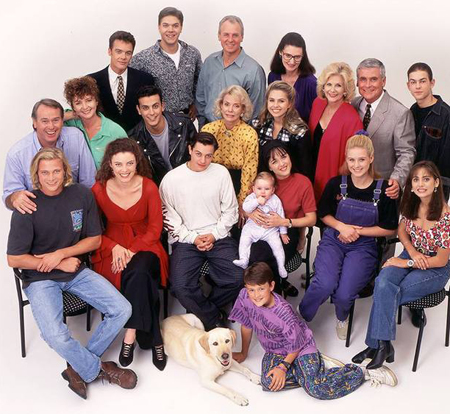 ..
| | |
| --- | --- |
| Zeke and Sophie Back In The Neighbourhood | Feb 11 2014 |
A couple of weeks ago, it was revealed that two characters from the 2010 Neighbours cast would be returning in the coming months and yesterday, the official Neighbours website announced that Matthew Werkmeister (Zeke Kinski) and Kaiya Jones (Sophie Ramsay) will be paying a return visit to Ramsay Street. The pair will reportedly be back for 'a special celebration episode' that will air in April.
It's been three years since Susan and Karl's stepson Zeke was last seen on Ramsay Street, after he moved to London in 2011. Sophie, the younger sister of Kate and niece of Paul, meanwhile, left Erinsborough just last year, to study music in Sydney.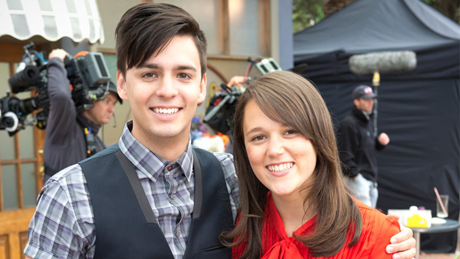 ..
| | |
| --- | --- |
| Brennan On The Run Webisodes | Feb 06 2014 |
Following the success of last year's webisodes, which saw Steph Scully revealing details of her time away in prison, The Neighbours YouTube Page has debuted a new series, Brennan On The Run. The series follows Mark Brennan's time in witness protection, and at the end of each video, the viewer can choose the direction in which the story goes.
The character of Mark Brennan appeared between 2010 and 2011, before going into witness protection. He appeared again briefly in May 2013, and returned to Australian screens this week for another stint in the show. Brennan will return to UK screens from Wednesday 19th February.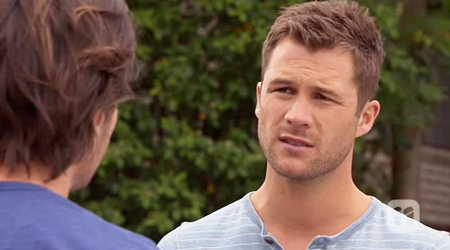 ..
| | |
| --- | --- |
| More Old Faces To Return | Feb 01 2014 |
The Neighbours Facebook page has revealed that two more old faces will be back later in 2014 - and they were both part of the 2010 cast photo (pictured below)! Fans already know that Jane Hall will be reprising her role as Rebecca Robinson on screen in the next few weeks, but now it seems that two more characters from that era will be returning.
The list of eligible characters includes Steph and Lyn Scully, Summer and Charlie Hoyland, Natasha and Michael Williams, Andrew Robinson, Donna Freedman, Declan and India Napier, Sophie Ramsay, Libby Kennedy, Lucas and Ben Fitzgerald, and Zeke Kinski.

..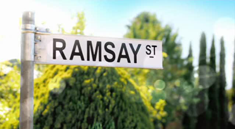 A TV Week interview with Neighbours producer Jason Herbison has given fans some hints about what to expect in 2014:
- A big wedding is planned for one couple later in the year
- Chris will be tempted when a 'hunky newcomer' enters his life
- A bush camping trip, involving Josh, Amber, Imogen and Mason, will end with one of the boys being seriously injured
- Charlie's bar is set to get a complete overhaul, and a new name
- Lucy and Hudson will continue to appear, and four other old faces will be returning
- Kate finds herself caught between Kyle and her returning ex, Brennan
- Kathy Carpenter will visit, and deliver some news that will rock the Willis and Turner families
- Several faces from the past will pop up throughout the year, to mark the Kennedys' 20th year on Ramsay Street, and Susan will continue to face problems with her MS
- Toadie and Sonya's marriage will be challenged
- A disaster will hit Erinsborough in the second half of the year
| | |
| --- | --- |
| Morgana O'Reilly Joins Cast | Jan 06 2014 |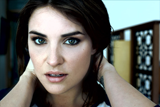 Back in October, Colette Mann revealed that her character, Sheila Canning, would be receiving a visit from her estranged daughter in 2014. Digital Spy has now revealed that New Zealand actress Morgana O'Reilly has been cast in the role of Sheila's youngest child, Naomi Canning.
Naomi will first appear on Australian screens in March 2014, returning unexpectedly for a family reunion, and the character is described as a 'vixen'. Naomi will be a new permanent addition to the cast, and will reportedly have a lot of secrets, which she will go to great lengths to keep hidden from her mum.
| | |
| --- | --- |
| Taylor Glockner To Leave | Dec 04 2013 |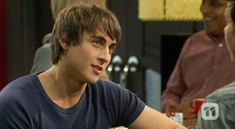 Digital Spy reports that Taylor Glockner is the latest face to depart the Neighbours cast. Taylor first appeared on screen as the troubled Mason Turner in February 2013, and has been at the centre of several big stories, including his difficult relationship with Kate Ramsay, and bringing criminal Robbo Slade to Erinsborough. In a statement to Digital Spy, Taylor said that, after discussions with producers, it was felt that both the character and actor needed a rest after such an intense year. He went on to say that "[My year with Neighbours] has been the time of my life. I've made lifelong friends and worked with some of the most creative people in the Australian industry. I've laughed, cried, learned and grown - as a human being and an actor."
Mason will make his final appearance on screen during 2014.
| | |
| --- | --- |
| Daniel Robinson To Arrive In 2014 | Dec 03 2013 |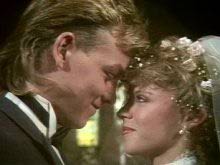 It has been announced that Daniel Robinson will arrive in Erinsborough in 2014, with the character currently being cast. Daniel, the son of Scott (Jason Donovan) and Charlene (Kylie Minogue), was born off-screen in 1992, and will come to Erinsborough to stay with his Uncle Paul, and to visit the place where his parents fell in love.
Neighbours producer Jason Herbison has stated that "it is fantastic that we can re-open this chapter of Neighbours' history for a new generation of viewers." He added that they're looking to cast a 'Liam Hemsworth type' in the role of Daniel, who is in his early 20s, has grown up in the Queensland beach culture and will come to Erinsborough unexpectedly 'to begin the next chapter of his life'. The character will debut on screen in 2014.
| | |
| --- | --- |
| Tina Bursill Joins Cast | Nov 23 2013 |
Digital Spy reports that Tina Bursill has been cast as Lou's ex-wife, and Lauren's mother, Kathy Carpenter. Though Kathy has been mentioned a few times over the past 20 years, this will be the first time that she's been seen on screen. It is currently unknown whether Kathy will be a guest or a regular character, but Tina will begin filming the role at the beginning of next year, and debut on Australian screens later in 2014.
Tina has had regular and recurring roles in numerous Australian series over the last 40 years, including Skyways, A Country Practice, Hey Dad! and Heartbreak High, but is probably most fondly remembered by Australian soap fans as 'Ice Queen' Sonia Stevens in Prisoner.
| | |
| --- | --- |
| Ashleigh Brewer To Leave | Nov 11 2013 |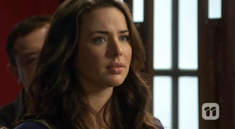 TV Week magazine reports that Ashleigh Brewer has quit her role as Kate Ramsay, after five years. Exact details of when Ashleigh will last appear as Kate are being kept under wraps for now, to avoid spoiling her exit storyline.
Kate arrived back in 2009, one of three Ramsay siblings, who moved in next-door to their uncle, Paul Robinson. Kate's younger brother and sister Harry and Sophie have since departed, but Kate remains close to Paul. 2013 has seen Kate struggle to hide the secret that she slept with Kyle, her housemate and the boyfriend of her best friend, Georgia. That secret is set to be exposed in episodes airing in Australia later this month, but it remains to be seen whether that will be a contributing factor in her exit. It looks like Kate could get a happy ending, however, as it was recently announced that Scott McGregor, who played Kate's boyfriend Mark Brennan, has reprised the role for another guest stint.
| | |
| --- | --- |
| Brennan's Back Again | Oct 28 2013 |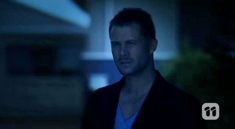 The official Neighbours website reports that Scott McGregor will be making another return as Mark Brennan early next year. Scott originally played Detective Brennan between 2010 and 2011, before the character was taken into witness protection, and later reported to have died. But it was all a cover-up, and earlier this year, Scott reprised the role of Brennan for four episodes, as he turned up to give ex-girlfriend Kate the shock of her life. Brennan will be back for a longer guest stint this time, and Scott has already started filming his new scenes, which will air in Australia from February 2014, and on UK screens from March 2014.
A recent interview with executive producer Richard Jasek hinted that Brennan's latest return will involve some scenes filmed in the bush, which will leave one character seriously injured and have repercussions for a lot of other Erinsborough residents.
| | |
| --- | --- |
| Jane Hall Returns To Neighbours | Oct 21 2013 |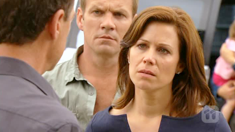 The official Neighbours website reports that Jane Hall is reprising her role as Rebecca Robinson. Rebecca was Paul's fifth wife, and was last seen on screen back in March 2011, when she left for Europe, having pushed Paul from the Lassiter's mezzanine, and unable to deal with his blackmail any longer. Jane will return to filming next month for a four-week guest stint, which will see Rebecca reunited with Paul 'in unusual circumstances'.
Rebecca's return will air on Australian screens in February 2014, and on UK screens the following month.
| | |
| --- | --- |
| Richard Jasek Interview | Sep 25 2013 |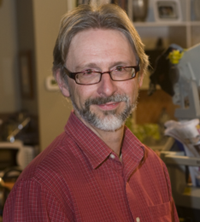 A new interview with executive producer Richard Jasek in this week's Inside Soap magazine in the UK has given some hints about what to expect for the residents of Ramsay Street in the coming months:
- The history between Lauren and Brad will be explored on screen early next year, with the return of one of Lauren's relatives being the catalyst that will 'blow something wide open'
- Ned and Piper Willis will arrive eventually, but there are no plans for them to be cast at the moment. Other new actors will shortly join the cast, however, including 'some children, and relatives of some established characters'
- Some big storylines involving Chris and his family are planned for 2014
- Karl will visit Holly again early next year 'and will return home with a very big surprise'. Karl, Susan and Paul will also become involved in Erinsborough's mayoral race
- 24 Ramsay Street, the Kapoor house, will remain unoccupied for the moment, but people will move into the house 'in due course'
- Kate and Kyle's one-night-stand will remain a secret for the time being, and a relative of Georgia will come to visit and 'cause absolute merry hell for everyone'
- A big stunt will be filmed in the next few months that will leave someone badly hurt and cause long-term ramifications for many people. It is also hinted that Scott McGregor (Mark Brennan) will be involved in this story
The full interview is available in this week's Inside Soap magazine, dated Sept 28- Oct 4 2013.
| | |
| --- | --- |
| Gloria Ajenstat Makes Guest Appearance | Sep 06 2013 |

Another face from the 80s has made a brief guest appearance in Neighbours this week in Australia, but, like Darius Perkins, she's playing a different character. Episode 6725 sees Gloria Ajenstat appear as Margaret Leeds, a client of Toadie's. Gloria previously appeared in 1985 as Nurse Stevens, before taking on the regular role of Susan Cole between 1986 and 1987. Susan was the young girlfriend of Fred Mitchell, Madge's ex-husband, who turned up with Fred's baby son, Sam. Susan ended up staying for several months, found herself falling for Paul Robinson and broke the heart of poor Clive Gibbons in the process.
Gloria will appear as Margaret on UK screens in early October.
| | |
| --- | --- |
| Lolly Pops Back UPDATED | Aug 22 2013 |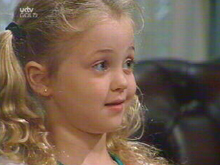 It appears that Lolly Allen (previously Carpenter) may be making a return visit to Erinsborough, with former actress Jiordan Tolli , who played the character between 1994 and 2001 returning for a guest stint according to her resume on the Catherine Poulton Management website.
Lolly was last seen in 2007 when she was played by Adelaide Kane who is now filming new US drama Reign. Jiordan has recently been seen auditioning in front of former Neighbours' star turned judge, Natalie Bassingthwaighe, for The X Factor Australia. Watch a clip of her audition here.
Thanks to NeighboursStar09 on our Message Board for the information.
UPDATE: It has now been confirmed that Jiordan Tolli will return to Neighbours for one episode, which will see Lolly back in Erinsborough for a party celebrating Lou's 70th birthday.
| | |
| --- | --- |
| Another One Bites The Dust | Aug 11 2013 |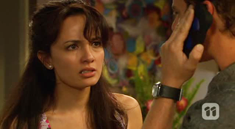 An interview with Sachin Joab (Ajay Kapoor) has revealed that Alin Sumarwata is the latest actor to leave Neighbours. Speculation has been rife about Vanessa's future, since last month's announcement that Scott Major had been axed from his role as her partner, Lucas. It now seems likely that Lucas and Vanessa will leave together. Vanessa now becomes the tenth character to be written out of the show this year.
Sachin's interview also reveals that he, Alin, Menik Gooneratne (Priya) and Coco Cherian (Rani) had their contracts terminated, with none of them making the choice to leave. The full interview, including Sachin's thoughts on his character's exit, and whether the current production team is racist, can be read here.
| | |
| --- | --- |
| Jack Lassiter To Return | Aug 09 2013 |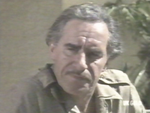 Alan Hopgood has returned to the Neighbours set, stepping back into the shoes of his 1986 character Jack Lassiter. Jack was the original owner of the Lassiter's complex, which still features in the show today, and lived in a caravan by Lassiter's lake. He appeared on screen for three months in 1986, before leaving to marry single mum Andrea Townsend.
Jack will reportedly return "to reconcile with his past actions by dispensing some of his wealth which will have the local scrambling for a piece of the action." He'll be back on Australian screens from August 27th, and on UK screens from September 24th. To read a full biography of Jack and what he got up to in the 80s, click here.
It has also been confirmed that Melissa Bell (Lucy Robinson) and Teressa Liane (Rhiannon Bates) will both be returning for further guest stints later in the year, and this time, Rhiannon will be bringing her son, Jackson, along with her.
| | |
| --- | --- |
| Scott Major Leaves Neighbours | Jul 01 2013 |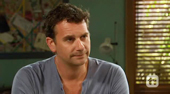 UK website Digital Spy reports that Scott Major has filmed his final scenes as Erinsborough's Lucas Fitzgerald. Lucas first appeared five years ago, though Scott's involvement with Neighbours goes back even further, as he was the first actor to play Darren Stark, back in 1993. Lucas has survived temporary paralysis, a gambling addiction and cancer, and is currently settled in a happy family unit with Vanessa Villante and their baby son, Patrick. It is currently unknown whether Alin Sumarwata, who plays Vanessa, will be leaving with him.
With Lucas and Vanessa about to learn that they have another baby on the way, it seems unlikely that he'll leave alone - but could the couple's current financial problems lead him back to his old gambling habits, facing time in jail or with his life in danger? Or, with their wedding due to take place in September, could we see a happy ending for Lucas and Vanessa, heading off into the sunset together?
Scott's final scenes were filmed last week, and will air in Australia in September.
| | |
| --- | --- |
| Coco Cherian Finishes Filming | May 02 2013 |
Following last months's on-screen departure of her screen mum Menik Gooneratne (Priya) and the news that her screen dad Sachin Joab (Ajay) would shortly be finishing filming, it was widely believed that Coco Cherian (Rani Kapoor) would be staying with Neighbours, but this week, a tweet from Coco revealed that Tuesday 30th April was her last filming day. She said: "Just got so spoilt by the most incredible bunch of people in the world! I love you all so very much and miss you already." In addition, Sachin Joab will film his final scenes today, Thursday 2nd May, making it likely that the remaining Kapoors will move out of Ramsay Street together. Ajay first appeared on screen in July 2011, and Rani following in February 2012 and both characters will be on Australian screens until June 2013.
| | |
| --- | --- |
| Steph Scully Webisodes | Apr 15 2013 |
Episode 6621, screened today in Australia, saw Steph Scully (Carla Bonner) return to Erinsborough, after two and a half years in prison, for running down and killing Ringo Brown. As part of the storyline, Neighbours has produced six webisodes, which will show Steph in prison and her reasons for returning to Erinsborough. The webisodes were directed by Neighbours actor Scott Major, who plays Lucas. The first of the six webisodes sees Steph talking to her prison counsellor, discussing her options now that she's being released on parole, and it can be viewed on YouTube.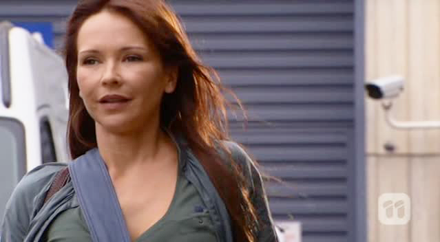 ..
| | |
| --- | --- |
| New Opening Sequence Debuts | Apr 15 2013 |
Neighbours has today unveiled its new opening title sequence and theme tune. The bright new opening features the Neighbours staples of cricket and swimming pools, with the characters all gathering for a street party. The new theme tune, with vocals by Daniel Boys and Stephanie Angelini, is the finished result of the Neighbours Remixed competition that has been running for the last few months. Although UK viewers will also get to hear the new theme from today, they'll have to wait a few weeks to see the accompanying titles, as they contain spoilers regarding departing characters.
Below we have included a couple of pictures from the new opening, along with an image each of the new ad bumpers and closing credits. To see a full gallery of the new opening, click here.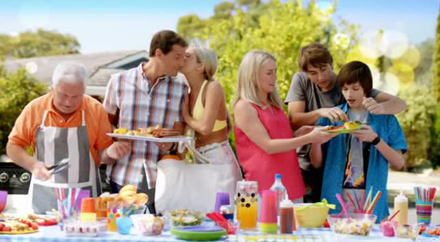 ..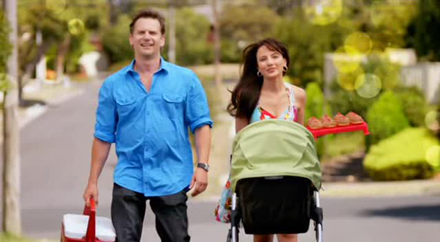 ..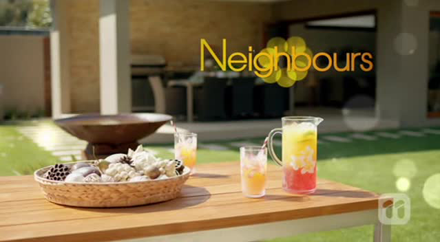 ..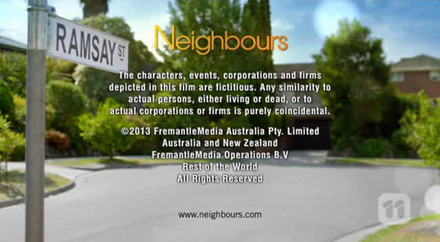 ..
| | |
| --- | --- |
| Neighbours Gets 10pm Screening In UK | Mar 28 2013 |
Channel Five has announced that it will be giving Neighbours a special, one-off, hour-long screening at 10pm on Tuesday April 16th, entitled Neighbours: The Explosion, to give more viewers the opportunity to see the dramatic events that conclude Toadie and Sonya's wedding day. The schedule will run as follows:
Tuesday April 16th:
1.45pm - Episode 6602 - Toadie and Sonya's wedding day concludes in dramatic fashion
5.30pm - Episode 6602 (repeat)
10.00pm - Episode 6602 (repeat)
10.30pm - Episode 6603 - The aftermath of the Explosion

Wednesday April 17th:
1.45pm - Episode 6603 (repeat)
5.30pm - Episode 6603 (repeat)
This marks the first time in Neighbours' history that it will be receiving a late evening slot. Five is hoping that the screening will attract new and returning viewers at a time that when the show is beginning some exciting new stories and welcoming back several old characters, including Steph Scully, Brad Willis and Lucy Robinson.
As well as the primetime slot, Five has also been working with FremantleMedia to help improve Neighbours' stories, sets and production values as it celebrates 28 years on Australian television.
| | |
| --- | --- |
| Lucy Robinson Returns | Mar 14 2013 |
2013 looks set to be the year that Neighbours embraces its past, as another old face is making a comeback; Melissa Bell (Lucy Robinson) is returning to Erinsborough for a two-week guest appearance.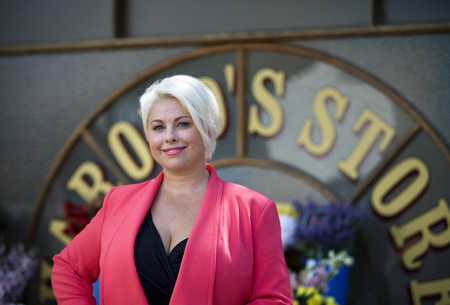 ..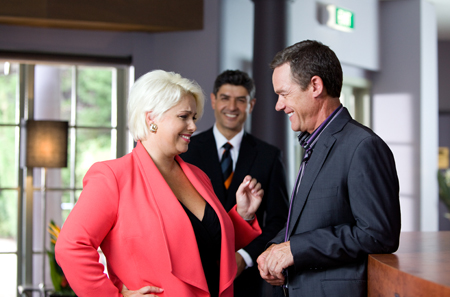 ..
Lucy, an original Neighbours character, and the younger sister of Paul Robinson, has been played by three different actresses since 1985, with Melissa Bell taking over the role in 1991. She remained a regular member of the cast until 1992, and after a guest appearance in 1993, she became a regular again for a few months in 1995. Lucy last appeared eight years ago, when she returned to town during the show's 20th anniversary celebrations, to help Paul cope with having his leg amputated.
Melissa was back on set recently to film her scenes, and said at the time, "I'm very pleased that on-screen Stefan is exactly the same, always up to something which always makes for an interesting story, and off-screen he hasn't changed either, just as much fun and lovely as ever". Lucy's return will air on Australian screens in May and for UK viewers in June.
| | |
| --- | --- |
| End Of The Kapoors | Mar 13 2013 |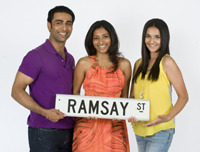 After only a year as part of the regular cast, Sachin Joab (Ajay Kapoor) will soon film his final scenes with Neighbours. Originally a recurring character, Ajay became a permanent fixture on Ramsay Street last year, moving into number 24 with wife Priya (Menik Gooneratne) and their daughter Rani (Coco Cherian). Joab now plans to move to Los Angeles to find new roles.
Menik Gooneratne, who this week revealed on Twitter that she is pregnant, also completed filming earlier this year, and it is widely believed that her character will be a victim of the upcoming disaster set to befall Toadie and Sonya's wedding reception. It is expected that Coco Cherian will remain a member of the Neighbours cast following the departures of her on-screen parents.
| | |
| --- | --- |
| The Willis Family Returns | Feb 19 2013 |
23 years after the first Willis family moved into the old Clarke house, another Willis clan is set to arrive on Ramsay Street. Back in 1990, Pam, Doug and their children Adam and Cody made 28 Ramsay Street their home, and were later joined by two other kids, Brad and Gaby. Brad went on to marry Beth Brennan and together they moved to Perth, but now he's back with a new wife and two teenagers of his own.
Previously played by Scott Michaelson between 1991 and 1993, Brad will now be played by former Home & Away and Casualty actor Kip Gamblin, whilst his new wife Terese will be played by another Home & Away refugee, Rebekah Elmaloglou. Their two teenaged children will be named Joshua and Imogen. Imogen will be played by Ariel Kaplan, whilst the role of Joshua has been given to Harley Bonner, the son of Neighbours favourite, and recent returnee, Carla Bonner (Steph Scully).
What brings Brad back to Erinsborough is currently unknown, as is the fate of Beth. But with Lou's daughter Lauren, with whom Brad famously had an affair in 1992, now back in town too, things seem like they're going to be far from dull in Ramsay Street in 2013.
The Willis family will first appear on Australian screens in late May.
| | |
| --- | --- |
| Spoilers And Speculation | Jun 13 2012 |
New Ramsay Street resident Troy Miller (Dieter Brummer) will die after being discharged from hospital having been admitted following injuries inflicted by his ex-girlfriend Jade Mitchell (Gemma Pranita) whilst trying to escape from an upcoming siege situation along with her sister, Sonya (Eve Morey), and nephew, Callum (Morgan Baker).
The fallout from Troy's death remains to be seen, but with Dr Karl Kennedy (Alan Fletcher) having overseen his release hours earlier, could Erinsborough's favourite doctor's career be on the line yet again?
Meanwhile, with news that Gemma Pranita is departing in August, could Jade find herself facing a manslaughter charge? Gemma recently hinted that "hearts will be broken and lots tears will be shed" as Jade says goodbye, could she be headed to jail?
| | |
| --- | --- |
| Returnees And Departees | Jun 09 2012 |
Speculation has been rife that Nicola Charles is returning to Neighbours since a Twitter account appearing to belong to the actress announced it. A source at the show has since confirmed to us that there are definitely no plans to bring back Sarah Beaumont, however there will be a character from the past returning to Erinsborough very soon.
Meanwhile, Gemma Pranita (Jade Mitchell) will be waving farewell to Ramsay Street in August after two years with a view to find work in Los Angeles.
"The decision was made with a heavy heart as I love this job but I just felt that two years was long enough to play one character, " explained Gemma. "I became an actor to play lots of different characters and while Jade has been an amazing role, I feel I want to challenge myself to do other things."
When she wraps on Neighbours, Gemma will return to Sydney to work on a project with her theatre company, Cry Havoc, but is tight-lipped about how her character exits Erinsborough, hinting that, "hearts will be broken and lots tears will be shed." Her final scenes will air in November.
| | |
| --- | --- |
| The Canning Dynasty? | Jun 09 2012 |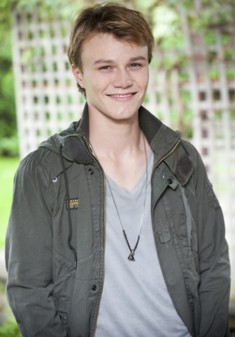 The Canning family is set to expand with the arrival of Kyle's cousin, Harley, played by 15-year-old Justin Holborow.
Harley is set to break hearts on Ramsay Street and is described by Producers as not having 'the same moral compass' as his older cousin.
Despite his age, Justin has had a busy time of late, starring in the yet to air Australian series Reef Doctors.
He has also filmed a role in Conspiracy 365 which features Neighbours alumni James Sorensen (Declan Napier), Andrew Curry (Larry 'Woody' Woodhouse), Mauricio Merino Jr (Simon Freedman) and current star Sachin Joab (Ajay Kapoor).
Speaking of the casting, Executive Producer, Richard Jasek said, "Justin is a star on the rise in Australia and we're delighted to have him join us."
He added, "Harley is a charmer and a schemer so it's going to be an interesting time on Ramsay Street."
Asked if the Cannings the next Neighbours dynasty, Richard commented, "The Cannings certainly add colour to the neighbourhood and as they say 'build it and they will come' so we'll just have to wait and see."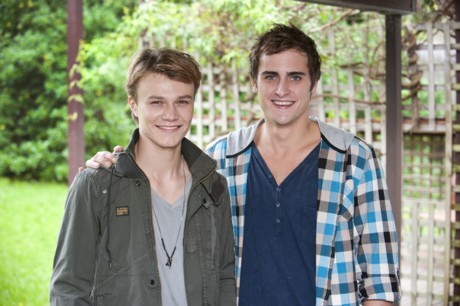 ..
The four-month guest role begins in episode 6481, on screen from September in Australia and October for UK audiences.
| | |
| --- | --- |
| In The Ka-poor House | May 30 2012 |
Neighbours' newest family, the Kapoors have at last moved into Ramsay Street and after much speculation, here is a sneek peek of them in their new home, a newly decorated Number 24.
Exactly how they become the new owners will be revealed in upcoming episodes, as will what this means for the house's current residents, Lou, Lucas, Vanessa and Kate.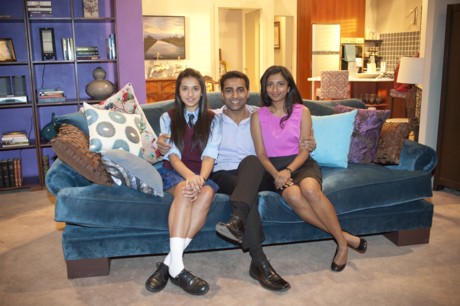 ..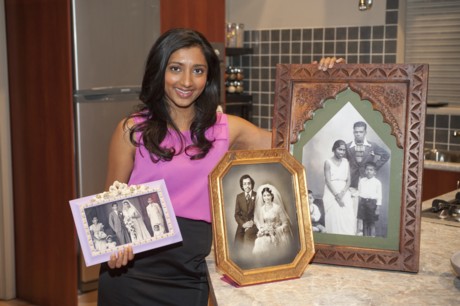 ..
To create a homely feeling, Menik Gooneratne (Priya) brought in some of her own family photos to decorate the set.
"Although I'm officially at work, having photos of my parents and grandparents taken when they lived in Sri Lanka makes it feel more like home," said Menik, who was born in England and settled in Australia when she was eight-years-old.
Menik, who was recently married in real life, joined the cast of Neighbours last year, along with her on-screen husband, Sachin Joab (Ajay) and teen daughter Rani (Coco-Jacinta Cherian).
"I love the way the family have been introduced to Ramsay Street and there is a lot in store for them which I'm very excited about."
| | |
| --- | --- |
| Summer Of Love | May 20 2012 |
From our sneak peek shots of upcoming episodes, it's a summer of love on Neighbours with some of the Ramsay Street regulars locking lips with each other and with other Erinsborough residents...
Will Kate and Kyle finally get together? It seems like Kate's dreams are about to come true, but will they become someone else's nightmare?
Summer strikes a chord with Red Cotton lead singer Griffin O'Donahue (William Ewing) but how will Andrew react?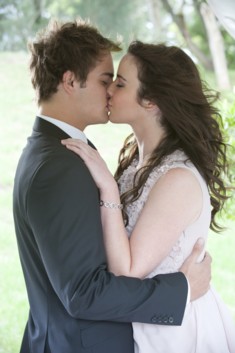 ..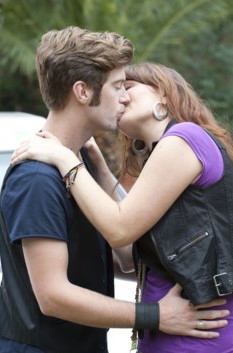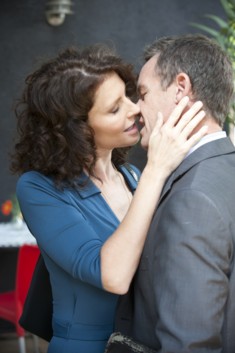 ..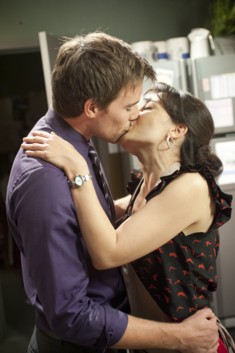 Meanwhile, Paul Robinson's new public relations consultant, Zoe Alexander (Simone Jade Mackinnon), takes an interesting approach in her attempts to give her client a image make-over.
Finally, Vanessa seems to enjoy a check-up from Dr Love, Rhys Lawson, however we suspect that Lucas, the father of her baby, may want a second opinion. Let's hope it's not from Karl...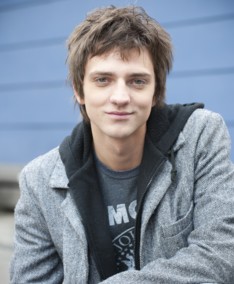 Actor and musician Sebastian Gregory has signed up to play a guest role in Neighbours. The 22 year old who currently divides his time between his hometown of Melbourne and Los Angeles will plays Ed Lee, a mathematical genius who will become an unlikely ally of Natasha Williams (Valentina Novakovic).
Sebastian was applauded for his portrayal of a solitary teenager in the 2009 film Beautiful which also starred Asher Keddie, but longtime viewers of Neighbours may recognize Sebastian as Garrett Burns who briefly dated Rachel Kinski (Caitlin Stasey) in 2006.
In his latest role, which currently runs for four months, Sebastian is set to have
more of a memorable impact on Ramsay Street as his character introduces Tash to some of his unusual pastimes.
"He is very different but also likable, I'm really enjoying playing him," said Sebastian who debuts on screen in June.
| | |
| --- | --- |
| This Sheila Looks Familiar | Feb 08 2012 |
Former Prisoner star, Colette Mann has been cast as Sheila Canning, the grandmother of Ramsay Street's handyman, Kyle (Chris Milligan). Opinionated, but much-loved, Sheila will make a surprise visit to see her favourite grandson, however sparks will immediately fly between the matriarch and Kyle's girlfriend, Jade Mitchell (Gemma Pranita).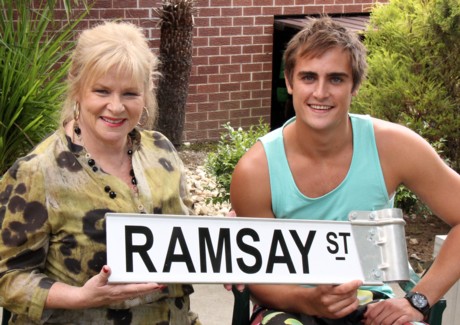 ..
Fans have been calling for a new regular matriarch since the death of Madge Bishop (Anne Charleston) in 2001 and the axing of Maggie Millar as Reverend Rosie Hoyland in 2003. Plans to retain Joan Sydney on a regular basis as Valda Sheergold in 2007 did not come into fruition when the actress chose to return to the theatre, reportedly due to the schedule.
Long time viewers will know that this is not Colette's first time on Ramsay Street, having briefly stepped into the role of Cheryl Stark in 1995 after actress Caroline Gillmer was forced to take time off filming due to an unexpected illness.
| | |
| --- | --- |
| Extreme Makeover: Neighbours Edition | Dec 18 2011 |
30 Ramsay Street, home to Toadie Rebecchi, Sonya Mitchell and Callum Jones, has had a major revamp for 2012.
Viewers have already seen the seeds planted for the storyline as Sonya and Toadie recently broke their sofa, however in coming weeks the storyline will develop, leading Sonya to insist on a brighter, more retro look.

..
"Clearly having a woman around has made a huge difference to Toadie's life and while he loved the brown, he loves Sonya more so will grow to love the aqua," teased Ryan Moloney who has played Jarrod 'Toadfish' Rebecchi since 1995.
Fans of the former House of Trouser need not worry though, it's past will be revisited before the big reveal on-air in Australia from March.
| | |
| --- | --- |
| Meet The Kapoors | Dec 18 2011 |
A new family has moved into television's most sought after suburb, Erinsborough. Councillor Ajay Kapoor (Sachin Joab) is to be joined in Erinsborough by his daughter, Rani, played by newcomer, Coco-Jacinta Cherian. Viewers have already met his wife and Rani's mother, Priya (Menik Gooneratne) who made her first appearance in September and has since taken over as Principal of Erinsborough High from Michael Williams (Sandy Winton) who is due to depart next year.
"I'm delighted by how the Kapoors have been introduced," said Susan Bower, the departing Executive Producer of Neighbours. "Viewers already know them because of their role in the community and link with other characters, and their cultural background is secondary."
"We have had many individual characters who have been representative of Australia's diverse cultural landscape, however to have a family of Indian and Sri Lankan heritage join the neighbourhood, is very exciting."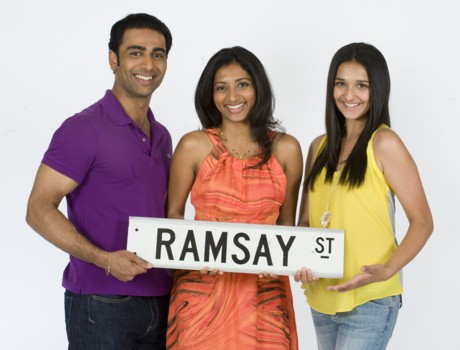 ..
Sadly the news has induced racism towards the family from a minority of fans, leading Bower to take out a column in the Herald Sun to express her disappointment in the comments, stating that "for every for every negative comment about the Kapoor family there were 10 or 15 positive ones."
She also commented that plans to introduce a Muslim family from Lebanon to Neighbours' have now been put on hold.
| | |
| --- | --- |
| New Neighbour | Dec 18 2011 |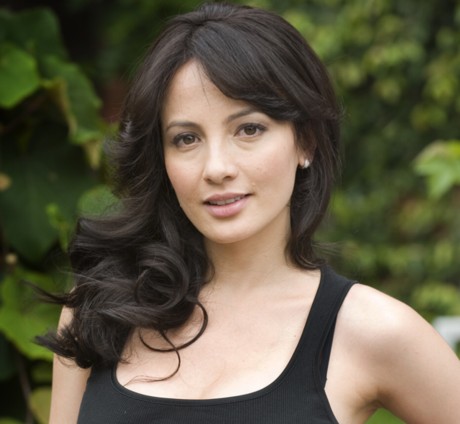 Ramsay Street will have a new resident in 2012 as Alin Sumarwata joins the regular cast as professional chef, Vanessa Villante.
Described as someone who embraces life to the fullest, Vanessa is no wall-flower who is set to turn the world of one of Neighbours' favourite sons upside down.
Alin, who has relocated to Melbourne with her actor husband, Don Hany, and their daughter, Tilda, for the role explained "I'm very excited about joining Neighbours, this caps off a very busy year for us" and laughed about her own similarities to the character, joking "the fact she is always eating mirrors my life, I adore food."
Australian viewers will see Vanessa in Erinsborough from March 2012.
| | |
| --- | --- |
| G'days And Goodbyes | Oct 08 2011 |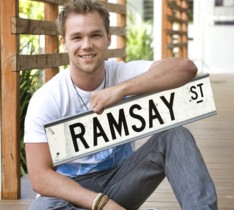 Former Home and Away star Lincoln Lewis has joined the cast for a four week guest role, filmed in Port Douglas, Northern Queensland. He will play Dominic Emmerson, a marine biologist who meets Erinsborough locals including Kate Ramsay (Ashleigh Brewer).
"I've wanted to be on Neighbours since I was a little kid and finally it has happened, and I get to film in beautiful Port Douglas." said Lincoln. "It doesn't get any better."
The pair previously worked together in Australian children's television series, The Sleepover Club when they were just 12 years old.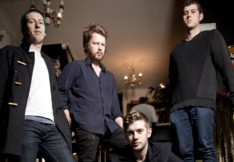 Meanwhile Melbourne indie band William and the Tells have won a month-long guest role starring as on-screen band, Red Cotton, who will be managed by Andrew Robinson (Jordan Patrick Smith) as part of a new storyline.
Fronted by brothers William and Peter Ewing, along with friends Ben Callaghan and Sam Walsh the band will be headlining at Erinsborough's number one venue, Charlie's on air in Australia and the UK from early next year.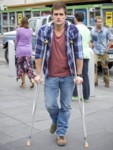 Finally, Christopher Milligan (Kyle Canning) is back on set having recovered from his Achilles tendon injury in time to shoot the final episodes for 2011.
Speaking of his return, Chris explained "After a month of virtually sitting on the couch I'm rapt to be back at work, I just have to pace myself a bit."
Chris's return means the departure of Luke Pegler who, after a brief crossover, has filmed his final scenes as Kyle's cousin, Dane.
With Christopher Milligan (Kyle Canning) out of action having undergone emergency surgery after tearing an Achilles tendon, actor Luke Pegler has been called in to play the part of Kyle's cousin, Dane Canning after some rapid re-writing from Neighbours' script department.
Dane will move into 26 Ramsay Street, taking over Kyle's room whilst he is away tending to his sick mother as well as a pre-planned storyline.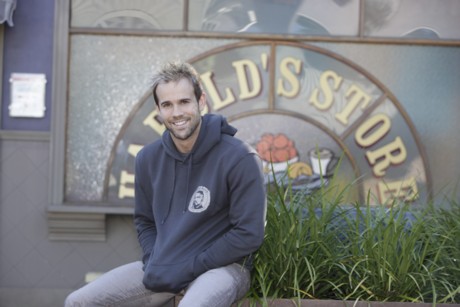 ..

Executive Producer, Susan Bower explained "In these situations, you go to plan B super quickly because the show must go on and the beauty of Neighbours is we're about families so we can pull in a cousin or sibling in these very unusual situations."

Luke, who recently starred in Australian drama, Special Rescue Ops, filmed his first scene on 16 August 2011 and will be on-air for six weeks from late October on Australian screen (on UK screens from late November).

Aussie drama veteran, Zoe Bertram, has signed-up for a four week guest role as Paul Robinson's outspoken cleaner, Lorraine Dowski.

Having appeared on dozens of Australian series including The Restless Years, Prisoner, A Country Practice and Home & Away, Zoe has had to perfect a Polish accent for the role, describing Lorraine as unlike "any of the characters I've played before and the accent was fun."

Meanwhile, Freya Stafford has signed a six month contract to play Emilia, the aunt of Natasha Williams (Valentina Novakovic). Their reunion exposes a myriad of secrets and lies which will set the tongues wagging on Ramsay Street as we learn more about Natasha's mother. Freya, 33, is best known for her roles in White Collar Blue and Small Claims and has made guest appearances in Sea Patrol and Underbelly.
| | |
| --- | --- |
| Benjie's Back | May 11 2011 |
Holy Soap have reported that Benjie McNair is to reprise his role as Malcolm Kennedy, the eldest of Karl and Susan's children for a four month guest stint.
Seen briefly in the 20th Anniversary documentary, Mal last returned to Ramsay Street in 2004 attempting to stop the breakdown of his parents' marriage, a situation Mal will reportedly find himself again after "Susan becomes emotionally involved with another man."
| | |
| --- | --- |
| The End Of An Era | Apr 13 2011 |
Erinsborough is to bid farewell to the last of the Scully family, 12 years after they first arrived. Janet Andrewartha has filmed her final scenes as Lyn Scully, having played the Ramsay Street regular from 1999-2006 and again from 2009, with a guest stint in 2008.
Also bidding farewell is Jacob Brito who plays Lyn's grandson, Charlie Hoyland. Charlie will join Lyn as she moves to live with her youngest child, Oscar and to be nearer to her recently imprisoned daughter, Stephanie. Charlie's half-sister, Summer (Jordy Lucas) will remain on the street, being taken in by the Kennedy family.
To view our archive of past news stories click here