.
Year by Year > 1987: Episodes 401-637


Network Ten airdates: 12/01/1987-08/12/1987
BBC 1 airdates: 20/05/1988-19/04/1989
UK Gold airdates: 16/05/1994-11/04/1995
Number of episodes: 237
Regular Cast: Madge Ramsay, Charlene Robinson, Mrs Mangel, Jane Harris, Mike Young, Eileen Clarke, Des Clarke, Jim Robinson, Paul Robinson, Scott Robinson, Helen Daniels
Joining Cast: Gail Lewis, Jamie Clarke, Harold Bishop, Henry Ramsay, Sally Wells, Rob Lewis, Tony Romeo, Beverly Marshall, Bouncer, Lucy Robinson (second casting)
Departing Cast: Susan Cole, Clive Gibbons, Daphne Lawrence, Shane Ramsay
Notable Guests: Jeremy Lord, Greg Cooper, Chrissie Adams, Malcolm Clarke, Hilary Robinson, Melanie Pearson
This is the year that many fans will never forget. Following its debut the previous year on Ten, the show was now gathering pace, and certainly in Great Britain it was becoming unmissable television, with audience figures rising - although the show was still only broadcast by the BBC in the morning and at lunchtime.
The year kicks off with Paul making advances towards Susan, but when she turns him down she is fired. Susan eventually leaves Erinsborough after turning down Paul's proposal of marriage. Susan is quickly replaced by an old colleague of Paul's from the airline - Gail Lewis who is quickly promoted to assistant manager.
A memorable scene ensues when Charlene, Kelly, Mike and Scott go for a day at the beach and the boys' clothes are stolen leaving them starkers! However, Scott and Charlene's relationship is going from strength to strength - despite their many arguments, they always manage to kiss and make up. In a bid to leave school early, however, Scott begins writing for the Erinsborough News but Jim makes it clear that he needs qualifications before studying journalism.
An end of a small era when Shane Ramsay leaves Erinsborough to travel around Australia, but his place is soon filled by the arrival of Madge's son Henry - straight from prison (a fact which Mrs. Mangel takes great delight in reminding 'Mrs. Ramsay' about). However, Mrs. Mangel gets a shock of her own when the portrait she commissioned from Helen doesn't quite turn out as planned...
Harold Bishop is tracked down and he arrives in Erinsborough to see Madge - the era of "Jelly Belly" has begun! Harold decides to stay in town and he opens a health food shop. No doubt inspired by Harold's ways (!) Des and Jim begin a fitness feud, which sees them struggle it out at the gym and take part in long distance runs. However, Des, in trying to help an injured Jim, gets trapped in a river and is presumed missing. Lassiter's Hotel was fast becoming a prime location in the series, and a large majority of Ramsay Street have to help out Paul when a workers' strike means the hotel is stuck with no staff to prepare for an important function.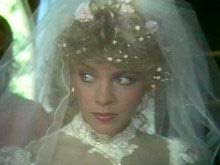 Charlene rows with Madge and moves into a caravan at Lassiter's Lake. Scott continues to be unimpressed by Warren Murphy's flirting with Charlene and vows to win back her attentions. However, Charlene's independent living comes to an abrupt ending when the caravan explodes - the first of many explosions at the complex! After Madge and Jim refuse to let Charlene and Scott live together, Scott sees the only way they can't be stopped is to get married, and so in a memorable scene at Rob's garage, Scott and Charlene plan to marry. Jim refuses to give his blessing at first, but after Helen reminds him that he and his first wife, Anne, were about the same age when they married, he eventually gives in. Madge, on the other hand, is emotional but happy to give the youngsters her blessing. Scott and Charlene marry in possibly Neighbours' most famous episode, which also sees the arrival of Aunt Hilary Robinson - a battleaxe to rival Mrs. Mangel!
Gail's first husband, Jeremy Lord, returns to Erinsborough and convinces Jim and Paul to get involved with his classic racing car - 'Number 13' - which Gail believes will bring bad luck. She is right, and during a race, Jeremy is killed when his car goes out of control. However, happiness is on the horizon for Gail, of sorts, when Paul suggests they get married to secure a business deal from a Japanese businessman. Although they do not love each other, they do get married in a spontaneous ceremony at No. 22 - having invited the respective relatives 'round for a meal. However, the couple soon confide in friends that they do love each other though it is a few months before the marriage vows are re-confirmed.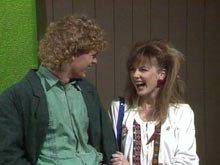 Henry gives the neighbours a shock, not least Madge, when he brings home his new girlfriend - a certain Melanie Pearson. Melanie is a lovely girl but totally dim and has a hilarious foghorn laugh. Jane, on the other hand, becomes the 'Lassiter's Girl' in a promotion for the hotel. Dr. Beverly Marshall arrives in Erinsborough and meets Jim - there is chemistry between them, but things are almost thwarted when Bev's ex partner, Ewan, turns up and threatens to break the relationship.
In a shock storyline, Jane and Scott become increasingly close as she helps him study for his HSC resits. Having bought Charlene a car manual for her birthday on behalf of Scott, Jane shares a kiss with her best friend's husband, and guilt ridden she leaves Erinsborough for a business trip. Mike blames Scott for driving Jane out of town, but only Henry knows the truth. When the truth is revealed, Scott and Charlene split, however, a showdown with Jane when she returns makes Charlene realize how much she still loves him and they reunite.
Harold is nearly killed, when, after rumours are spread around the neighbourhood about him, by Eileen, Madge and Mrs. Mangel, he decides he will leave town, picking up his car from Rob's garage on the way. Charlene claims the car isn't finished yet, but Harold decides to take it anyway. It transpires that Rob was in the middle of replacing the brake lines and the car is unable to stop at any great speeds. Harold is driving through Erinsborough when he approaches a crossroads at the bottom of a hill. The brakes fail and Harold ploughs into crossing traffic breaking both his arms. Mrs Mangel claims to have seen Harold suffer injuries in 'the tea leaves' but an argument with Madge makes her realize that "The Twilight Zone is a very scary place, Mrs. Ramsay"!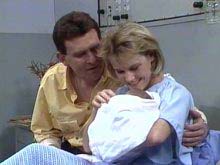 Daphne gives birth to James Kingsley Clark and Daphne's estranged father, Allen, turns up for the Christening having given a large sum of money to Jamie. It transpires that Allen is dying and wants to spend as much time with his daughter as possible. In a crisis of conscience, Daphne leaves Ramsay Street to care for her father. Des is not on his own, though, as Harold moves in with him and Mike following the accident.
The garage also gets a new mechanic after Rob walks out of his job. Greg Cooper is one of the many applicants that Gail and Paul interview on Jim's behalf, but he's the only one they deem suitable to take care of Charlene's apprenticeship.
Meanwhile, Des' sister, Sally Wells, turns up in Erinsborough and befriends Eileen and Des as a stranger, before revealing who she really is. During the final weeks of the year, Des' father, Malcolm, returns and tries to make amends with Eileen, while street artist, Tony Romeo, starts work at the Coffee Shop. The 1987 season comes to an end with Gail and Paul finally realizing how much they love each other and they make plans to marry.
1987 Episode Summaries | 1987 Magic Moments | 1987 Opening Titles
Production Notes
• Greg Cooper was played by Alan Fletcher, who would later join the regular cast as Karl Kennedy.
• Daphne's departure from Ramsay Street to care for her father came about because actress Elaine Smith, had decided to leave the show. However, she would return in a guest capacity the following year to give 'Daph' a proper send-off.
Review by Rhys