Channel Seven: 13/05/85 BBC One: 22/12/86 UK Gold: 28/12/92
Recap
• Paul is witness to hearing Julie tell Daphne what she really thinks of her
• Mrs. Forbes wishes the boys well after telling them to move on from the farm. Danny & Scott fear she is going to do something drastic after she leaves the kitchen with her shotgun. They hear a shot and rush to the door calling out for the old woman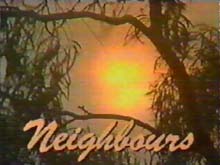 Mrs Forbes' Farm - Kitchen: Mrs. Forbes emerges from the room unhurt and Scott tells her they feared she had shot herself. Mrs. Forbes calls the idea ridiculous but admits she never realised the gun could go off so easily after years of pointing it at people. Danny asks her to reconsider letting the authorities put her in a home and both boys promise they'll stay on to help her return the farm to its' former glory. Mrs. Forbes tells them she knows it would never work and that she is too old and tired to fight on. After she leaves the room for a lay down Danny tells Scott he thinks she is giving in and he fears it is down to her mind going. Danny wants to prove to her it is not hopeless and Scott suggests he calls Jim. Danny reminds Scott in doing so he is bound to reveal where they are and then the police will find them. Scott suggests he calls Paul instead, promising that Paul will say as little to Jim as he asks. Danny is unsure but reluctantly agrees and Scott begins to dial.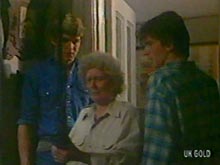 . . .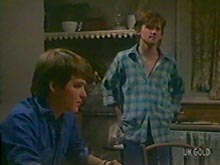 No. 26 – Kitchen/Lounge: Lucy recites her poem she made up about Paul to him but he is not amused. Helen reminds her it is time for her to get ready for bed but Lucy wants to stay up late but Helen tells her no. The phone begins to ring in the lounge and Jim calls out he'll get it and picks the receiver up.
Mrs. Forbes farm – Kitchen: Scott pauses for a moment when he hears his father but disguises his voice asking to speak to Paul, explaining his name is Jack and is a friend from University.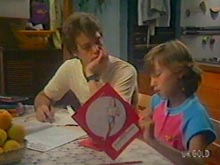 . . .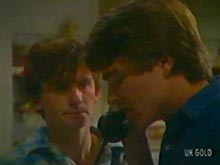 No. 26 - Lounge: Jim calls Paul to the phone and covering the mouthpiece he explains it is Scott and not to let on he has realised. He asks Paul to find out where Scott is and hands over the phone to him.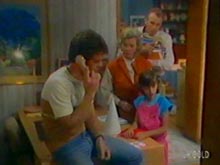 . . .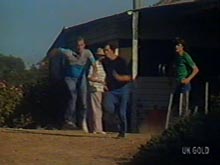 Mrs. Forbes farm – Kitchen: Scott tells his brother it is him but not to tell anyone and just listen. Paul continues to play along.
No. 26 – Kitchen: Jim whispers to Helen and Lucy about Scott being on the phone to Paul.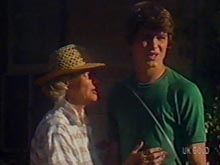 . . .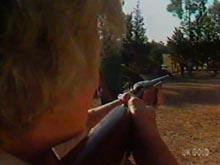 Mrs. Forbes farm – Kitchen: Scott finishes explaining how they need to get the bank to lay off the farm for at least two months and asks if Paul has any ideas.
No. 26 - Lounge: Paul asks where he can contact Scott and at first Scott refuses to say but is stunned to hear he and Danny are no longer wanted by the police.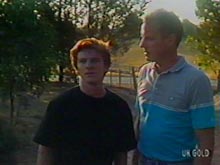 . . .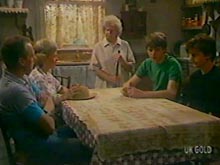 Mrs. Forbes farm - Kitchen: Scott overwhelmed begins to tell Paul the town and phone number but Danny hangs up and snatches the receiver from him. Scott explains about them being in the clear but Danny tells him it is a trick to just find out where they are.
Mrs. Forbes farm – Farmyard: Next day, as Scott and Danny return from working Danny is still angry at Scott for mentioning the town they are living in to Paul. Scott is sure Paul would not have said anything to Jim. The boys look over towards the farmhouse to see Jim and Helen walking towards it. Danny decides to make a run for it but has already been spotted by Jim who takes off after him and grabs the boy. Danny struggles as Jim desperately tries to convince him that he and Scott are not in trouble any longer with the police and he has no reason to run. Helen who has run over to her grandson calls out to Danny that Jim is not lying to him and Danny begins to calm down. Suddenly Mrs. Forbes having heard the shouting rushes out of the farmhouse with her shotgun and tells Jim she'll shoot him if he tries to hurt Danny. Scott reassures her Jim isn't going to hurt anyone and admits he and Danny have not been 'straight' with her. The old woman suggests everyone go into the house to talk but refuses to lower the shotgun. As Danny and Jim walk towards the house, Danny sarcastically asks why Max hasn't come and Jim admits he and Helen thought it best if they came on their own. Danny tells Jim he is glad as he never wants to see Max again.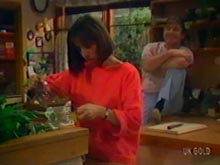 . . .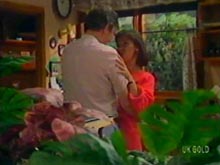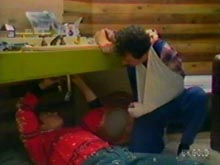 . . .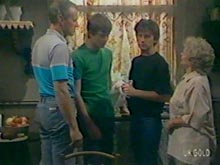 Bedsit - Room 19: Max is desperately trying to tie up his shoelace with his one good hand but gives up and throws the shoe to the floor. Shane arrives and Max tells his son he is late. Shane apologises as he had to get petrol but Max is far too grumpy to be nice to him. Shane tells him the good news about Jim finding Scott & Danny but Max's mood doesn't improve and he expresses no emotion at the news. He just wants to get on with the day's work ahead.
Mrs. Forbes farm – Kitchen: Everyone is around the kitchen table and having been told the real reason for the boys running away Mrs. Forbes admits she never truly believed they were brothers but comments on how she also finds it incredible, that the boys would have been even considered to have done what Carol Brown accused them of. Jim looks a little ashamed ad agrees with her. Mrs. Forbes asks after Danny's father and questions if Max ever hits him. Jim tells her Max has a temper but has never hit Danny to his knowledge. Mrs. Forbes turns to the boys and Danny apologises to her for lying, explaining he was scared of what the police would do to him and Scott when they hadn't done anything wrong. Mrs. Forbes tells them she understands why they run away. Jim tells them he understands now too.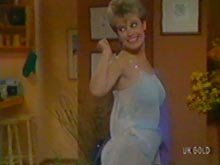 . . .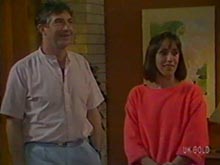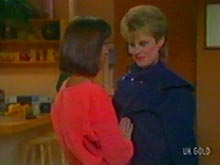 . . .
No. 24 - Kitchen: Nick jokes with Maria about the stress that the men in her family seem to create for her but she reminds him she must be partly to blame too. Nick tells her he cannot understand any reason why a man would walk out on her and suggests they go out that evening dancing. Maria is thrilled by the idea and Nick takes her in his arms and begins to sing and dance with her. When he stops she tells him she cannot go as she wants to be home in case Jim or Helen call about Danny. Nick pretends to be spurned by her decision but Maria jokes he'll get over it.
Customer's bathroom: Max watches while perched on the side of a bath as Shane is attempting to undo the plumbing under a customer's wash basin. Max becomes frustrated at Shane's 'lack' of effort and offers advice. Shane has had enough of his father's bad mood and warns him to 'lay' off or he'll quit helping him. Max backs down and sits back on the bath side.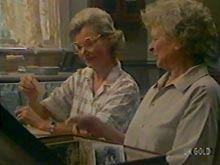 . . .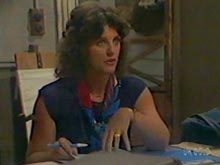 Mrs. Forbes farm – Kitchen: Jim finishes looking through Mrs. Forbes accounts as the boys wash and dry up their cups and plates. Jim admits things don't look so good for her and Mrs. Forbes explains that things have downhill for the farm since a drought 4-5 years ago and then her husband falling ill. She tells Jim she owes him an apology as he is a good man and she misjudged him. Jim suggests he and Scott go for a walk and Mrs. Forbes suggests the boys take Jim to see the fence they put up for her. Helen jokes she'll use her time with Mrs. Forbes to find out how she gets Scott to do the washing up without asking.
No. 24 - Lounge: Daphne rushes into the house calling out for Maria who appears duster in hand. Daphne explains she is on her way to a stripping job but has a problem. She removes her coat to reveal she is in costume but the zip has jammed. Maria rushes over to try and help out. Daphne explains she met Helen & Jim as they were leaving earlier and Maria admits she is so relieved about Danny. She asks if Daphne has heard about Max's accident and Daphne comments on how Nick seems to be quite a character. Maria explains they have known each other for years but she turned down his invite to go dancing as she fears people will believe there is more to it than friendship. Daphne tells her to go, enjoy herself and live a little! Maria answers a knock on the door to find Nick. He is taken aback by seeing Daphne in costume and Daphne hurriedly puts her coat back on as Maria introduces her to him. Nick suggests they all spend the night together with a take-away and bottle of wine but Maria tells him Daphne has convinced her to go dancing with him. Nick thanks Daphne for persuading Maria but Maria is keener to stop Daphne revealing herself again to Nick.
. . .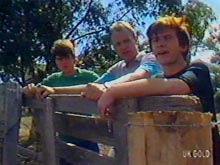 Mrs. Forbes farm – Kitchen: Mrs. Forbes shows Helen some old photos, including the one of her and Ned. They are interrupted by a knock on the door and Pam Hammond walks in. Mrs. Forbes explains to Helen that Pam is from the welfare department. Pam explains she has a room that has become available in the hostel at Ballyvale that she mentioned on her last visit. Mrs. Forbes seems resigned to accept it but wants not to talk of it any further, making the excuse she needs to feed her 'chooks' and walks out of the room. Helen questions how far away Ballyvale is and Pam explains a little over an hour but there is nothing nearer. Helen thinks it is a shame for her to have to leave the area and her friends but Pam explains the Forbes's kept themselves to themselves and even tricked the town into believing they weren't married and so alienated many people. Pam assures her, Ballyvale is a great place. After Pam leaves, Helen begins to check the details of the hostel and picks up the photo of Mrs. Forbes and Ned. Looking at it she sighs and shakes her head.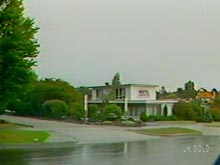 . . .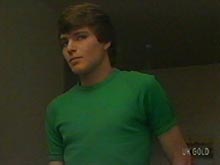 Mrs. Forbes farm – Field: Danny proudly shows off to Jim the fence they only completed that morning. Jim glances over towards Scott who seems to be quite distant. Both the boys begin to question if they could stay on at the farm but he tells them they have to see the reality of the situation. Danny explains he has no intention of going home to be shouted at by Max. Jim tells him he cannot force him to return home. Jim suggests Scott accompany him on the drive to town as he needs to book two rooms to stay over. Scott reluctantly agrees.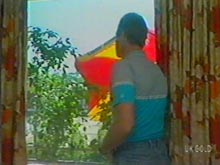 . . .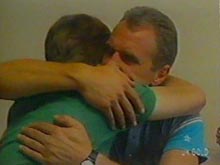 Waldara Hotel - Jim's room: Scott helps Jim carry Helen's luggage and his into his room. Scott suggests he drop Helen's bags off in her room but Jim wants to talk to Scott. Jim tells him he is sorry for not believing he was innocent and reacting the way he did. Scott listens as Jim explains he let him down when he needed him and he wants to make it up to him. Scott assures his father he doesn't need to do anything. Scott tells Jim he should never doubt what a great dad he is. Scott moves towards his father and they hug. Scott tells him how much he has missed him. Jim tells his son he has missed him too.
Featured Regular Characters: Max Ramsay, Maria Ramsay, Shane Ramsay, Danny Ramsay, Jim Robinson, Paul Robinson, Scott Robinson, Daphne Lawrence
Guest Cast: Gwen Plumb as Mrs. P Forbes, Vic Hawkins as Nick Burman, Jennifer Jarman-Walker as Mrs. Pam Hammond
Trivia Notes
• Lucy's poem about Paul:
'There was a young man called Paul.
Whose brain was incredibly small.
When he tried to think,
He started to blink,
And his pants began to fall.'
• Scott reveals to Paul on the phone that the location of the Forbes' farm is in Waldara and the start of the phone number is 351
• Nick begins to sing Frank Sinatra's song You and the Night and the Music to Maria
• Ballyvale retirement home is situated an hour from the Forbes farm
• The photo Mrs. Forbes looks at of her and her husband is a publicity shot taken when actress Gwen Plumb was in The Young Doctors. She can be seen with on screen partner Frank Lloyd who played Ted Wilcox. The picture would have been taken in 1982 or 1983
• Off screen Jim & Helen explain to Daphne about going to find Scott & Danny
• Danny & Scott complete installing a fence at the Forbes farm

Summary by Paul