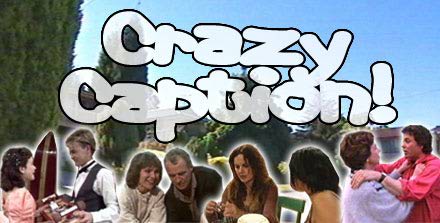 .
Interactive > Crazy Caption
Crazy Caption was a weekly feature on our sister site, the Neighbours Message Board.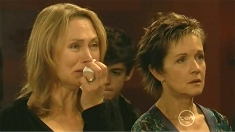 17th January 2010: Miranda could not hide her devastation at Sinitta losing the Dancing on Ice skate-off.
Submitted by Malmmmm.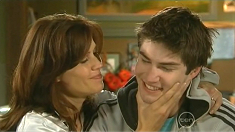 20th December 2009: Rebecca's hallucinations were getting out of control when she mistook Declan for a slab of chocolate cake.
Submitted by Edmundo. Yes indeedy.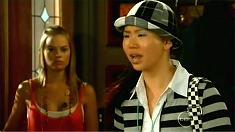 13th December 2009: Donna: (thinking) 'There's one design I won't steal.'
Submitted by Ramsay Street.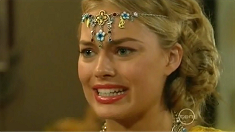 6th December 2009: DONNA: It's got flowers on and it goes round my head. Ringo, can you think of another amazing name like the shrugalero?
RINGO: Flowerhead?
DONNA: Wow, that's the most amazing name in the world. Ever. I love it.
Submitted by the charming JustMe.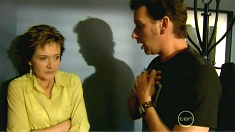 29th November 2009: Even professionals like Jackie and Scott were shocked and uncomfortable when Susan Bower proposed some 'Sucas' action.
Submitted by Mr Conor.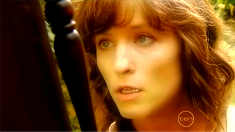 22nd November 2009: "Hmm, that's the last time I go to the new Erinsborough Hospital salon for a spray tan"
Submitted by Cerys. Again.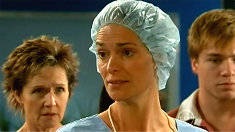 15th November 2009: The writers had hit a new low by merging Erinsborough Hospital with the hair salon.
Submitted by Cerys.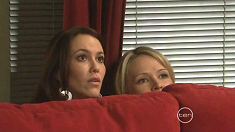 8th February 2009: You're right Jackie, this sofa doesn't meet the Health & Safety criteria.
Submitted by Callumkins.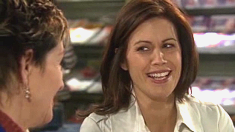 25th January 2009: "Laugh all you want Kinski, I licked the last cake when you went to the loo"
Submitted by Malm.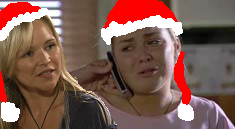 11th January 2009: Carla: I'm telling ya Kate; Sheilas' Wheels are the place to ring for some work. These seasonal hats aren't going to pay for themsleves yer know!
Submitted by David1979.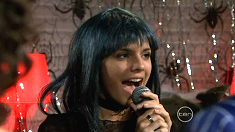 7th December 2008: Rachel was having too much fun on Singstar to notice the giant man-eating spider invasion.
Submitted by Malm.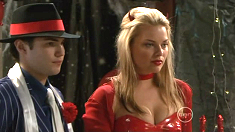 23rd November 2008: Harold's rendition of "I like big butts and I cannot lie" wasn't quite the entertainment that Declan was hoping for.
Submitted by zsxd2345.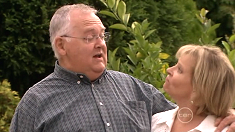 9th November 2008: Kate: So, tell me about your family
Harold: ...ah!
Submitted by the 'ilarious Myke.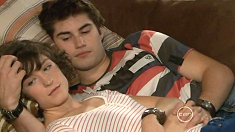 26th October 2008: Declan was in turmoil - could he really love a girl everyone on Digital Spy thought was a minger?
Submitted by the topical Smurfy.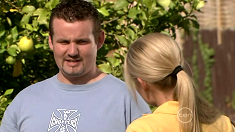 12th October 2008: "You did what with Riley?"
Submitted by the beautiful and delightful Kate.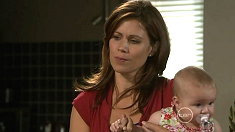 28th September 2008: It was definitely a tricky one - how could Rebecca lick the cake without dropping Chloe?
Submitted by comic genius Smurfy.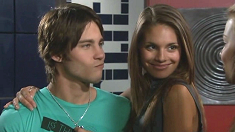 14th September 2008: The winners of 'Smallest Smile 2008' and 'Biggest Smile 2008' pose together triumphantly.
Submitted by the often hilarious SimonThomas.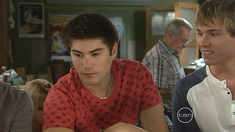 31st August 2008: Declan didn't care it was his own mother, he wasn't going to eat the cake after she'd licked it!
Submitted by the fabulous Mike.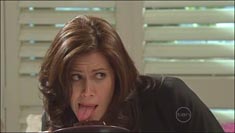 17th August 2008: Paul was disappointed when Rebecca misheard and proceeded to suck his cake.
Submitted by the smutty Smurfy.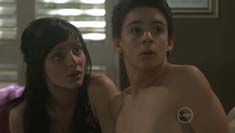 3rd August 2008: You're hardly one to criticise - Cheryl's spa, Harold's pool, Lassiter's Lake, Tom's farm - at least we're indoors!
Submitted by the raunchy Ramsay Street.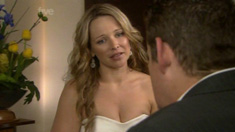 20th July 2008: The shirt and jacket were nice but the stylish leather thong Toadie had opted for wasn't quite what Steph had in mind!
Submitted by the naughty zsxd2345.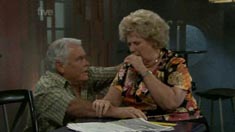 6th July 2008: Joan was mortified not to have made it in to Zoo magazine's list of the 50 hottest Neighbours babes.
Submitted by the pervy David1979.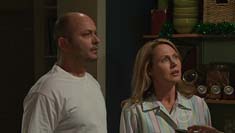 22nd June 2008: Steve regrets taking in an injured giraffe.
Submitted by the charming Affirmicon.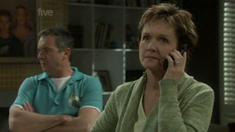 8th June 2008: Susan was just a little shocked to find 'Sexy Chat' was on redial.
Submitted by the mildly entertaining Genius12.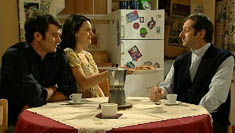 11th May 2008: "If you don't eat a biscuit now, we'll get Prue, and she'll make you eat two."
Submitted by the comical David1979.

27th April 2008: "Seriously, Carm. FROSIE!"
Submitted by the hilarious Kate. Again.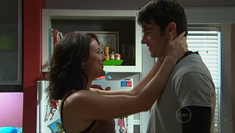 13th April 2008: Rosie: "Babe, I'm not kidding. FROSIE! That's what they're calling us!"
Submitted by the hilarious Kate.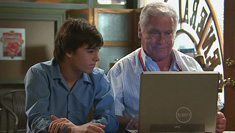 30th March 2008: TOM: Now I can email The Perfect Blend and do that interview with them I've always dreamed of...
MATT: OK, but I'm next big fella!
Submitted, with a little wishful thinking, by david1979.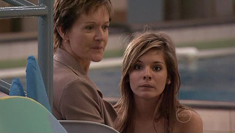 16th March 2008: Jackie and Caitlin couldn't hide their dismay at the thought of sharing a channel with The Sally Show!
Submitted by oxymoron (with a little help from Steve).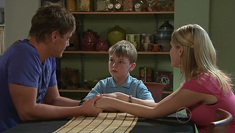 2nd March 2008: "I now pronounce you husband and wife"
Submitted by Roadfish Tebbecci.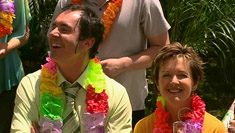 17th February 2008: Karl & Susan embraced their impending death by cannibalism with dignity.
Submitted by the comical Ramsay Street.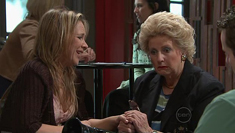 3rd February 2008: Seriously, I was JOKING! Of course they would have got Capital of Culture if you'd still been living there.
Submitted by the fabulous Kate.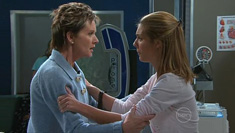 20th January 2008: Now dancing the rumba, Rachel Kinksi and her partner, Susan Kennedy...
Submitted by Arlene Phillips fan, edmundo.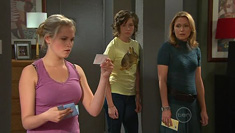 16th December 2007: Eliza's inability to remember lines was beginning to have an adverse effect on scenes.
Submitted by the comical SimonThomas.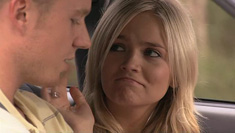 2nd December 2007: "I bought your album".
Steph was touched; but unconvinced.
Submitted by the saucy david1979.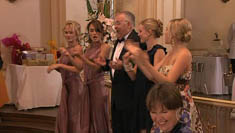 18th November 2007: The Spice Girls' new tribute act was nothing if not inventive.
Submitted by the comical SimonThomas.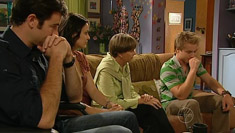 4th November 2007: Sam Clark recieves support from his workmates after being told the news that he won't be doing any more shirtless scenes.
Submitted by the hilarious juliabrigitte.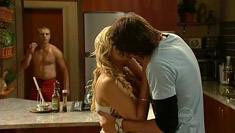 21st October 2007: It wasn't the fact that Sky had fallen in love again that had viewers shocked but instead the realisation that Kyal's pecs had a greater range of expression than his face.
Submitted by the jolly funny shamrock.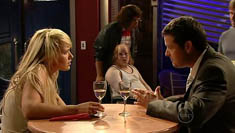 7th October 2007: Frazer was beginning to despair of Rosie's attempts to spy on Pepper's love life - although even he had to admit the disguises were good.
Submitted by the fabulous Patchthehamster.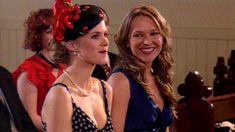 23rd September 2007: Swapping Elle's lipgloss for superglue provided Steph with hours of entertainment.
Submitted by the always-entertaining Malm.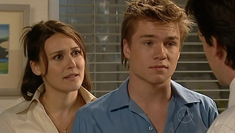 9th September 2007: I've already tried John, George and Paul, so why not Ringo?
Submitted by the spritely Ramsay Street.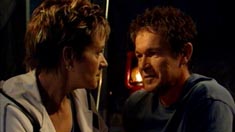 26 August 2007: Go on; tug the beard... I know you want to.
Submitted by beard enthusiast david1979.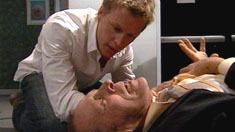 12 August 2007: Luke, I am your father...
Submitted by jolly amusing Ramsay Street.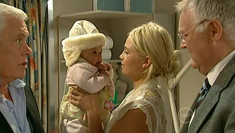 29 July 2007: Lou and Harold weren't sure Osama Bin Laden was the best choice of costume for the Under-1s Fancy Dress Competition...
Submitted by the ever-hilarious smurfy.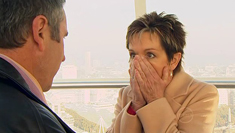 15 July 2007: "Due to complaints from other cast members, Jackie was forced to hide her scene-stealing facial expressions."
Submitted by the comical Malm. Again.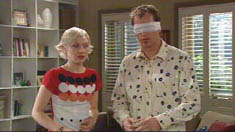 10 June 2007: "Sorry Sindi but unless you change that hideous top, the blindfold stays on."
Submitted by the comical Malm.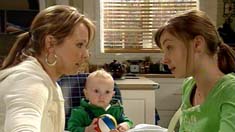 27 May 2007: Aaron: "While I can appreciate the subtle use of symbolism during the title sequence, I can't help feeling this subliminal balloon prop is art for art's sake, and as such, over kill. Don't you agree ladies?"
Submitted by the delightful david1979.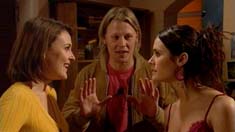 13 May 2007: David: "Calm down dears, it's just a commercial." The effects of the news that Neighbours may move to ITV caused widespread conflict.
Submitted by the charming Ramsay Street.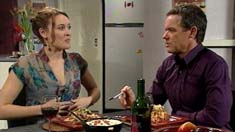 29 April 2007: By the time Paul had explained the misunderstanding over the oregano, Rosie had already swallowed the suicide pill.
Submitted by the quite often amusing smurfy.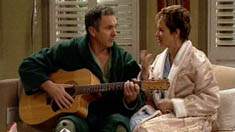 15 April 2007: "I'm sorry Karl, I just didn't think your version of D-I-V-O-R-C-E was appropriate!"
Submitted by the often juicy Mike.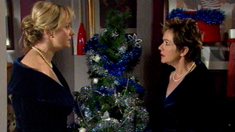 01 April 2007: I'm telling you, he said 'freaking'!
Submitted by the always topical Malm.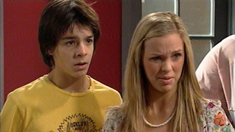 18 March 2007: Zeke himself was shocked at just how hard he pinched Madison's derriere.
Submitted by the always comical Edmundo.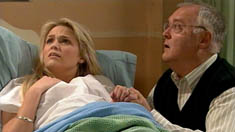 04 March 2007: Sky was too engrossed in the latest episode of Murder She Wrote to notice that Harold had shrunk overnight.
Submitted by the hilarious Malm. Well done.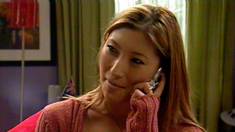 04 February 2007: Katya recieved some horrifying news
Submitted by the comical Ramsay Street. Indeed.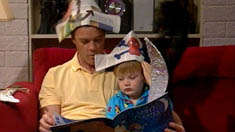 21 January 2007: Oscar: "Paul, pirates are so last year..."
Submitted by the hilarious Malm. Congratulations.

07 January 2007: "This is really the only thing suitable for vegetarians in here?"
Submitted by Grinch-Girl. Congratulations.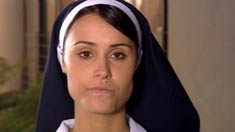 10 December 2006: "Whatever's going on here, I'm having nun of it."
Submitted by Ramsay Street. Well done.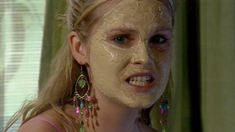 26 November 2006: Janae was at least thankful that she'd been wearing sunglasses when Boyd sneezed.
Submitted by Patchthehamster. Well done.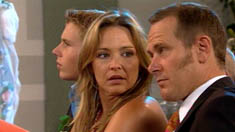 12 November 2006: Steph looked on in horror whilst Max proceeded to fart the tune of the Wedding March in lieu of an organist.
Submitted by the always weddable (is that a word?) Malm. Well done.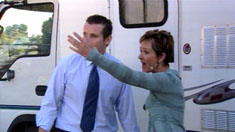 29 October 2006: Toadie's worries over Katya faded in the face of Susan's sudden conversion to Neo-Nazism.
Submitted by the wonderful smurfy. Well done.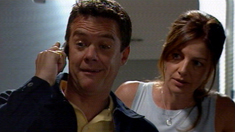 15 October 2006: "Hi! You're through to Smug Chat Live, where you get to talk one on one with incredibly smug guys in your area..."
Submitted by the delightful david1979. Well done you.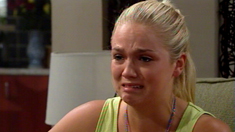 01 October 2006: Toadie: So, you're launching a singing career then, huh? You could be the next Holly Valance!
Submitted by our very own Billy L.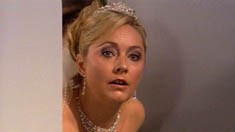 17 September 2006: Janelle stands shocked after realising that "Informal dress" on the wedding invite, doesn't mean she could turn up naked.
Submitted by the hilarious shamrock. Congratulations.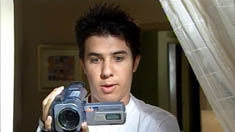 03 September 2006: Filming 'Angie Rebecchi: The Naked Truth' proved quite an eye-opener for Stingray...
Submitted by the always comical smurfy. Congratulations.

20 August 2006: "O'Neill!, Parker! Time to die!!!....Oh I've dropped me knives"
Submitted by the hilarious david1979. Congratulations.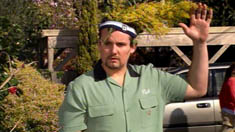 06 August 2006: "Yeah, hi. About those serious storylines you said you'd be giving me...?"
Submitted by the fabulous mauefw. Well done.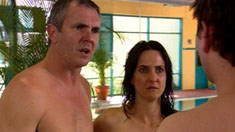 23 July 2006: "Connor? Why are you wearing shades, a fake moustache, false eyebrows and a fake nose?. And why's there a large question mark drawn on your stomach?"
Submitted by the always amusing Enunciate. Well done.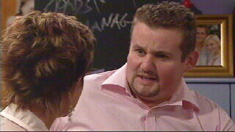 26 February 2006: "Erm, nice hairstyle Sindi. You haven't been taking tips from Susan by any chance?"
Submitted by the utterly hilarious Enunciate. Well done.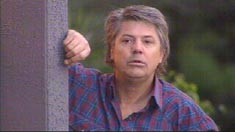 19 February 2006: After eldest Kinski boy's 34th attempt at a caption, Joe was getting a little confused.
Submitted by the comical mauefw. Well done.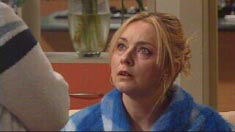 12 February 2006: Janelle is gobsmacked when it's announced she has won the 2006 Booker prize.
Submitted by the lovely Affirmicon. Well done.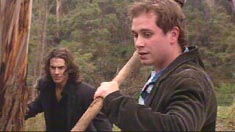 05 February 2006: Even with a large pencil, Connor struggled to write HELP.
Submitted by the delightful Rhi. Well done.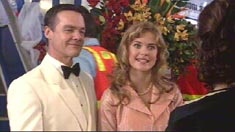 29 January 2006: The Melbourne branch of Madame Tussaud's was more than happy to loan Neighbours it's newest exhibits.
Submitted by the slightly insane Andy. Well done.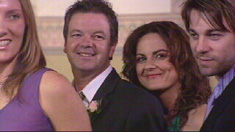 22 January 2006: And the award for 'Least Convincing Abba Tribute Band' goes to...
Submitted by the hilarious mauefw. Well done.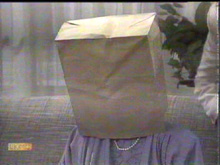 15 January 2006: Budget cuts were starting to show in the make up department.
Submitted by the always-amusing Snuggles. Congratulations.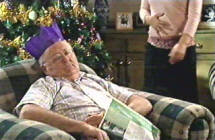 08 January 2006: If she was quick, she could shave at least one eyebrow off before he woke up.
Submitted by the fabulous Rhi. Congratulations.

2003 Entries | 2004 Entries | 2005 Entries