Channel Ten: 19/01/09, Five: 23/03/09
Steph and Greg grow closer on their first date. They kiss and Steph asks him to call her. Greg puts his wedding ring back on. Steve disapproves of the rafting trip and Declan promises to look after Bridget. Dan pulls out of the trip to take care of Sam, much to Libby's frustration. Susan tells Zeke to be careful and wants to have a talk with him when he gets back. Declan, Zeke and Kyle fight and breaking them up, Andrew suggests a raft race. Andrew assigns Bridget to Zeke's team and she assures Declan that she doesn't need looking after. Zeke and Kyle plot against Declan. Stopping their raft, Kyle and Zeke cause a collision and their raft goes overboard. Libby tries but fails to hold on to Zeke's hand. Kyle tells Declan that Bridget is underwater, as is Zeke. The group call Libby, Zeke and Bridget's names as they stare at the water.
At the river, the names of the missing are called out but there are no signs of life.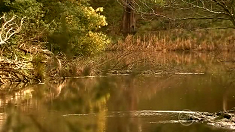 ..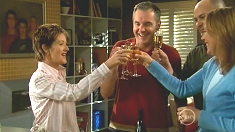 At number 28, Susan and Karl have invited Miranda and Steve over for dinner and they're having champagne. Karl proposes a toast to a couple of days free from teenagers. As they toast, Karl's phone rings but he ignores it, suggesting they toast to 2009. Steve's phone rings, quickly followed by Miranda's, then Susan's.
They arrive at the river and witness the rafts being pulled in and the rescue underway.
In the tent, police survey a map of the river area. Steve and Miranda find Declan, who tells them that Didge went overboard and so did Zeke. Miranda is furious, reminding him of his promise to look after her. Dan arrives and confirms that Libby, Zeke and Bridget are missing, but tries to reassure them that they'll be found.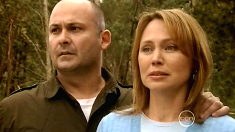 ..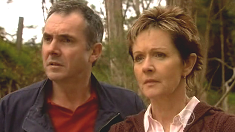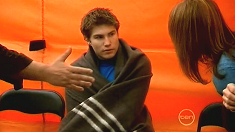 ..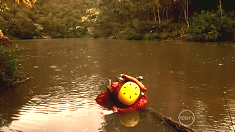 An unidentified and unconscious body is lying on the edge of the riverbank.
Kyle is led into the tent, as Karl questions how this could have happened. Dan tells him that the rafts collided and that Ringo, Donna and the others have been taken to hospital. Impatient, Steve and Karl leave to help with the search. Declan wants to go as well, but is told to stay behind.
At Charlie's, Steph's phone rings, but she cancels it because she is on a date with Greg. He tells her that she's gorgeous and she is clearly flattered. She tells him that he's 'sex on a stick' and asks him if he really wants to eat. He doesn't, but since they both shares their houses with someone else, they book a room at Lassiter's.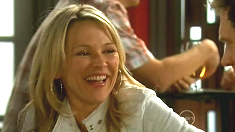 ..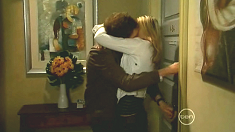 Steph and Greg quickly head to their room, kissing in the corridor. They tell each other that they never usually do things like this, but both still want to. Greg goes to the toilet and Steph is excited.
Miranda attacks Declan for not looking after Bridget, but he tries to defend himself. Andrew Simpson takes the blame as he separated Bridget and Declan, but says that every precaution was taken. He tries to explain the situation with Zeke, but Susan jumps to her son's defence. The argument is interrupted by the police sergeant, informing them that a shoe has been found – and its Bridget's.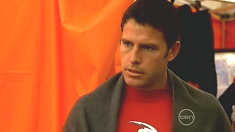 ..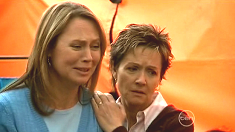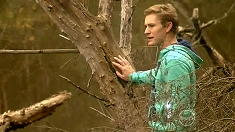 ..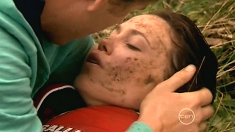 Searching on his own, Dan calls out everyone's names, but to no avail. Eventually, he finds a body and races toward it. It's Libby, but she looks very ill. He tries to comfort her with talk of their wedding and she gathers enough energy to tell him to look after Ben, before falling unconscious. He takes her in his arms and heads back to the others.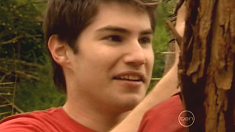 ..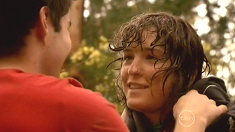 Elsewhere, Declan calls out Bridget's name. Hearing a noise behind him, he turns around and sees Bridget. He runs to her and they hug. He tries to dry her hair and she calls him a dag and jokes that it's a relief they found her other shoe. Delighted to see each other, they start kissing.
Steph starts getting dressed after her afternoon with Greg. Noticing her awkwardness, he asks her about it and she tells him that she feels cheap. He tells her that she's not, and that this wasn't just a bit of fun to him. He starts flirting with her, asking her to stay. Steph tells him that she has to go and get Charlie. Seeing her six missed calls, she phones Susan.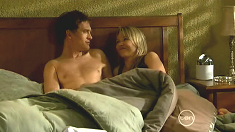 ..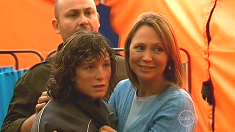 Declan and Bridget arrive at the tent and Miranda and Steve are relieved. The senior sergeant wants to have a medic look over her and Miranda reminds them that she's pregnant. Bridget is upset to learn about Zeke and Libby. The senior sergeant then tells Susan about the upcoming risk of a flood. Steph finally arrives, just as Dan and Karl return with Libby. They place her on a stretcher.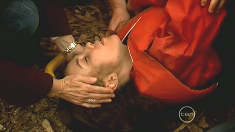 ..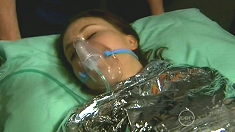 Libby arrives at the hospital for treatment, with her worried family and friends following. The doctor informs them that she should be fine. Steph goes to get them all coffee, but is stunned when she sees Greg kissing Veronica Olenski.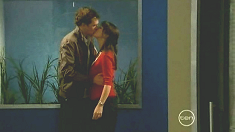 ..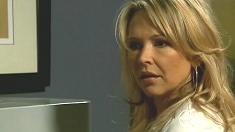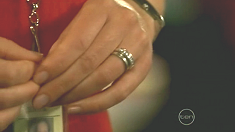 ..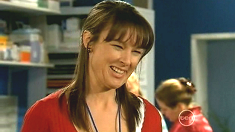 Not long after, Veronica comes over and tells Susan that she was glad to hear the good news about Libby. She speaks to Steph, asking about Charlie and tells her that it seems like yesterday when he was born. Before she leaves, Steph notices her wedding ring. Susan apologises for snapping at Steph before, and continues trying to contact Rachel. The doctor emerges telling everyone that Libby will be fine and they can all see her one at a time.
In her hospital room, Dan kisses Libby and suggests they set a wedding date. He thought he was going to lose her and doesn't want to waste anymore time. He reassures her that they will find Zeke and kisses her again.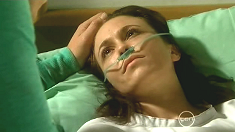 ..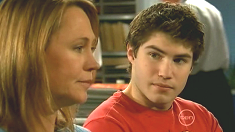 Miranda has been watching them from the corridor and Declan returns with sandwiches for her. He tells her that Donna is fine. Miranda thanks him and points out how lucky they were. They both were told that Bridget will be fine, but tests are still being run to find out about the baby. She apologises for her behaviour, claiming that she was scared and needed to blame someone.
Veronica finishes taking a blood sample from Didge, who is hungry. Declan comes in with his box of food, but makes her eat a banana and some orange juice first. Veronica tells Bridge to hang on to him.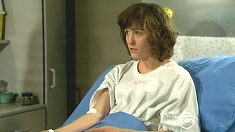 ..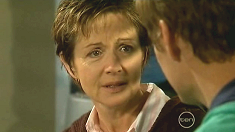 Susan still can't get in touch with Rachel. Dan comes with coffee, telling her that Rebecca is on her way to the hospital, Bridget has eaten half the canteen and that Declan is looking after her. He reminds Susan that Zeke is a tough kid, but she thinks that she has broken her promise to Alex, that she would look after him. She wants to go and help find him, but Dan calms her down. She says that she can't lose Zeke.
Karl asks Sergeant Caskey why the search is being called off when Zeke is still out there, but she tells him that they can't keep searching in the dark. Steve interrupts, telling Karl that the police have found something.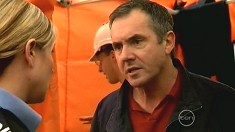 ..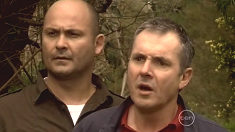 At the riverbank, the rescuers pull a lifejacket out the water and after checking the number on it, Sergeant Caskey informs Karl that it belonged to Zeke.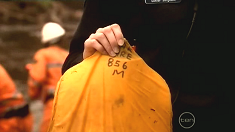 ..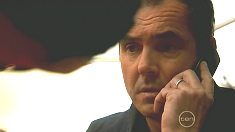 In the tent, Karl stares at the lifejacket and tries calling Rachel, but there's no answer. He leaves her a message, telling her that it's important that they talk…
Featured Regular Characters: Steve Parker, Miranda Parker, Bridget 'Didge' Parker, Karl Kennedy, Susan Kennedy, Libby Kennedy, Daniel 'Fitzy' Fitzgerald, Declan Napier, Steph Scully
Guest Cast: Ian Smith as Harold Bishop, Peter Flannigan as Andrew Simpson, Nick Farnell as Greg Michaels, Caroline Lloyd as Dr. Veronica Olenski, Elise Dickinson as Senior Sergeant Belinda Caskey, Christopher Milligan as Kyle Canning, Mitesh Raniga as A&E Doctor
Trivia Notes
• Kym Valentine reprises her role of Libby Kennedy after taking a break due to illness
• Greg is married to long-time recurring character, Dr. Veronica Olenski. Veronica delivered Steph's son, Charlie
• Steph says that Charlie is now 4 years old, even though he was only born in 2006
• Elise Dickinson appears in her third guest role, having previously played Nurse Brown in 2004 and Jacqui Burns in 2007

Summary by Conor