.
Magic Moments > 2013 > Lucas and Vanessa's Wedding Episode 6732

Written by Phil Lloyd, Directed by Tony Osicka, Produced by Alan Hardy
Channel Eleven: 17/09/13, Five: 15/10/13
Toadie telling Sonya he can see the light at the end of the tunnel... Toadie being identified as the person around at the time of the hit and run... Callum explaining to Bailey how Josie had unexpectedly kissed him... Imogen frantically phoning Mason to warn him that the police have Robbo's phone... Lucas proposing again to Vanessa
At Charlie's, Callum is playing darts whilst Sonya and Toadie are chatting at the bar, wondering where Vanessa and Lucas are. Sonya comments that its nice to see Toadie smile, and Toadie replies that he wishes it would rub off on Callum. Just then, Lucas and Vanessa arrive and are thrilled to see that Charlie's has been decorated with balloons to celebrate their engagement. Lucas wonders if the news, that Sonya and Toadie mentioned, is the party, but Toadie excitedly tells him it isn't: the news is that Marty Kranic has been identified by Terese, and that their names should be in the clear soon. Lucas looks relieved.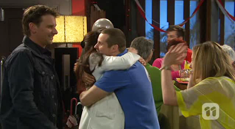 ..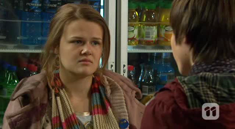 Josie arrives at Harold's and bumps into Bailey inside. He tells her he has been looking for her and that he is on the way to dinner with Toadie and Sonya. He asks if she is coming, but she declines, refusing to be humiliated again. Bailey apologises for giving Josie the wrong idea and urges her not to blame Callum. Bailey begs Josie to speak to Callum to see if the situation can be sorted out.
Back at Charlie's, Callum is sitting on a couch looking miserable. Meanwhile, at the bar, Sonya and Vanessa are discussing how exciting the future will be, both with the move into Vanessa's apartment and the fact that Lucas and Toadie will soon be in the clear. Rejoining Toadie and Lucas, Lucas asks if they really will be off the hook and that Marty has to have been the hit and run culprit. Toadie urges Lucas not to get his hopes up. On the other side of the bar, Bailey heads over to Callum with Josie in tow. Callum tells Josie he wasn't sure she would make it, and Bailey leaves them to it, going over to say hello to Lucas and Vanessa. Awkwardly, Josie admits to Callum that she shouldn't have tried to kiss him, and Callum apologises for his over-reaction. Agreeing to be friends, they happily shake hands.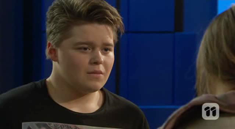 ..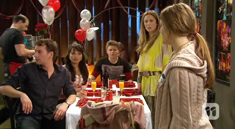 A little later, Lucas, Vanessa, Toadie, Callum and Sonya are sitting round a table having a drink. As they are debating making a Plan B for the wedding (as it is raining torrentially outside), Detective Crabb arrives. Walking over to the celebrations, she apologises for interrupting. Toadie asks if Marty has been found, but Detective Crabb replies that Toadie needs to accompany her to the station to answer a few questions. Toadie follows her, Sonya looking extremely worried. before they leave, Josie returns to the table, and Detective Crabb asks what Josie is doing. Callum replies that she is only having dinner with them, but is left reeling when Josie says "Sorry Mum". Josie is told to leave by Detective Crabb and Callum angrily rounds on Josie, asking if that is why she was getting close, so that she could tell all the information she learnt to the police. Upset, Josie rushes off.
At the police station, Toadie and Detective Crabb are in the interview room, facing each other across the table. Toadie asks who the witness is and what they saw. Toadie is informed that he was the driver of the hit and run vehicle. Detective Crabb asks if it is possible he was the driver as, in his statement he admitted he couldn't remember the night of the hit and run. Toadie reiterates that he was drugged, but he is asked why he waited so long to have a blood test as the narcotics would have left his system. Toadie asks Detective Crabb if she believes he has made everything up, but is told that she has to look at things from every possible angle. Toadie urges her to look at the facts, and to consider that Marty could have been lying to her. Toadie adds he won't be forced into admitting something he didn't do, and won't be changing his statement either.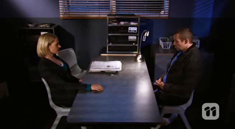 ..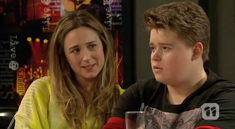 Lucas is trying to reassure Sonya and Callum, telling them its all just a formality. Vanessa adds that her and Lucas are not going anywhere until Toadie returns. Vanessa offers to postpone the wedding what with everything going on, but Sonya persuades her not to.
Toadie is alone in the interview room looking thoughtful. Just then, Detective Crabb arrives back and sits down at the table. She tells Toadie he is being charged with culpable driving causing death. Sobbing, Toadie nods that he understands the charges made against him.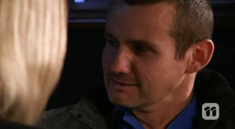 ..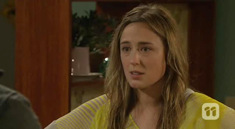 Outside, it is raining heavily; Toadie, Sonya and Callum arrive home looking shocked. Toadie apologises for ruining the night and Callum jokes that he needs to be warned next time Toadie is arrested. He adds it's good that Toadie got bail, then slopes off to bed. Toadie tells Sonya that it doesn't feel real as he doesn't know if he is actually guilty or not. Sonya tries to convince Toadie that the only witness is lying and that he will be torn to shreds on the witness stand. Toadie considers pleading guilty for a lesser sentence, but Sonya tells him that he will do no such thing; if Toadie can't believe in his own innocence then Sonya will for both of them.
The next morning, at number 32, Bailey, Lauren and Matt are discussing Toadie and Callum. Bailey desperately suggests to Matt that they have to find Toadie innocent. Before Matt can respond, Amber and Mason come into the kitchen with a cheery good morning. Matt goes to leave, revealing that he has put in for overtime. Lauren angrily follows him, and asks if it is because he is avoiding his daughter or all of them. Lauren demands that the situation has to stop, and that he needs to cut Amber some slack. Matt replies that he can't understand why the children didn't come to him, despite his understanding of the situation that Robbo put them all in.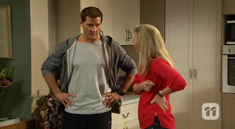 ..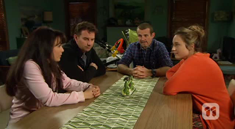 At number 30, Lucas, Vanessa, Toadie and Sonya are around the table, Lucas telling Toadie he doesn't believe him to be guilty at all. Toadie thanks them, but questions why Lucas and Vanessa aren't getting ready for their wedding. Vanessa and Lucas try to put off the wedding, but Toadie urges them to go ahead. In the kitchen, Callum is listening upset. Lucas and Vanessa head off to continue with their preparations, and Sonya wonders whether they should help, in order to take their mind off everything. Callum comes in from the kitchen and apologises to Toadie about Josie. Toadie explains there is a witness and that Callum must not blame himself at all.
At Harold's, Callum and Josie are discussing the situation, Callum apologising for saying to her what he did. Callum urges Josie to talk to Detective Crabb to convince her that Toadie is innocent, but Josie explains that she can't. Callum asks if they could still be friends: Josie admits they could, but that ultimately she is unsure if she can get over him. Before leaving, she admits that she thinks that Toadie is innocent.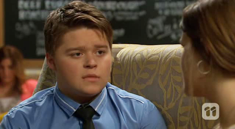 ..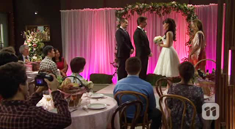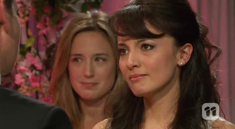 ..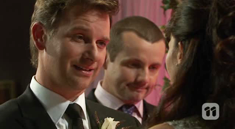 Vanessa is in a beautiful long, white wedding dress as she and Lucas are standing in front of each other at their wedding. Lucas jokes how it is the second time they have had a wedding and asks who doesn't love a shotgun wedding! Lucas tells Vanessa she is beautiful, and that he only realised what love was when he met her. He adds that she believes in him, even when he doesn't believe on himself. He swears he will always be by her side, no matter what life throws at them. Lucas explains that no time or space will ever tear them apart. Guests, including Amber, Josh, Imogen, Callum, Chris and Hudson smile as they hear the loving vows. Vanessa explains how she had dreamt she would fall in love, get married and have children. She jokes it didn't happen that way, but that Lucas is her best friend, her rock, and that she will be proud to call Lucas her husband. She commits her life to him because she loves him and always will. They kiss delicately as the guests clap. Toadie and Sonya, who are nearby, also share a look following the vows, Toadie smiling at Sonya.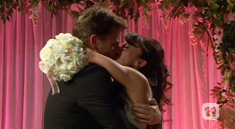 ..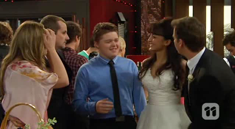 A little later, Toadie is congratulating Lucas and Vanessa; Sonya explains that with everything going on, it's nice to see some happiness. Callum also adds his congratulations.
At the police station, Matt tells Detective Crabbhe doesn't believe that Toadie is guilty. Matt says they need to review all possible suspects before it is too late. detective Crabb relents and they begin to go through the facts of the case, beginning with events earlier in the night. They consider the suspects and motives, including those of Lucas, Amber, Josh, Chris, Hudson, Mason, Imogen, Sonya, Lauren. Detective Crabb and Matt consider how the car came to be parked at the hospital, as the car being stolen twice in a night seems unlikely. In addition, they conclude that there has to have been a confrontation with someone prior to the hit and run, as there were injuries on Robbo inconsistent with those that would have been caused by the car.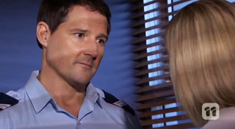 ..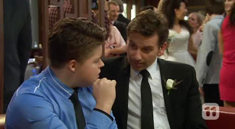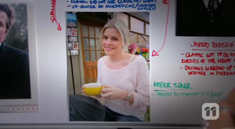 ..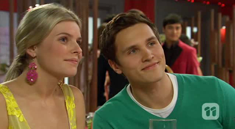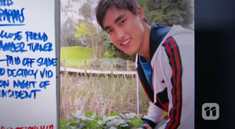 ..
Meanwhile, at Charlie's, Josh tells Amber that he should tell the police about his fight with Robbo. Amber asks if they can at least enjoy the wedding first.
Matt tries to convince Detective Crabb that Marty is an unreliable witness, but Detective Crabb is adamant that, because he came forward of his own accord it's all just conjecture. Just then, a policeman enters the room, telling Crabb that there is someone at the front desk who has information about the case. In addition, he hands Crabb an envelope, showing details of the fingerprint analysis carried out on Robbo's mobile phone. Crabb reveals who made the anonymous call to the ambulance on the night of the hit and run: Imogen.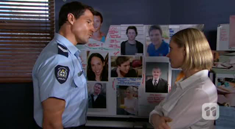 ..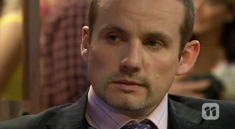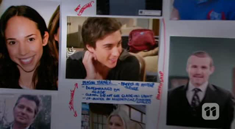 ..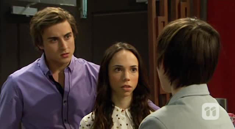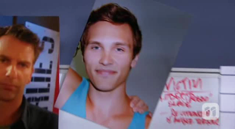 ..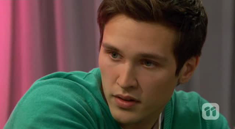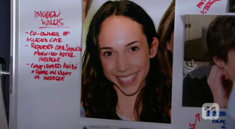 ..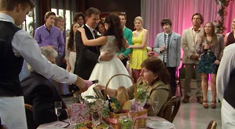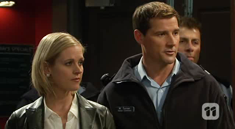 ..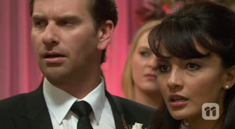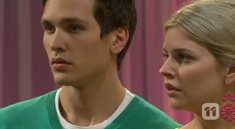 ..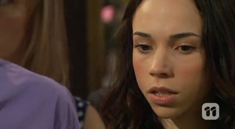 Back at Charlie's, Vanessa and Lucas are having their first dance, surrounded by all of their friends. Detective Crabb enters, followed by Matt who urges her to wait until later, but she rejects this, telling him they have new information and have to act. Callum runs over, to stop them approaching Toadie, and Toadie explains he is not breaking his bail conditions by being there. Detective Crabb tells Toadie not to worry as the charges against him have been dropped. Toadie asks if that is why the police have crashed the wedding, but Matt says that it is not the reason: they are actually there to arrest the person who ran down Robbo.
Featured Regular Characters: Toadie Rebecchi, Sonya Rebecchi, Callum Rebecchi, Lucas Fitzgerald, Vanessa Villante, Lauren Turner, Matt Turner, Bailey Turner, Mason Turner, Amber Turner, Imogen Willis, Josh Willis, Chris Pappas
Guest Cast: Madison Daniel as Josie Lamb, Louise Crawford as Ellen Crabb, Remy Hii as Hudson Walsh, Aaron Jakubenko as Robbo Slade, Darius Perkins as Marty Kranic, Steve Perkins as Const. Ian McKay
Trivia Notes
• Lucas and Vanessa become the first Neighbours couple to have two on-screen weddings, without being legally married at the end of either of them
• Actor Steve Carroll, who has played the recurring of Ian McKay since 2011, is now being credited as Steve Perkins

Summary by Alex