.
Neighbourhood > Places > Taylor house
Taylor house 1985
Residents: Neil Taylor (1985), Marcia Taylor (1985), Kim Taylor (1985)
The home of local school teacher, Marcia Taylor and her accountant husband, Neil who lived here with their daughter, Kim. Dealing with the local teenagers every day, Marcia believed them to be a bad influence and strived to keep Kim away from them, with Kim often left frustrated by her father continually failing to voice his opinion, so when Kim told her father that she had arranged to go to the cinema, Marcia quickly spoke for herself and her husband, saying that 'they' had changed their minds about her going.
When Marcia forced Danny Ramsay to play a tape in class which had been edited to state that Scott Robinson was a rapist and implied they had slept together for money, Kim ran home only to be followed by her mother, who wouldn't believe her side of the story. Calling around to talk to the Taylors with his son, Jim Robinson made them give Scott a chance to speak, with Neil finally overruling his wife by bringing Kim into the room so they could discuss things; however when Marcia told Jim to keep his son away from her daughter, Kim decided to run away to escape the accusations.
When Jim managed to find Scott and Kim, only for Kim to run away again before he could see her, he was forced to call around to the Taylor house to tell Marcia what had happened, but Marcia explained that Kim had called to say she wouldn't be returning and broke down, confessing that she couldn't understand how a child she loved so much could hate her so much in return.
Key moments (with episode links where available)
Marcia breaks down as Kim runs away again
Gallery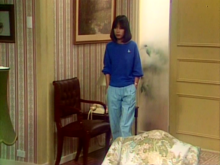 ..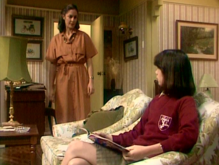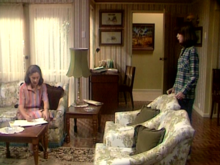 ..