.
News Headlines Edited by Aaron and Karl
| | |
| --- | --- |
| Jay Bunyan Webchat | March 28 2003 |
Jay Bunyan (Jack Scully) will be the guest for next month's live webchat at the BBCi Neighbours Website on Thursday 24th April at 2.10pm. BBCi Neighbours are also giving fans the chance to win a copy of Susan and Karl's wedding program, signed by Jackie Woodburne and Alan Fletcher, in their next prize quiz, which is about Neighbours weddings.
| | |
| --- | --- |
| Neighbours Moves to BBC Two | March 24 2003 |

Due to continuing blanket coverage of the Iraq War on BBC One, all this week's evening installments of Neighbours have been moved to BBC Two at 5.35pm. The week's lunchtime screenings are scheduled for 1.55pm on BBC One.
| | |
| --- | --- |
| Daniel Gets His Claws Out | March 24 2003 |
Daniel MacPherson (Joel Samuels) has hit out at his former Neighbours co-star Holly Valance (Felicity Scully). Heat magazine quotes the actor as saying: "I don't find her attractive at all, and that's probably because of her attitude. I wasn't the only one on the set who thought that either." Meow! Daniel can currently be seen on ITV1's The Bill.
| | |
| --- | --- |
| Rebecchi Round Up | March 24 2003 |

Following their suprise guest return last year, some old favourites are shortly heading back to Erinsborough. During an exclusive interview for this website earlier in March, actor Don Bridges, alias Big Kev Rebecchi, confirmed: "I think we [Angie and Kev] might be seen sooner than you think. I am shooting some more episodes fairly soon so keep your eyes peeled."
And wherever Big Kev goes, his beloved "little Pumpkin" Angie follows, so expect the return of Lesley Baker as the bawdy Rebecchi matriarch, too, along with son Stonefish (Anthony Engelman). Speaking to us earlier this year, Lesley commented: "After six years, it is really nice to know that the Angie I tried to convey actually worked. I really love the character. Regardless of whether I return or not, I have had a great deal of pleasure out of Angie - and to know that people out there have understood what she is about is the icing on the cake."
To read Don's full interview, click here. To visit our celebration of Angie, Bring Back Angie!, click here.
Special thanks to Don Bridges
| | |
| --- | --- |
| Born to Wait | March 21 2003 |
The UK release of Delta Goodrem's (Nina Tucker) album Innocent Eyes has slipped back in the schedules to April 7, according to a number of UK retail outlets. Delta will apparently be making another UK trip to promote the release, possibly including a store signing session.
| | |
| --- | --- |
| Neighbours Writers Interviewed | March 19 2003 |
Australian National Radio's magazine show Books and Writing profiled Neighbours script producers Luke Devenish and Ben Michael in their March 16 edition, with the pair discussing the show's ethos and conception, along with its place in the broader television market. From the show's website: "Robert de Young looks under the bonnet of the Neighbours TV juggernaut and discovers an an efficient script-writing engine ticking away with skill and efficiency, as well as two script editors ready to defend the honour of their patch against all detractors."
The programme can be downloaded from the show's website for a limited time by clicking here.
| | |
| --- | --- |
| Alan Fletcher Gets Political | March 19 2003 |

Alan Fletcher (Karl Kennedy) has taken to his website to speak of his opposition to the impending war in Iraq. Alan comments: "A war against Iraq could be a humanitarian disaster in the making. I see no culpability in the general Iraqi populace for the sins of their dictatorial leader. The risk of killing thousands of innocent citizens and destroying a nation's infrastructure in the name of peace is too great to rush into a war before all diplomatic attempts are complete. "
Alan has also teamed up with Neighbours music director Chris Pettifer to record an anti-war song, Perfectly Comfortable, which he encourages fans to download and share. To read Alan's full essay and download the song, click here.
| | |
| --- | --- |
| All Change at UK Gold | March 19 2003 |

Following last month's news that UK Gold had cancelled their 2.15pm and 11.15pm screenings of Neighbours, comes the announcement that the show's only remaining broadcast is to move to an earlier time of 7.20am. The new schedule begins on Tuesday May 6th. There will also be no episode of Neighbours screened on the May 5th Bank Holiday.
| | |
| --- | --- |
| Pure Soap Back for a New Series | March 17 2003 |
The BBC's Pure Soap show is back for a new series on UK screens this week on digital channel BBC Three. Neighbours actor Jonathon Dutton (Tad Reeves) will be a guest in the coming weeks. The programme offers viewers the chance to comment on all the day's soaps via text, email and telephone and will also feature daily preview clips of upcoming Neighbours episodes. Pure Soap starts this Tuesday at 8.00pm on BBC Three, and will be broadcast every weeknight for the next seven weeks.
| | |
| --- | --- |
| Born to Triumph | March 16 2003 |
Congratulations to Delta Goodrem (Nina Tucker) on reaching Number 3 in the UK singles chart with Born to Try. Delta's song debuted in a particularly competitive week, surpassed only by established performers Jennifer Lopez and Gareth Gates, with his Comic Relief tie-in single Spirit in the Sky.
Delta's debut album Innocent Eyes will be released on Monday 24th March in the UK and Australia, priced £10.99 and $24.95 respectively. Here's a track listing:

1. Born To Try
2. Innocent Eyes
3. Not Me, Not I
4. Throw It Away
5. Lost Without You
6. Predictable
7. Butterfly
8. In My Own Time
9. My Big Mistake
10. This Is Not Me
11. Running Away
12. A Year Ago Today
13. Longer
14. Will You Fall For Me
| | |
| --- | --- |
| New Arrival Announced | March 16 2003 |
The Sunday Herald Sun reports that the newest young star to hit Neighbours will be played by 18 year old actress Stephanie McIntosh. Prior to joining the programme, the actress appeared in the 2001 US telemovie The Wilde Girls, and has had other notable television appearances. McIntosh, whose half-brother is Jason Donovan (Scott Robinson), should appear on Australian and UK screens later this year.
| | |
| --- | --- |
| Imbruglia on the Big Screen | March 16 2003 |
Natalie Imbruglia (Beth Willis) will take her first feature film role in this year's Johnny English, playing Rowan Atkinson's love interest in a film about the hopeless spy first seen in Barclaycard adverts. Unreel magazine says she "shines" in her feature debut. The film will be released on April 11th in the UK.
| | |
| --- | --- |
| Music CD Delayed... Again | March 15 2003 |
The already heavily delayed CD Neighbours: The Music has apparently slipped back in the schedules again and is now due out on May 5th. Reports suggest that the album will feature a full three-minute version of the current theme, with an extended introduction and an additional instrumental chorus. It can be pre-ordered via HMV.com.au, with worldwide shipping offered.
| | |
| --- | --- |
| Maggie Millar in the UK | March 15 2003 |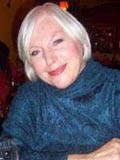 Maggie Millar (Rosie Hoyland) is making a special journey to the UK to open the Daphne du Maurier Festival of Arts and Literature on 9th May. It's a hugely popular event held every year in Fowey, Cornwall, gathering together well-known writers and performers from all over the world. Maggie describes opening the event as "a huge honour". The festival is held from May 9th-18th May and more details can be found by clicking here.
| | |
| --- | --- |
| Madeleine West Webchat | March 14 2003 |
Madeleine West (Dee Bliss) will be the guest for this month's live webchat at the BBCi Neighbours site, on Thursday 27th March from 2.10pm to 2.50pm. You can send your questions in advance by clicking here.
| | |
| --- | --- |
| New Prisoner DVDs | March 13 2003 |
Classic Grundy show Prisoner escapes from the archives this month in Australia, with three new releases on video and DVD. Created by Neighbours supremo Reg Watson, the new releases feature a host of familiar faces from the show, including Janet Andrewartha (Lyn Scully), Anne Charleston (Madge Bishop), Shane Connor (Joe Scully), Maggie Millar (Rosie Hoyland), Ian Smith (Harold Bishop) and Jackie Woodburne (Susan Kennedy).
The three volumes - The Beginning, On the Inside and The Great Escapes - feature four uncut episodes each, and are also available as video and DVD box sets. The DVDs are encoded in Region 0 format and are compatible with all worldwide players. We recommend EzyDVD.com.au, which ships the releases worldwide within 5-10 days.
| | |
| --- | --- |
| Mark Little Gets Komedic | March 12 2003 |

Mark Little (Joe Mangel) has launched his very own cabaret night at Brighton's biggest comedy club, Komedia. The Boogie-Woogie Beach Bum Bar offers poetry, comedy, British hip-hop ("Chip Shop") from the family band, Mark and the Mingers, which stars Mark and his sons.
The current scheduled dates are: Monday 24th March, Tuesday 10th and Thursday 24th April, Wed 7th and Thurs 29th May. Tickets cost £10.00 (£6.00 concessions, £4.00 for students). Depending on its popularity, the shows could become more frequent next season. For more information contact Komedia on www.komedia.co.uk or 01273 647100.
| | |
| --- | --- |
| Kym's Winning Weepie | March 12 2003 |
Congratulations to Kym Valentine (Libby Kennedy), who has won the Wicked Weepie award, voted by readers of the UK magazine All About Soap. Kym won the award for her moving performance during Drew's Funeral in 2002, and is pictured in the March edition of the magazine with her trophy. The same issue also includes an interview with Ryan Moloney (Toadfish Rebecchi).
| | |
| --- | --- |
| Crossroads Cancelled | March 12 2003 |
ITV has confirmed that their troubled daytime soap Crossroads is to end in the summer. The show was initially touted as a rival for Neighbours when it relaunched in 2001 in direct competition with the show. A massive revamp heralded its return in 2003, with former Neighbours star Anne Charleston (Madge Bishop) heading its new cast.
| | |
| --- | --- |
| Lori Leaves | March 12 2003 |
The Herald Sun have confirmed that Michelle Ang (Lori Lee) is to leave Ramsay Street after just eight months, and recorded her final scenes this week. The actress reportedly found the complications of acting on the show while studying for her university degree too great, and ultimately decided to return to her native New Zealand to concentrate on her education.
| | |
| --- | --- |
| Delta in the UK | March 6 2003 |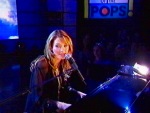 Further to our previous coverage, Delta Goodrem's (Nina Tucker) website reports: "Delta Goodrem will fly to the UK this week for a brief promotional tour to support her triple Platinum single Born To Try. Delta has a number of appearances scheduled on her five-day stay including interviews with SM:TV, CD:UK, Capital, Radio 2 and The Sun."
In addition to her previously confirmed CD:UK appearance, on Saturday 8th March Delta will also appear on its sibling show, SM:TV Live, from 9.25am. Monday 10th March sees Delta fielding questions from fans in a live webchat with readers of The Sun. Questions can be submitted in advance by email.
| | |
| --- | --- |
| Darcy to Leave | March 5 2003 |
TV Week magazine have confirmed that Mark Raffety is to leave Neighbours after three years in the role of Dr. Darcy Tyler. Viewers will see the villainous doctor bow out in the summer.
| | |
| --- | --- |
| UK Release for Born to Try | March 5 2003 |

Delta Goodrem (Nina Tucker) makes her bid for the UK charts this month with the release of her single Born to Try, which featured extensively on Neighbours during 2002. After several delays, the UK release is now set for Monday March 10 and can be pre-ordered from Amazon.co.uk. To see the video for the song on the UK cable station the Box, call 09067 533400 and quote number 383. To visit Delta's official UK website, click here.
Born to Try will also be single of the week in Virgin Megastores next week. Delta will be promoting the release on television on CD:UK on Saturday March 8 on ITV1 at 11.30am and Top of the Pops 2 on Tuesday March 11 on BBC Two at 6.20pm. Delta be performing live on both shows.