Channel Seven: 16/05/85 BBC One: 29/12/86 UK Gold: 31/12/92
Recap
• Jim accuses Paul of being irresponsible and ridiculous for wanting to quit university. Paul announces he'll just do it anyway
• Des discovers he has not been promoted to the Canberra job
• Jim is furious at Nick for making out his decision to raise a family has stopped him from a full life
• Danny is introduced to Nick by Maria
No.24 – Lounge: Nick explains that he is old friends with Max & Maria and that being an airline pilot has kept him overseas for many years. Nick gets to know Danny as Danny recalls how and why he ran away to the country and Danny asks him to stay for dinner. Maria reluctantly agrees but Shane is unhappy at their new dinner guest and informs Maria he has decided to eat out. Frustrated at her son's attitude, Maria tells him to do whatever he wants. Danny questions what is wrong with his brother but Shane denies anything is. Danny isn't convinced.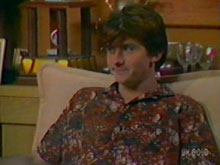 . . .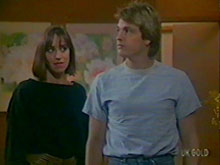 No.26 – Kitchen: Julie asks to speak to Paul and expresses that she thinks him selfish for making Jim so unhappy. Paul reminds her it is his life no one else's. Julie cannot accept how quickly he has gone from liking engineering to quitting it. Paul explains he, like everyone else, just expected he would follow in Jim's footsteps and now he realises he has choices. Julie thinks Paul owes Jim some loyalty after their father devoting his life to them but Paul reminds her that for those reasons surely Jim would never want any of his children to be held back. Julie begins to see things from Paul's point of view and tells her brother she just wants their father to be happy. Paul curtly reminds her that she should have thought that when Anna was around and hurt, Julie looks away. Paul realises the comment was unnecessary and apologises. He tells her the last thing he wants to do is to hurt Jim but he needs to live his own life. Julie tells him she agrees and questions if it means him leaving home. Paul is unsure and stunned when Julie tells him that despite their disagreements she would miss him. Paul gives his sister a hug.
. . .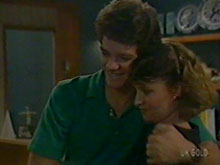 No.24 – Dining Table: Nick, Danny & Maria settle down to dessert as Danny probes Nick for more stories about his adventures as a pilot. Nick isn't keen and explains the problems it has caused between him and Jim and also Jim & Paul. Danny thinks Paul wanting to be a steward is great and comments that Jim is 'pretty cool' and will be okay with it. Nick has his doubts and Danny comments how great Jim was at the farm and that had Max come to get him all that would have happened would have been a lot of shouting. Nick defends Max and suggests to Danny it is normal family teenage angst that he is going through with his father. Danny doesn't let the subject go despite Maria asking him to stop. Nick comes to the rescue by insisting Danny respect his friendship with Max and stop bad mouthing his father. Danny agrees without any argument and Maria is pleased that a little positive male influence can have such an effect on her son.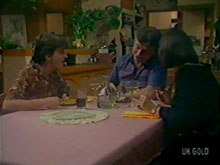 . . .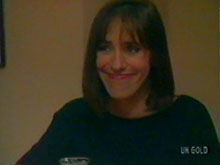 Bedsit – Room 19: Shane arrives and comments on how tidy Max's room is. Max puts it all down to Mrs. Harris, the new cleaning lady. Max questions why Shane is wanting to spend so much time with him but Shane tells him there is no ulterior motive. Max asks after Maria and Danny and Shane explain how they are having dinner with Nick. Max finds it odd that Shane didn't join them but Shane uses the opportunity to voice his concerns about Nick wanting to spend so much time with Maria. Max doesn't see anything wrong with two old friends catching up, just as he has done with Nick and tells Shane he's sure there is nothing to worry about. Shane is not convinced.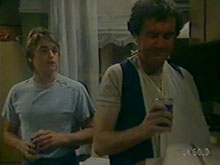 . . .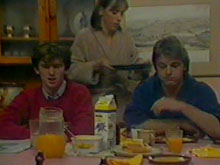 No.24 – Dining Table: Next morning over breakfast, Danny expresses how school is going to be full of everyone asking what happened to him and will have so much work to catch up on. Shane finds it amusing but the mood changes when Maria discovers that Shane has forgotten again to put the rubbish out for collection and raises the concern that the bags will need to go to the rubbish tip before they start to smell. Shane seems unconcerned and Danny jokes about wanting to keep Ramsay Street perfect. Maria is not impressed with either of her sons and makes it clear to Danny that he stepped over the line last night by bad mouthing Max. Shane shouts back at her that if she cared so much for Max she never would have allowed him to move out of the family home and storms off. Danny is confused how a rubbish bag could lead to a full on argument.
The Pacific Bank – cashiers desk: Mr. Arnold confronts Des over his unhappiness about not getting the Canberra job and Des bluntly asks his boss if it was down to him living with a stripper. Mr. Arnold avoids answering directly but Des can read through his official response and responds that clearly the answer is 'yes'. Letting his guard down Mr. Arnold makes it clear living with Daphne will continue to affect his career progression as it has his work and remarks about the credit analysis that went wrong. Des explains that it was Greg who caused that to go wrong by trying to rewrite the computer programme. Mr. Arnold dismisses Des's claims but Des is furious and tells Arnold that Greg is incompetent. Mr. Arnold warns Des to either change his attitude or place of employment before storming off to his office.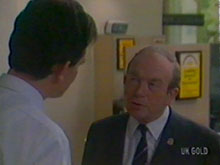 . . .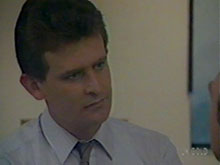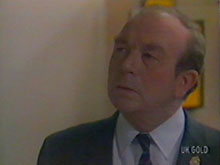 . . .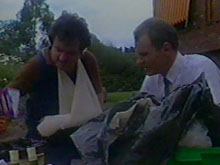 Ramsay Street: Max arrives to find a number of bags of rubbish still sitting outside his house and some of the rubbish has spilt out onto the pathway. He is furious and as Jim comes over to help him pick up, Max blames Maria for bringing his street into disrepute. Jim comments that Shane & Danny aren't being as helpful as they should be and suggests they meet up for a beer. Too concerned with the rubbish, Max insists he needs resolve the rubbish issue as a priority and storms off towards the house.
No.24 – Lounge: Max bursts into the house calling out to Maria but quickly calms down when he sees her. Maria explains there is someone coming to collect the rubbish that day. Maria goes outside to put some more rubbish out and Max reads his work messages. Behind him, Danny emerges from his room ready to get off to school. Sensing someone behind him, Max turns to see Danny and the two exchange niceties and Max makes an effort in expressing that they should get together soon. Danny decides he needs to get off to school.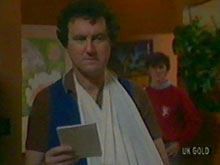 . . .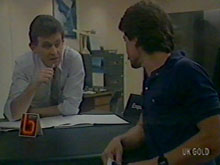 The Pacific Bank – Cashiers Desk: Des explains to Paul that Mr. Arnold admitted he stopped the promotion because of Daphne and that he now faces a decision that could cost him his job. Des jokes about joining Paul to get a new career too but Julie angers him by handing over incorrect data that Greg was asked to input. Des storms off to correct the mistakes and Paul comments that Greg has caused more upset. Julie reminds Paul he has no idea about banking procedures and quickly changes the subject to her being right that Daphne was the reason des wasn't promoted. Unimpressed, Paul asks his sister to serve him as he wants to get money from his account. Julie tells him he'll need to join the queue as she puts the 'enquiries' sign out on her desk.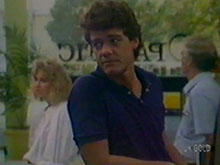 . . .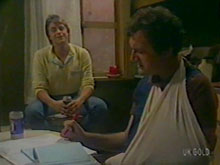 Bedsit – Room 19: Max and Shane share a beer as Max explains his arm is costing him several plumbing jobs and the search for a new assistant is not proving too hopeful. Shane advises that Max should move back home to avoid losing further business but Max rejects the idea. Shane then suggests they could share together to cut costs further and Shane admits he isn't happy at home since Nick has been on the scene. Max thinks Maria still needs him at home but agrees to think about it.
No.24 – Danny's bedroom: Shane returns from seeing Max and explains to Danny that he has asked to move in with Max so they can rent a decent flat or house together. Danny is surprised anyone would want to live with Max out of choice and Shane reminds Danny that as much as Max expects a lot from them, Danny has a huge expectation of what a father should be too and it is hard for Max to live up to. Danny begins to realise that maybe they haven't been that badly done by having Max as a father.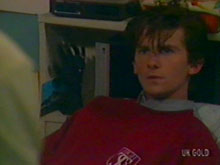 . . .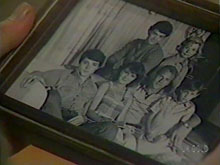 No.26 – Lounge: Nick ponders over a picture of the Robinson family as Jim returns home from work. Things are awkward until Nick explains he wants to sort things out. Jim makes it clear all he ever wanted was to have the best for his children and Nick admits he cannot empathise with that but loved the fact Paul came to him for advice. Jim tells Nick that he fears Paul will have the same lonely life as he has had. Taken aback, Nick admits despite all the great things he has done he only ever wanted to have had someone to share it all with and that someone should have been Maria. Jim remarks he suspected Nick was in love with her and Nick admits he has had several girlfriends but never anyone like her. Nick admits he has always envied the life Jim & Max have had.
. . .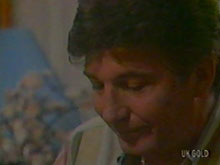 Bedsit – Hallway: Danny arrives and nervously rings the doorbell.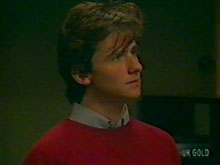 . . .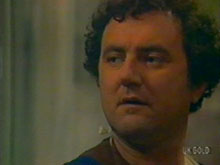 Bedsit – Room 19: Max is surprised to hear Danny's voice call back when he asks who it is. Danny walks into the bedsit and is surprised by the state of the accommodation. Danny explains he has come to visit and wants to know if he was the reason behind Max & Maria splitting up. Max is torn by what to say.
Featured Regular Characters: Max Ramsay, Maria Ramsay, Shane Ramsay, Danny Ramsay, Jim Robinson, Julie Robinson, Paul Robinson, Des Clarke
Guest Cast: Vic Hawkins as Nick Burman, John Murphy as Mr Arnold,
Trivia Notes
• Nick reveals his last girlfriend was a lot younger than him and that after they split up he realised just how much of a fool she was making him look like
• Off screen, Helen is mentioned as being out shopping
Summary by Paul