.
Year by Year > 1996: Episodes 2531-2770


Network Ten airdates: 22/01/1996-20/12/1996
BBC 1 airdates: 26/07/1996-26/06/1997
UK Gold airdates: 15/07/2002-19/06/2003
Number of episodes: 240
Regular Cast: Helen Daniels, Lou Carpenter, Philip Martin (second casting), Hannah Martin, Karl Kennedy, Susan Kennedy, Malcolm Kennedy, Libby Kennedy, Billy Kennedy, Joanna Hartman, Toadfish Rebecchi, Marlene Kratz, Louise Carpenter,
Joining Cast: Sarah Beaumont, Harold Bishop, Madge Bishop, Debbie Martin, Catherine O'Brien, Darren Stark (second casting), Ruth Wilkinson, Anne Wilkinson, Lance Wilkinson
Departing Cast: Jen Handley, Luke Handley, Annalise Hartman, Sam Kratz, Angie Rebecchi, Stonefish Rebecchi, Brett Stark, Cheryl Stark, Danni Stark, Cody Willis
Notable Guests: Judy Bergman, Rob Evans, Rupert Sprod, Shona Munro, Georgia Brown
Cancer, Cody's death and Clive James! This year arguably led up to a new golden age for Neighbours, but along the way we lost some old and familiar characters but also regained two thought previously lost forever...
The season return saw Sam dealing with the surprise of catching his girlfriend and mate in bed together; he gets violent with Stonefish and virtually ignores Annalise. She moves out and Sam gets destructive with a new friend.
Meanwhile, Cheryl and Lou get a half-decent proposal from his ex-wife Linda; it turns out that the two will only benefit from a relative's will if they are married! Also in the Stark household, Brett embarks on a Graduate-esque affair with Cheryl's golfing partner Judy and Danni refuses to repeat Year 12. Brett becomes so exasperated with Cheryl's over-mothering that he moves out to a tepee in the back yard. Cheryl puts a gentle end to his relationship with Judy.
At the beginning of the season we also see Jen packing her things and leaving No. 26. Hannah's sense of loss is compounded when she suspects that Helen is planning on moving to a retirement village, but instead she decides to become a mature student, the same year that Mal and Stonie are due to start! Stonefish studies performing arts and quickly impresses with a dance routine that Jo helped with. His delusions of grandeur allow him to stand up to Angie ­ he wants more charismatic Coffee Shop uniforms! About this time, the most ridiculous cameo in the history of the show [until 2001, see the Wiggles] takes place. Clive James shuffles around the street playing a mute postman and then leaves again. Marvellous.
In the Kennedy household the first signs of unfaithfulness rear their head as Susan becomes distrustful of the nature of Karl's relationship with Kate, his terminally ill patient whom he treated during Susan's trip to Africa. In fact, relationships in the household seem doomed as Libby and Sonny drift further apart while Billy reads Melissa's diary and learns about a lovers' tryst at summer camp. Mal gets sick of Danni's henpecking and Karl's alleged affair threatens to split the family apart as the children turn against their father too.
Marlene and Lou embark on an interesting career in radio together, they can't stand each other but find themselves rostered onto the same show. Elsewhere, Sam has very definitely moved on when his matey relationship with Cody develops into more. Jo and Cody have trouble getting by in the same house, Jo decides a career in aerobics instruction is the way forward after the collapse of AnnaJo Enterprises. Luke starts dating a policewoman but finds it hard to trust her after his last relationship with the conwoman Nadia failed.
Libby eventually finishes with Sonny as does Mal with Danni, and soon both Danni and Brett are facing new relationships; Danni with Libby's ex Rupert and Brett with Libby. Toadie's IQ test reveals that he's a closet genius, but this does not mean he's making a fresh start as an academic! Instead he has to prove his innocence as a graffiti artist that has been terrorising Erinsborough High. Sonny and Mal club together to buy a second-hand car which they intend on fixing up. Stonie meets a new girl at university, one Catherine O'Brien, who seems pretty resilient to his charms. Much to his dismay, she seems far more interested in Mal! Luke's new love interest leads him to think that a career in the force might be a good move for him. The first round of police tests seem to agree with him. Meanwhile his sister calls it a day in Erinsborough, Jen makes a fresh start for herself in Arnhem Land. Phil tries to fill the void by enrolling in an Emergency Care program, providing foster support for needy youngsters. He is sent Georgia Brown, who immediately gets off to a bad start with Hannah, the two becoming bitter rivals. They soon settle into a routine of tolerance and George gets friendly with Billy, Toadie and Melissa.
Sam and Cody's relationship gets deeper by the day, and she even persuades him at Marlene's request to enter the Grandchild of the Year competition, something which he rules out completely until he realises the prize - $10,000! He doesn't win, but it seems modelling is his talent ­ he gets snapped up by an agency who want him to be the new face of 'Stefano Gold'. After an advert featuring a tastefully nude Sam Kratz is circulated, Sam has second thoughts, but still continues. Hannah gets herself 15 minutes of fame by cheating on a test to find Erinsborough High's Brainarama for a television show. She also is tempted into shoplifting by Zoe and gets caught. Brett decides he needs to escape his mother's ways and decides to sail around the world for a year, while his sister gets a great opportunity to enter the world of fashion, she flies to Sydney to pursue this.
It turns out that Mal and Sonny's car has a big stash of drugs in it ­ it was used as a drop-off point by dealers outside Sonny's surf shop. The police stake-out the street in an attempt to catch the villains and they do. But the arrest goes terribly wrong when one of the criminals pulls out a gun and a shot is fired. At first it seems like everything is okay, but Cody disagrees ­ the bullet has gone through No. 30's window and she lies bleeding to death! She undergoes emergency surgery and Pam Willis returns from the Northern Territory to oversee her recovery. Cody does well, even getting out of intensive care, but all goes terribly wrong though when she suffers a pulmonary embolism, a blood clot in her lungs. She is rushed to theatre, but a massive heart attack kills her. The shock sends ripples throughout the street. Marlene, imprisoned for failure to pay parking fines, is unable to attend the memorial service. Billy is shocked as the fragility of life is revealed to him properly for the first time and Hannah feels like she has lost a big sister. Sam is crushed and turns to the bottle, in a drunken hallucination he sees Cody again and she tells him that everything will be all right. When she disappears her ring is left in his hand. Stonie uses the emotions awakened within him to give her a fitting eulogy in front of his performance arts class. Pam upsets the rest of the community by insisting that the funeral proper be in Darwin with the family. At the memorial service, however, Karl eulogises her, followed by Sam and then Stonefish. Rick Alessi sends a telegram, as does Jen Handley ­ read by Hannah as Pam is too emotional to continue.
Danni returns from Sydney shortly after the memorial, with a man in tow ­ Ben, her fiancé! Cheryl and Lou are concerned, though, that Danni is just using Ben for his fashion influence and his money. Another prodigal daughter returns in the form of Debbie Martin, she calls Phil late one night refusing to comment further upon her sudden return. Debbie immediately makes an enemy of Georgia when room sharing becomes an issue and Debbie's distance from Phil tests his patience. It is later revealed that she had an affair with her aunt Rosemary's P.A., Joel.
Karl and Susan head off to the country, foolishly leaving their kids alone in the house for a few days. One thing they don't let on, though, is that they've arranged a surprised house guest in their absence, Grampa Tom! Tom threatens to throw a damper on the kids' planned house party, but he allows it to go ahead. During this time, strains are going on in Billy and Melissa's relationship. She has proved deeply homophobic towards Andrew Watson, Billy's teacher and aide in his dyslexia teaching. And their relationship is becoming more and more awkward. It comes to a head the night of the party when a broken-hearted Georgia is crying after a fight with Debbie, and Billy consoles her. And kisses her. Topless. Of course, Melissa walks in and is heartbroken and betrayed. When Billy has a near death experience in a footie game, he decides to end things with Melissa. Billy also loses Toadie as a friend ­ Toadie had taken a shine to George and had to be repeatedly assured that Billy was not interested. The rift between the two continues, they have a fistfight and Billy knocks out some of Toadie's teeth. Toadie kisses Melissa in a moment of insecurity and complicates the gang further. Billy is wracked by jealousy and reconsiders his relationship with Mel as a result. Sadly the car, source of so much despair in Ramsay Street, is stolen on a trip to Luna Park. Father and son relationships are damaged too when Grampa Tom reveals a dark secret to Karl ­ he's not his real father. Tom was infertile and allowed another man to impregnate Karl's late mother. Karl struggles to come to terms with this, but eventually accepts the news and decides not to pursue his potential new father.
Joel shows up on the Martins' doorstep and throws everything into turmoil. At the same time, Luke realises that his police medical may have further-reaching implications than his career ­ he is diagnosed with cancer. Thrown into a panic, Luke decides to conceal the diagnosis from those he loves, shaving his head to hide the effects of chemotherapy. He has to lie a lot too about his sudden disinterest in the police force, and is furious when Debbie reads too much in his file at the Lassiter's Medical Centre, where she now works as Karl's receptionist. She endeavours to help him, despite a strict telling off from Karl about patient confidentiality. She calls it a day with Joel and sends him back to America. Meanwhile, Danni is competing with one of Ben's top designers, Suki D, for the opportunity to showcase her work at the Italian Chic Young Designer Special. When she goes mad on the designs and ends up ruining them, Ben cannot control his anger and scares Danni into hiding. She later decides to confront him and finish things, much to Cheryl's happiness.
Phil has a new career ­ he's become a romantic fiction novelist under the pen-name of Phillipa Martinez! Having trouble with his latest work, however, he turns to the young lovers of Erinsborough for inspiration. However, secretly observing them makes Mal think he's just a dirty old man and Phillipa's secret identity is nearly revealed. When Phillipa wins an award, Phil has to ask Helen to attend in his place. Jo's work has taken off, and an old client of hers from her time at the gym, Rob Evans, asks her to become her personal trainer. She accepts, but Sam is suspicious of his motives. Sam has become a centrefold model for a teen girls' magazine and is labouring under the new moniker of Sami K. He is horrified to discover that they are running a competition to win a date with him. Meanwhile, Catherine is back from her holidays, much to Stonie's delight, but when Sam learns that she is the winner of the magazine competition, he's very relieved and quite pleased with himself.
Andrew Watson, Billy's teacher, suffers a homophobic attack and the perpetrator is revealed to be none other than Rupert Sprod who was unhappy with his perceived victimisation in class by the teacher. Libby later sees photos from a footie party in which Rupert is intimate with other girls, and Andrew learns that official complaints have been made against him at the school. Billy rekindles his romance with Melissa after receiving a touching present from her ­ a framed photo of them together. But when Billy realises that her parents have been making the official complaints to the school, he is forced to rethink. They prevent her from attending school while Andrew still teaches there, and she is driven to Phil's care. When Andrew decides to quit, Billy and Melissa are driven to act, standing up to her parents along the way.
Jo is beginning to fall in love with Rob and he proposes, and Luke's secret is finally discovered when Danni finds a pamphlet about cancer in No. 30. Stonie, meanwhile, is still in love with Catherine. He dresses as a charity collecting wild koala to spend more time with her and pretends to be into environmental issues and a committed vegetarian
Things look tough for Lou when he gets a phone call from Max Geppart in Columbia ­ Brett's in trouble for drug trafficking! Cheryl flies out immediately, but gets kidnapped in Ecuador. Danni and Lou take it badly, Lou uses his broadcasting connections as well as his mayoral contacts to appeal for help in finding her. Libby writes an article about it for the local paper and hugely angers the Starks. Frustrated with the non-action by Colombian and Australian governments, Lou decides to go to Colombia, leaving Marlene terrified of being alone. He manages to find her and bring her back to Ramsay Street, but she is distant cold towards her family. She finally confesses that she had an affair with a man called Charlie while in Ecuador, and Lou is shocked to the core. They decide to go to marriage guidance since they cannot discuss their problems without fighting, but even this is not enough to save them. They split, but custody of Louise is a contentious issue since they were never married. Lou decides that he doesn't have a chance of getting custody and leaves Ramsay Street.
Luke, meanwhile, has moved much closer to Danni as Debbie's pre-occupation with his health becomes increasingly stifling. He decides to discontinue chemotherapy, much to their dismay. Billy manages to persuade him that a combination of natural and medical treatments can help him overcome his illness, as he did with his asthma. Mal has dropped out of uni and is helping Sam continuing Handy Sam's. They carry out work at Rob's house before the wedding, but after Sam receives an unexpected call from Annalise, he's determined to meet her in London. Meanwhile preparations for Jo's wedding to Rob are well underway, despite Danni's design for the wedding dress being rejected. Toadie and Billy get in on the preparations and accidentally destroy the wedding arch, over which Mal is furious. But the news is overshadowed by some good news; Tarquin, Jo's father, is being flown in especially for the wedding! The two have a fairytale wedding, complete with horse and cart, and Tarquin gives Jo away.
After the success of George as an emergency care child, Phil receives another in the shape of moody teen Casper. Hannah is desperate to get through to him, and in an attempt to get more familiar with him and his interests, she accidentally smashes his beloved skateboard. She saves up and buys him a replacement, but he's unimpressed. The two become closer, but Hannah is frustrated that they always get so close to kissing but then get interrupted.
Karl is shaken when he receives news that his natural father, Ron Davis, is dying. He decides to try and find him for peace of mind, and finally gets a call from Ron's wife. He later gets a call from his father, who agrees to meet with him.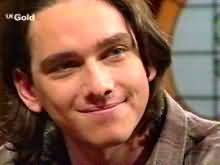 Elsewhere a new Stark makes his presence known again, Darren, newly released. He is tempted almost immediately to rejoin his life of crime, but stays on the straight and narrow despite the residents' suspicions. He soon hits it off with Libby and Karl's alarm bells start ringing. Karl is dead against the two of them spending time together and bans her from seeing him. Sam wants to sell Handy Sam's, essentially leaving Mal without a job. Darren steps in to buy the business and Mal keeps his job, but the growing animosity between the Starks and Kennedys continues. Debbie, meanwhile, has become a telephone psychic from home, but Jo and Hannah are convinced that she has real talent for seeing. Darren resigns himself to the fact that no-one will allow him a fresh start. After a disastrous meal with Libby and Karl, Lassiter's is rocked by a huge explosion as the Surgery goes up in smoke. Darren is the immediate suspect, but protests his innocence and is eventually cleared. He is soon back behind bars, though, for breach of parole, and Libby finds the strain on their relationship too much. Karl gets suspicious of her whereabouts and is convinced she is visiting him.
Billy and Toadie meanwhile are friends again and are entrusted with baby Lolly for an evening. Their lack of expertise leads to her going missing, and a distraught Cheryl is furious with both of them. She is finally found safe and sound but this provides Lou with new ammunition in his bid for custody. Cheryl's troubles with her offspring are not over ­ she receives an ominous figure who tells her how high her son's debts are mounting; She is worried for Brett. Meanwhile Toadie and Billy embark on their latest project: illegal pirate radio. Toadie spies Melissa kissing another boy, but she begs him not to tell.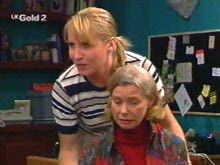 Helen takes a nasty fall after suffering a stroke and while recovering decides that she no longer has anything to live for anymore. She says that if she cannot paint or live independently, what's the point? Karl helps her to see reason and she begins her long rehabilitation. Luke also pledges to use his example of a return to health as motive enough for Helen's recuperation. Phil employs a physiotherapist to help her out in the form of Ruth Wilkinson.
Jo moves to America with Rob and Mal gets a new girlfriend ­ Shona. Danni and Debbie become bitter rivals for Luke's affections and Angie receives some big news: the family are all going to live in Tasmania back with Big Kev again! Toadie is devastated but, with Hannah's help, manages to arrange to live with 'Doc K' and the rest of the Kennedys.
Angie meets Mick, the Rebecchis' possum catcher; he takes a shine to her and, feeling insecure and lonely not having Big Kev around, she accepts when Mick asks her to go on a picnic. While out, hey both agree that they are very alike; Angie trips and falls into his arms, and the pair nearly kiss. Later at Number 32, Mick tells Angie what a special women she is, and gives her a present, a puppet possum and some perfume. Angie says it's too much and can't accept it. Their friendship grows stronger and Toadie thinks his mother is playing around behind Big Kev's back and confronts his mum about it. She tells him that there is no romance going on. After walking Angie home from the Coffee Shop, Mick tells her he's in love and they kiss outside Number 32, which Hannah Martin witnesses. Angie tells Mick they should stop seeing each other, but Mick asks Angie to go the country with him.
The next day, Hannah tells Toadie what she has seen and he's furious. Toadie heads off to find Mick, telling him what a low-life he is. Mick is affronted and lets slip that Angie is going away with him. When Angie finds out about the confrontation she tells Toadie she wanted to know that someone could still love her and his Dad has a funny way of showing his love. She asks Mick to come over to tell him that she can't go away with him and she is going up to Port Keats to be with her husband. Stonie and Angie bid a farewell to the street.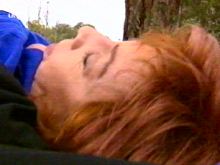 Tragedy strikes and Ramsay Street sees its second death of the year when Cheryl is run over just outside her house. She's just about to set things right with her family before tragedy strikes. Karl is on hand to administer treatment, but Cheryl's existing presciption reacts badly with the morphine Karl provides, and she dies. Everyone is shocked, but the sorrow manifests itself as anger in Darren. Karl's guilt is incredible and he cannot believe that he has been found responsible for her death. He confides his guilt in Marlene, who turns on him in anger at losing her daughter. Brett returns, oblivious, on the day of the funeral. Lou also returns to the knowledge that Cheryl made him sole benefactor in her will, which leaves her children outraged. Darren and Brett have an uneasy relationship; Darren does not want to know about his younger brother, while Brett wants to renew their acquaintance. Karl decides to give up medicine.
Elsewhere, Number 30 has a new resident, Sarah Beaumont, who is running from a jilted fiancé back in England. She's being chased by British journalists about the high-profile break-up with Lord Steven Harrow and needs somewhere to hide out.
Danni and Debbie are now bitter rivals; Debbie resents Danni's success in fashion and Danni hates Debbie. When Danni's clothes shop gets broken into and vandalised, Debbie is all too keen to help clear up and eventually she is forced to admit that she was the one who did it. Brett and Danni later leave Erinsborough, both to travel. Brett returns to the ocean wave, while Danni leaves for fashion work in Malaysia.
Phil's attraction to Ruth leads him into a compromising situation, and eventually he sacks her as he cannot handle her being around all the time. Helen is furious when she finds out and demands that Ruth be reinstated. Ruth introduces us to her son Lance, who quickly befriends Hannah. Ruth has some trouble with her ex-husband, who seems in need of money. Before long, Ruth and Lance move into Number 32, the old Martin house. Jo returns from Europe, but is reluctant to spill about her time with Rob. It turns out they were not as compatible as first thought, and they split while away.
Mal finds himself out of a job because of Darren's loathing of the Kennedy family. Mal attempts to launch his own business, but it seems that Erinsborough is not big enough for two handymen. When Libby breaks up with Darren, he quickly returns to his old tricks, even tampering with the brakes in Libby's car. However, he's hurt when Lou awards the renovation of Chez Chez to Mal over him. After discovering Melissa's cheating, Billy breaks up with her for good. Toadie's romantic allegiances lie elsewhere, with the Brit beauty Sarah.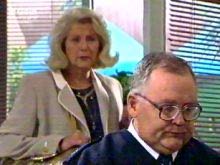 A dramatic twist befalls Erinsborough when it seems that Harold Bishop is in fact alive and well, having been washed out to sea on holiday with Madge some years previously. Harold is a recovering amnesiac and remembers nothing of his former life. Helen meets with him and soon becomes so convinced of his true identity that she calls Madge and they are reunited for the first time in years. At first, Harold is reluctant to accept his true past, but soon Lou vows to help him remember events, although they are not always has Harold remembers. Lou paints a wonderful picture of chums for life, leaving out that Harold was the butt of many of Lou's jokes. Soon the key phrase 'jelly belly' brings it all flooding back to Harold, and he sets about restarting his life with Madge.
Darren is offered the Chez Chez contract, but only if he agrees to share the work with Mal in an attempt by Lou to bring the two closer. At the same time he agrees to move into Number 22 with Lou, Marlene and Lolly. The Wilkinson household sees a new arrival as Ruth's daughter Anne turns up to make Erinsborough her new home. Meanwhile, Mal and Catherine get closer, both denying their true feelings. The path is also clear for Libby and Darren, who try camping with disastrous consequences.
Harold and Lou's rivalry is up to scratch in no time, they fight over who would be a better Santa Claus. Meanwhile attraction is growing between the Wilkinson ladies and different members of the street; Ruth and Phil are still denying their true feelings while Billy and Anne are getting much closer, although the course of true love never did run smooth... Meanwhile just before Christmas Luke gets a call from Danni ­ she has contracted malaria in Malaysia and needs him to care for her. Deciding he has nothing left in Ramsay Street, he leaves to be by her side.
The season finale comes when renovating the pub, a nasty accident leaves Mal fighting for his life. The responsibility falls to Karl to save his life; does he have enough self-confidence since Cheryl's death to react quickly in an emergency?
1996 Episode Summaries | 1996 Magic Moments | 1996 Opening Titles
Production Notes
• Libby and Sonny story at the beginning of the year was reportedly originally planned to be a rape storyline, but was ultimately deemed too controversial.
• Segments of the Ecuador kidnap storyline involving a con-artist, Esmerelda, were cut for UK broadcast. A similar real life case was happening around the same time it was airing on the BBC.
Review by Jamie