.
Episode Summaries > 1985 > Episode 60

Written by Reg Watson, Directed by Mark Callan, Produced by John Holmes
Channel Seven: 07/06/85, BBC One: 21/01/87, UK Gold: 22/01/93
Recap
• Max and Maria argue about Shane
• Paul realises that Kim is pregnant
• Kim wakes up from a nightmare
• Scott admits that he's afraid of what Brad will do to Kim
• Daphne is surprised when Cleo Jones arrives to see Harry
• Maria realises that Max hasn't told Shane about 'the other woman'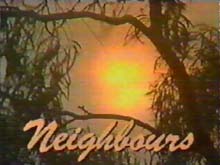 No 24 - Kitchen/Dining Table: The conversation continues, with Shane wanting to know more about this 'other woman'. Maria is furious, saying that it's typical of Max to make out like she just went off and had an affair, for no good reason. Shane wants to know everything, but Maria doesn't see the point, and says that, for the first time, she's glad that the marriage is over. Shane asks her to calmly tell him her side of the story, as it might mean that he doesn't need to take sides in all of this. Maria is still reluctant, but talks about the night that Max went out without her, as he didn't like her dress, and ended up staying overnight at the pub. She says that Max would drink a lot in those days, but he always came home, so when he didn't come back that night, she went to the pub the next morning, and the publican said he was upstairs with a woman in his room. Maria explains that she went home, took Shane over to be looked after by Helen. Shane wonders if there really was another woman, but Maria tells him that Max admitted it later. She says that she went away to the country and found a guesthouse - the perfect place to think about things.
Guesthouse: Through flashback, Maria tells Shane about the guesthouse, run by a cheerful woman named Mrs Lee, and the regular guest Tim Duncan, who walked in and accused Maria of stealing his usual table. In the gardens of the guesthouse, Tim surprised Maria by jumping down from a tree, and then he kisses her.
No 24 - Dining Table: Maria comes out of her daydream, and tells Shane that she doubts there's another man out there like Tim - he made her feel like a passionate woman; someone to be loved and desired. Shane smiles at his mum. She says that, a couple of days later, Tim drove out of her life forever - she called Helen, who explained that Max had become depressed and started drinking heavily, so she came home. Shane is amazed that it was sixteen years before all of this came out into the open. Maria explains that it just became easier not to talk about it - Shane doesn't think it's fair on Danny, but Maria says that he can't make her feel any worse than she already does. Shane promises that he isn't going to say anything, but reminds Maria that one day Danny will need to know the truth.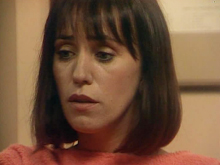 . . .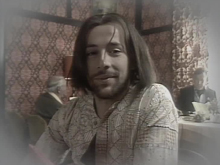 No 26 - Scott and Paul's Bedroom: Scott is searching for his dictionary, and Julie comes in, telling him to hurry up if he wants a lift. She starts lecturing him on how untidy he is, and he snaps back. She wonders why he's been so grumpy lately and he tells her that he'll just walk to school. Paul then comes in and tells them that Shane's back - but he just went to see him and he wasn't in a great mood - and nor was Maria. Julie and Paul talk about how sorry they are for the Ramsay family, with everything suddenly going wrong. Julie asks Scott if Danny's said anything about it, but Scott's more concerned that his bag has now gone missing, only to find that Julie's tidied it up. He rushes off out the door, telling Julie to hurry or they'll be late.
No 28 - Dining Table: Daphne is slightly taken aback as a frisky Harry and Cleo come out of the bedroom, and Cleo apologises for all the noise they're making. Daphne tells them it's fine - you're only young once. Cleo tells her that they're going on an around the world trip, as soon as they win the raffle. Shane then comes in the back door, and is introduced to Harry, who in turn introduces him to Cleo. She recognises him as the local celebrity diver, and then remembers about his accident. He insists that it's all fine now, and she encourages him to get back into it. She and Harry then leave, and Shane tells Daphne that people don't communicate enough. He tells her that she's one of his favourite people, and she says that he's one of her's too. He kisses her on the cheek. He goes to leave, and she tells him that she likes the way he communicates.
No 24 - Kitchen: Shane gets back, and Maria tells him that she's made him some sandwiches. He thanks her for telling him the full story, and hopes that one day his parents will get back together, though Maria doesn't think it will happen. He says his goodbyes and leaves to go back to the campsite.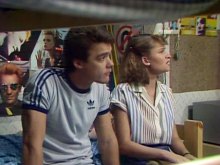 . . .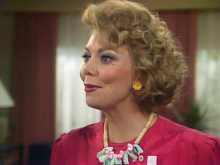 Halfway House: Scott gives Kim a little more money, and she tells him that Brad's found a couple to take the baby. Scott is annoyed that Brad's been there again, but Kim says that he's not that bad, and selling the baby seems to be the only option she has now. She says that it won't be difficult - Josie's doing it too, and she's gone into labour. Scott thinks that Kim seems to know what she's doing now, so she doesn't need him around anymore. She's upset at this, but he leaves.
Hospital: Kim is shown, by a nurse, to Josie's bed. Josie says that she doesn't want visitors, but looks over when she realises that it's Kim. The nurse leaves, telling Kim not to stay too long. Kim realises that Josie's had the baby, but Josie doesn't want to talk about any of it. Kim tries to get her to talk, and Josie admits that she doesn't want the money now, she just wants her little girl back. She warns Kim not to let Brad do this to her too.
No 26 - Lounge/Halfway House: Paul takes a call from Kim, telling her that Scott isn't home. He realises who it is, and says that Scott can't give her more money, but she just asks that Paul get Scott to come and see her. Paul agrees. Scott then arrives home, and is surprised to hear that Kim phoned the house. He says that he told her he wouldn't help her anymore, and he's not going to see her. Paul sarcastically agrees that she got herself into this mess and will have to sort it out, and Scott gets annoyed. Scott admits that he's just out of his depth with all of this, so Paul tells him to go and get changed, and they'll both go over and see if they can sort this mess out.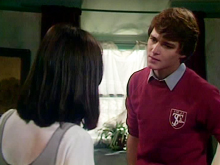 . . .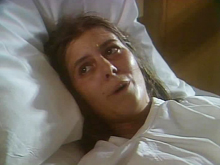 Halfway House: Kim answers the door, upset to find that Scott has brought Paul with him. Scott tells her that he wouldn't even have come back if it weren't for Paul, and demands to know why she rang the house. She announces that she can't go through with selling the baby, and she hugs Scott.
No 28: Des arrives home, alarmed as he hears Daphne in her room, talking to someone about tickling them. She then walks out and gets a fright at Des listening at the door. He wants to know about the man she's got in there, so she goes back and brings out Squawker in his cage, explaining that tickling is the only thing that'll shut him up. They realise that they'll need to talk to Harry about the bird. Des then explains that Harry and Cleo came to the bank earlier, and he ended up lending them $30. Harry and Cleo then get home, and announce that they didn't win the raffle, but they were having lunch and won a contest as the 10,000th customers, so they got free champagne and food - plus a trip to the Gold Coast. Des and Daphne can barely hide their delight at the news.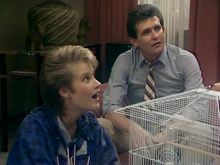 . . .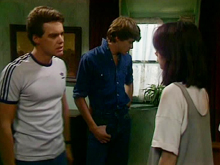 No 28: Later, Harry and Cleo are packed to go, and are saying their goodbyes, though they do say that they'll be back. As they go, Cleo declares that she'll need a new swimsuit, and Harry suggests a bikini. Daphne closes the door, and she and Des are relieved, though concerned that, one day, they'll be back.
Halfway House: Paul is looking out of the window, but Kim is worried about the plan. Scott insists that Paul knows what he's doing. There's a knock at the door, and it's Brad, who's surprised to find Scott and Paul there, and even more surprised when Kim announces that she won't sell her baby. Paul says that nothing would make him happier than to see Brad go to jail, and if he comes near Kim again, he'll have him up on charges for sleeping with Kim and for selling babies. Brad tries to claim that the baby isn't his, but Paul throws him out. Kim is relieved, and thanks him, but Paul tells her that if Brad comes back, she needs to go to the police. She wonders what she's going to do now, and Paul asks her if she'll agree to him making some arrangements to help her - a counselling appointment. Paul leaves, and Kim hugs Scott.
Featured Regular Characters: Des Clarke, Daphne Lawrence, Scott Robinson, Paul Robinson, Julie Robinson, Maria Ramsay, Shane Ramsay
Guest Cast: Jenny Young as Kim Taylor, Johnny Lockwood as Harry Henderson, Rick Ireland as Brad, Cindy Lee as Josie, Denise Kirby as Cleo, Nick Carrasa as Tim Duncan, Helene Jacoby as Mrs Lee
Trivia Notes
• Nick Carrafa is incorrectly credited as Nick Carrasa
• Nick Carrafa makes his first Neighbours appearance (through flashback) as Tim Duncan. He would later return in 1987 as Tony Romeo, and in 1999 as Peter Hannay
• The nurse is not credited for her role, despite having some dialogue

Summary by Steve