.
Neighbourhood > Lassiter's > Rebecchi Law
Rebecchi Law (formerly Rebecchi Kapoor Law) 2013-
Address: 4 Lassiter's Complex, Erinsborough, Victoria, 9571

Owners: Toadfish Rebecchi (2013-), Ajay Kapoor (2013-2014)
Employees: Naomi Canning (2014, 2014), Imogen Willis (2014-)
In 2013, following his resignation from Simmons and Colbert and the death of his wife, Priya, Ajay approached neighbour and colleague, Toadie Rebecchi to join him in setting up a law firm in their office they both previously leased. Although initially wary of working with local people again following his failure to keep Steph Scully out of prison, Toadie agreed in order to spend more time with his new wife Sonya, baby daughter Nell and son Callum. In 2014, following Ajay's departure the previous year the practice was renamed Rebecchi Law.
Previously...
Ajay Kapoor 2012
Address: 4 Lassiter's Complex, Erinsborough, Victoria, 9571

Owners: Ajay Kapoor (2012)

In 2012, local councillor, Ajay Kapoor, moved his legal practice into the long vacant office building in the Lassiter's Complex. Only the exterior was shown during his time at the office as he closed down the practice in order to accept a position at city law firm, Simmons and Colbert.
Rebecchi Legal (formerly Rebecchi Cammeniti) 2007-2011
Address: 4 Lassiter's Complex, Erinsborough, Victoria, 9571

Owners: Toadfish Rebecchi (2007-2011), Rosetta Cammeniti (2007-2008)
Employees: Samantha Fitzgerald (2008), Diana Murray (2007), Rebecca Napier (2007-2008)
After resigning from Tim Collins & Associates, Toadie Rebecchi and Rosetta Cammeniti decided to start up their own law firm, even managing to swoop in and steal Timís old premises at Lassiterís when his lease expired. When Rosie was called away on family business, city barrister Diana Murray replaced her for a month, while Rebecca Napier was taken on as the new firmís secretary. While much of the dťcor remained the same in the transition, a new, larger desk was used and new artwork was installed. In 2008, Samantha Fitzgerald filled in when Toadie took some time off, and remained when Toadie returned and Rosie left for Italy. Samantha moved to New Zealand in June 2008, and the firm was later renamed to Rebecchi Legal, while at the end of the year, Rebecca quit her job as secretary.
In 2011, Toadie shut down the business in order to accept a position at a city law firm, Simmons and Colbert, in order to help his partner, Sonya Mitchell follow her dreams of owning a garden nursery.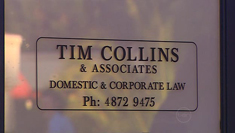 Tim Collins & Associates 2004-2007
Owners: Tim Collins (2004-2007) Employees: Abby Stafford (2007), Rosetta Cammeniti (2006-2007), David Bishop (2004-2005), Toadfish Rebecchi (2004-2007)
In 2004, the vacant office in the medical practice was taken on as the Erinsborough branch of law firm Tim Collins & Associates, which already had offices in Melbourne and Sydney. Primarily used by Toadie Rebecchi, he was joined there in 2006 by article clerk Rosetta Cammeniti, who then used Karlís old office when he quit medicine a few weeks later. In early 2007, that office was rented to fraudulent GP Charlotte Stone, but Rosie regained it when Charlotteís illegal activities were discovered and she went to prison. Rosie and Toadie then remained there, until Tim returned from Sydney to get the Erinsborough branch into shape, but his heavy-handed tactics resulted in both Rosie and Toadie resigning. The premises had a big makeover in 2005 following the Lassiterís fire, separating the building out from the Coffee Shop, to which it had been attached, and almost doubling the size of the waiting room. New wallpaper was put up in early 2007, and the walls were then repainted in grey later that year.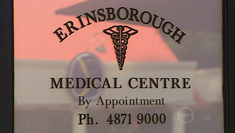 Erinsborough Medical Centre 1994-2007
Owners: Karl Kennedy (1994-1996;1997-2006), Tamsin Caldo (1994-1997) Employees: Boyd Hoyland (2007), Liljana Bishop (2004-2005), Dione Bliss (2003), Darcy Tyler (2001-2003), Ruth Wilkinson (1998-1999), Jeremy Lindstrom (1998), Clara Britton (1998), John Scott (1997), Pippa Layton (1997-1999), Marlene Kratz (1997), Sarah Beaumont (1997-1998), Harold Bishop (1997), Helena Aalders (1995), Cody Willis (1995)
In late 1994, Dr Karl Kennedy, recent arrival in the neighbourhood, took over the vacant offices to turn them into his own medical practice, going into business with Dr Tamsin Caldo. In 1996, Karl gave up medicine following Cheryl Starkís death, though he returned to the profession in 1997, taking over his old premises from Dr Caldo. In 1998, physiotherapist Ruth Wilkinson took over a previously unmentioned storeroom in the building and a new door mysteriously appeared in reception. She left for Darwin in 1999, and in 2001, Karlís nephew, Darcy Tyler, became his partner in the practice and started using Ruthís old consulting room. Darcy went to prison in 2003, but Karl continued practising until 2006 when a mix-up over the paternity of Sky Mangelís baby caused him to quit medicine for a second time. His office was taken over by article clerk Rosetta Cammeniti, then briefly by fake doctor Charlotte Stone, before officially becoming a part of law practice Tim Collins & Associates.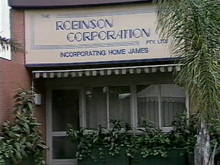 The Daniels/Robinson Corporation & Home James Office 1986-1994
Employees: Cheryl Stark (1993-1994), Gaby Willis (1992-1994), Philip Martin (1992-1994), Julie Martin (1992), Benito Alessi (1992-1993), Martin Tyrell (1991), Caroline Alessi (1990-1992), Candice Hopkins (1990), Melanie Pearson (1989-1991), Kevin Harvey (1989), Gail Robinson (1987-1989), Jane Harris (1987-1989), Susan Cole (1986-1987), Helen Daniels (1986-1989), Paul Robinson (1986-1992)

Originally a florist when the Lassiterís complex opened, the unit was then turned into an office and taken over by the Daniels Corporation when they started managing the hotel for Jack Lassiter.

Having previously had offices elsewhere in Erinsborough, the Australian leg of the Daniels Corporation (later bought out by Paul and renamed the Robinson Corporation) run by Paul Robinson, moved to the Lassiterís premises in 1986. Paul remained working there until 1992, during which time he had numerous assistants and secretaries. Helen Daniels' chauffeuring business Home James was also run from these offices. The office remained roughly the same during its eight years, though the reception desk did move across the office in 1991 and the walls changed from cream to pale blue in 1990, then to pale green in 1992. Various managers, including Philip Martin, Benito Alessi, Cheryl Stark and Gaby Willis, took over Paulís position following his departure, but the office stopped being used by Lassiterís in mid-1994 when Gaby Willis left to manage the Lassiterís branch in Darwin.

Key moments (with episode links where available)

The surgery burns down
Sarah kisses Karl
Gary Collins plants a bomb


Gallery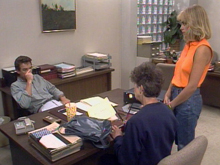 ..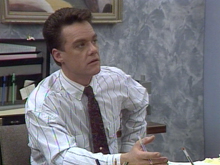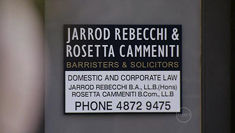 ..