Erinsborough Primary School 1985-
Principals: Colin Finch (2007); Patricia Kinsman (2009)

Teaching Staff: Ms Petris (1988); Merridy Jackson (2000); Genevieve [Eva] Doyle (2005); Kelly Katsis (2008-2009); Elaine Rushmore (2010)

Students: Lucy Robinson (1985-1988); Bernie Sutton (1985); Bradley Townsend (1986); Vicki Gibbons (1986); Katie Landers (1988-1989); Toby Mangel (1988-1990); Amy Robinson (1992); Hannah Martin (1992-1993); Louise Carpenter (2000-2001); Emily Hancock (2001-2002); Boyd Hoyland (2002); Summer Hoyland (2002-2003); Lisa Jeffries (2003); Mickey Gannon (2007-2009); Hayden Green (2007); Tyler Smith (2007); Ben Kirk/Fitzgerald (2007-2010); Gemma Long [unseen] (2008); Emily Miller [unseen] (2008); Callum Jones (2008-2009); Sophie Ramsay (2009)


The local primary school has been a part of the show since 1985, with Ramsay Street residents Lucy Robinson & Bernie Sutton attending. Following Bernie's tragic death in a road accident whilst bike riding, the school organised road safety lessons for its students. Despite these early mentions, it was not until 1986, when the suburb of Erinsborough was first named that the school was named as Erinsborough Primary, with Bradley Townsend's first day in episode 212 and it was not until Toby Mangel's first day at the school in episode 856 that it first appeared onscreen.

Appearances over the years have been few and far between, most notably in 2000 when Louise Carpenter started at the school and in 2009 during an assembly in which Ben Fitzgerald & Sophie Ramsay received awards for their work in Science & English respectively.

For many years, students were allowed to wear their own clothes to school, however by 2000 a uniform had been introduced, consisting of a blue sweater with a blue & maroon checked-dress for girls and a blue t-shirt and grey shorts for boys. The uniform was changed in 2009 adopting a similar colour scheme to the High School with a maroon fleece & blue t-shirt for all genders, with maroon trousers for girls & shorts for boys.

The school has a fundraising committee, of which Lou Carpenter was once a member, and has also hosted a number of activities & extra-curricular events, including a Christmas Appeal in 1988, a Production of The Wizard of Oz, a Mother & Daughter fashion parade in 2002 and Grandparents' Day in 2008.

Trivia Notes
• Whilst never seen as a student, it has been established that Dale [Macca] McGregor attended Erinsborough Primary at the same time as Summer Hoyland
• It can also be assumed that Sally Jeffries attended the same primary school as her sister, Lisa


Key moments (with episode links where available)

Kate & Harry attend Sophie's award presentation


Gallery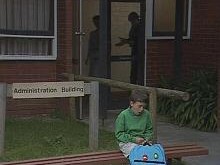 ..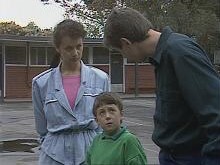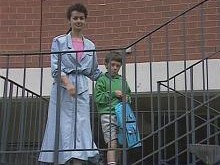 ..