.
News Headlines
The Sunday Telegraph reports that Neighbours intends to up its live music content as part of its revamp. A stage area in the revamped Scarlet Bar (now called Charlie's) will allow for regular appearances from singers and groups. Artists already said to be lined up to film appearances include Robyn Loau, Marcia Hines, Human Nature and Amy Pearson, with 2006 Australian Idol winner Damien Leith reportedly filming the first such spot this week.
| | |
| --- | --- |
| Benji Hart Signs Off | July 29 2007 |

Despite having only told us a fortnight ago that he had no plans to leave, Benjamin Hart (Adam Rhodes) will film his final scenes shortly when his contract expires. Fiona Byrne of the Sunday Herald Sun reports that Benji's six-month contract comes to an end on August 24th, though the door will be left open for the character to return if required. The character of Adam was brought in as a long-term love interest for the character of Pepper Steiger (Nicky Whelan), making his debut on Australian screens in June, but, when Nicky cut short her contract and left the series only a few weeks ago, many fans wondered just how long Benji would stick around without her.

Former Neighbours actress Rebecca Ritters (Hannah Martin) will next week return to Australian screens with a six-week guest role in medical drama All Saints, as nurse Rachel Simms.
Meanwhile, Natalie Bassingthwaighte (Izzy Hoyland) has finished filming horror movie Prey, with rumours circulating that her headline-grabbing lesbian shower scene would never see the light of day, with some feeling that it's too gratuitous.
| | |
| --- | --- |
| Neighbours To Move Studios | July 26 2007 |
The Herald Sun has confirmed that FremantleMedia has plans underway to move Neighbours from its home in Nunawading to a new purpose-built venue. It is said that the new location "will feature studios, post-production suites and interactive features, such as a Neighbours shop and perhaps a museum."
| | |
| --- | --- |
| Lynne Randell Dies | July 26 2007 |

Lynne Randell, former pop star and assistant to Molly Meldrum, who made a cameo appearance in the 1986 season of Neighbours, has died. She was found dead at her home in Toorak, Melbourne, on June 7th, 2007. Click here to read more about Lynne and her Neighbours appearance.
| | |
| --- | --- |
| Dean Geyer To Join Cast? | July 25 2007 |
The Daily Telegraph's Sydney Confidential has revealed that former Australian Idol contestant Dean Geyer, who finished third in last year's series, is close to signing a deal to join Neighbours. Rumours have been circulating for months, but his deal was apparently the hot gossip at a party in Melbourne on Monday night, at which cast, past and present, celebrated the show's big relaunch.
Also at the party, it was announced that Neighbours has been recommisioned on Network Ten for a further three years.
UPDATE: The Herald Sun's Confidential mentions, as well as the three year recommision, that FremantleMedia have confirmed plans to move from their Nunawading studios to an all new, purpose-built venue, set to feature studios, editing suites and possibly even a Neighbours shop and museum. Meanwhile, the Dean Geyer rumour is mentioned again, adding that his inclusion is part of a plan to feature live music in the new Charlie's Bar set and that other new signings are likely to be announced soon.
| | |
| --- | --- |
| Revamped Ratings | July 25 2007 |
This week's relaunch of Neighbours in Australia appears to have paid off in the ratings, with Monday's episode, featuring Rosie and Frazer's wedding, the arrival of the Parker family and the lives of several characters having in the balance following a bus crash, 1,048,000 viewers, bringing it over the 1 million mark for the first time in quite a while. The show was also number one in the 18-49 demographic. Whether the ratings can be maintained over the coming weeks and months remains to be seen, but things are certainly off to a good start.
| | |
| --- | --- |
| Neighbours: A New Era | July 24 2007 |
Yesterday saw the debut of the "new look" Neighbours on Australian television. As well as a new opening title sequence, theme tune and logo (all of which can be seen on the 2007 Opening Titles - Version Four video in our Multimedia: Credits section), and the axing of the episode titles, episode 5261 saw some big changes for the characters too - Rosie and Frazer were married, Ned's brother, Steve, arrived in Erinsborough with his family, and the episode ended with the minibus carrying Steph, Toadie, Pepper, Adam, Elle, Oliver, Ringo and Carmella home, crashing into the Parkers' removal van. Below are some images from the episode.
But, as has been pointed out repeatedly in the media in recent weeks, this is just the beginning of several months of updates that will turn Neighbours into a much slicker production. Filming in now taking place in High Definition, the effects of which will be seen on screen by the end of this year, and this has also required some big updates to the sets, which will gradually take place over the coming months. The cast is also set for more changes, with Nicky Whelan (Pepper) already departed and set to last appear on screen in November. Meanwhile, Kym Valentine (Libby), Joan Sydney (Valda) and Brett Tucker (Daniel) will all be returning to the cast.
And to top off the changes, the Australian half of the official Neighbours website, neighbours.com has had a revamp to tie in with the show's new look.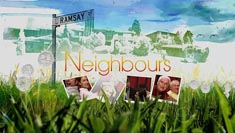 ..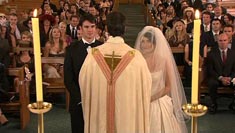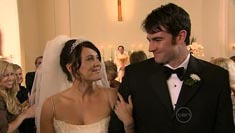 ..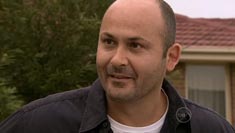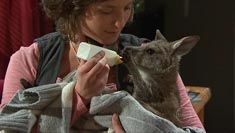 ..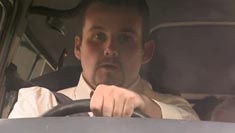 | | |
| --- | --- |
| New Look Preview | July 19 2007 |
The official Neighbours website, neighbours.com has added a preview video, showing the revamped opening, theme tune and logo (the first change to its overall design since the show began in 1985), due to first air in Australia on Monday 23rd July. The video also includes a sample of what's to come in the storylines, including the arrival of several new characters; vet Steve Parker (Steve Bastoni), his wife Miranda (Nikki Coghill) and their two children Riley (Sweeney Young) and Bridget (Eloise Mignon), single mother Rebecca Napier (Jane Hall) and her son, Declan (James Sorensen) and the return of the inimitable Valda Sheergold (Joan Sydney). Click here to watch the video.
| | |
| --- | --- |
| Kyal Complains | July 19 2007 |

Recently departed Neighbours actor Kyal Marsh has complained about the treatment of his character, Boyd Hoyland, at the hands of producers during his final months on the show. He claims that the storyline which saw Boyd cheat on wife Janae with Glenn Forrest ruined the character and, by the time his contract wasn't renewed, he was ready to go anyway. Kyal's final scenes as Boyd are set to air in Australia on Friday August 3rd, and will see the character leave with Sky (Stephanie McIntosh) and baby Kerry (Claudine Henningsen) to start a new life together away from Erinsborough.
| | |
| --- | --- |
| Herald Sun Neighbours Week | July 17 2007 |
The Herald Sun is currently running a special Neighbours week, with various features on the show, past, present and future. They're also offering the chance for viewers to vote for their favourite Neighbours moment and at the same time, enter a prize draw to win a trip to the set (open to Australian residents only). To enter, click here and follow the links, but be warned that the link does contain spoilers.

As if Kylie Minogue's (Charlene Robinson) appearance in the Doctor Who Christmas special wasn't enough, now her former screen husband Jason Donovan (Scott Robinson) wants to get in on the act too. He's admitted that he'd love to play "the Doctor" and is hoping to get a call from producers when they next recast the role.
And, keeping it in the family, Alan Dale (Jim Robinson) is currently filming a guest role in the Doctor Who spin-off Torchwood. The series is due to be screened early next year and Alan is said to be "thrilled" with the role and the chance to work on a British drama.
| | |
| --- | --- |
| Guest Appearances | July 13 2007 |
A few actors with previous connections to Neighbours will be making guest appearances later this year. Ally Byrne, who previously appeared in 1999 as Megan Townsend, will return later this year as Gemma Ogden. Meanwhile, Liam Hemsworth, whose older brothers, Chris and Luke, have both had Neighbours guest roles (Chris played Jamie Kane in 2002 and currently appears as Kim in Home and Away while Luke played the recurring role of Nathan Tyson in 2001 and 2002), begins filming this week for a two-month guest role.
| | |
| --- | --- |
| Neighbours Night Update | July 13 2007 |
Some extra information about tomorrow's Neighbours Night on BBC Three, featuring five new episodes of Neighbours Revealed has been released, and it seems that Ben Nicholas (Stingray Timmins) and Kyal Marsh (Boyd Hoyland) will be our presenters for the evening, providing links between the five documentaries.
Also, contrary to the original press release, the evening is set to start at 8.25pm and not 8.30pm, just in case any of you were planning to set the video. If you do happen to miss the shows the first time around, they are being repeated in the early hours of Sunday morning and at various points throughout the following week.
| | |
| --- | --- |
| National Television Awards 2007 | July 13 2007 |

The nominations for this year's National Television Awards have been released.
Neighbours features in three categories with Jackie Woodburne (Susan Kennedy) up for Most Popular Actress, Alan Fletcher (Karl Kennedy) up for Most Popular Actor and Neighbours itself up for Most Popular Serial Drama.
You can vote for your favourites by visiting the website. Shortlists will then be released in early October with the awards being screened on ITV, live, on Wednesday 31st October.

Kylie Minogue (Charlene Robinson) began filming this week in Cardiff for her role in this year's Doctor Who Christmas special entitled Voyage of the Damned.
Jason Donovan (Scott Robinson) recently began filming the lead role of Daniel Marrack in ITV's new soap-style primetime drama, Echo Beach, appearing alongside other former soap actors including Martine McCutcheon and Johnny Briggs. Jason will also be appearing on an episode of Celebrity Ready Steady Cook with his half-sister, and fellow Neighbours actor, Stephanie McIntosh (Sky Mangel).
Brooke Satchwell (Anne Wilkinson) is currently filming Channel Nine's new drama series, Canal Road, in which she plays nurse Bridget Keenan, in Sydney.
Another Channel Nine drama series, now in production, is Underbelly. Currently being filmed in and around Melbourne, the series, focusing on the city's murky underworld, will feature several former Neighbours actors, including Kevin Harrington (David Bishop) as Lewis Moran, Caroline Gillmer (Cheryl Stark) as Judy Moran and Madeleine West (Dee Bliss) as Danielle McGuire.
Benji McNair (Mal Kennedy) recently married, according to TV Week, his long-term girlfriend, Gennie, at a friend's farmhouse near Lorne. In attendance were former Neighbours actors Jacinta Stapleton (Amy Greenwood) and Ben Geurens (Toby Mangel).
| | |
| --- | --- |
| Nicky Whelan Quits | July 09 2007 |

According to TV Week magazine, Nicky Whelan has quit her role as Pepper Steiger as the current cycle of her contract comes to an end. Nicky has played manic Pepper for a year now, and intends to head to Los Angeles where she has many friends, including actor and comedian David Spade to try a carve out a career in Hollywood. She will film her final scenes on Friday 20th July and Pepper's final episodes are set to air in November. The status of Benjamin Hart, who recently joined the cast as British backpacker, and intended long-term boyfriend for Pepper, Adam Rhodes, is currently unknown.
UPDATE: A member of the PB team has spoken to both Nicky (Pepper) and Benji (Adam) during a Neighbours event in Melbourne today. Nicky actually finishes filming this Friday (13th) while Benji has no current intentions to leave and is not aware of any plans to write Adam out either.
| | |
| --- | --- |
| Mal Comes Back? | July 09 2007 |

TV Week reports that Benji McNair (Mal Kennedy) is the latest name rumoured to be returning to the Neighbours set. Mal first appeared, with the rest of the Kennedys, in 1994, before quitting in 1997, then returning for guest stints in 2002 and 2004. With his parents, Karl (Alan Fletcher) and Susan (Jackie Woodburne) still present and sister Libby (Kym Valentine) set to make a permanent return before the end of the year, could a Kennedy family reunion be on the cards?
| | |
| --- | --- |
| Daniel Fitzgerald Returns | July 09 2007 |

Fiona Byrne's column in the Sunday Herald Sun reports that Brett Tucker is to reprise his role as teacher Daniel Fitzgerald, seven years after his last Neighbours appearance. Since playing Daniel, Brett has gone on to bigger things, spending four years as Dave Brewer in McLeod's Daughters, but is now set to return to Ramsay Street full-time as Daniel, the likeable teacher who, along with his pet lizard Barney, moved in with colleague Tess Bell (Krista Vendy) briefly in 2000. As well as having a crush on Steph (Carla Bonner) which went no further than a few dates, Daniel came close to getting together with Tess, but she realised that she couldn't move on from her dead husband, Brendan (Blair Venn) and Daniel moved out. He is due to return to Australian screens late in 2007.
| | |
| --- | --- |
| Inside Soap Awards 2007 | July 09 2007 |

Voting is now open for the 2007 Inside Soap Awards and, as usual, Neighbours and its actors are shortlisted in every category.
Nominees this year include Eliza Taylor-Cotter (Janae) and Jackie Woodburne (Susan) for best actress, and Alan Fletcher (Karl) and Stefan Dennis (Paul) for best actor, while Ben Lawson (Frazer) and Natalie Saleeba (Rosetta) are up for best newcomer.
To place your votes, click here or purchase a current copy of Inside Soap.
| | |
| --- | --- |
| New DVD Release | July 09 2007 |
It seems that, two years after we last had any information on a new Neighbours DVD release, something is coming - and soon. Australian DVD retailer ezydvd.com.au is listing Neighbours: The Iconic Episodes - Volume One for release on September 17th 2007. The three-disc set is reported to contain many of the defining Neighbours episodes - including Harold's arrival, the 1000th episode, the Scullys' arrival and Max and Steph's wedding to name but a few. Click here for more information and to order.
| | |
| --- | --- |
| The Vegemite Tales | July 09 2007 |

The Vegemite Tales, the stage play about a group of Australians sharing a flat in London, is set to return to London's The Venue, Leicester Place, later this month and amongst the cast will be Blair McDonough (Stuart Parker) as Dan and Jonathon Dutton (Tad Reeves) as Eddie. For further details, including information on how to book tickets, visit The Vegemite Tales website.
| | |
| --- | --- |
| Neighbours Night on BBC Three | July 04 2007 |
BBC Three is set to screen five half-hour documentaries on Neighbours, with input from cast members, past and present, as well as behind-the-scenes footage. The special can be seen on Saturday 14th July from 8.30pm, and details of the five, individually-themed episodes are as follows: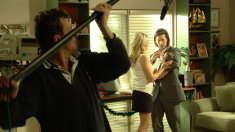 ..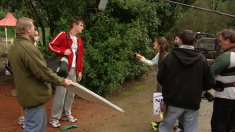 "In 'Everybody Needs Good Neighbours' the story of Neighbours is told from the very beginning, how the series came to the UK, and looking at just why the series has become such a global hit.
'The Talent of Ramsay Street' recalls all the eye-catching and head turning totty who have graced Erinsborough over the years, and takes an exclusive Neighbours-eye view into unique acting classes held by the production to further their acting talent.
'Neighbours Rule UK' catches up with some familiar faces of the past such as Craig McLachlan and Anne Charleston have lived and worked in the UK, but for whom Neighbours is never far behind…
'Here's to You Mr Robinson' joins the legendary Paul Robinson (aka Stefan Dennis) for a day in his marital life, joining him on set on the day of his fateful marriage to Lyn and wondering just why this loveable rogue is such a hit with the ladies.
And finally, 'Life, Death and Neighbours' recalls the biggest, the best, the sad and the shocking moments of over 20 years of Ramsay Street, that has seen more death, disaster and heartache than you have had hot barbies."
| | |
| --- | --- |
| Libby Returns | July 01 2007 |

Following recent speculation, it has been confirmed that Kym Valentine will reprise her role as Libby Kennedy. After taking a break from acting following her role on the stage production of Dirty Dancing, Kym told the Sunday Herald Sun, "I am hugely loyal to the show and I'm ready to go back and do what I love."
Kym left the show in 2004 following 10 years as Libby Kennedy and will be back onscreen before the end of the year.
To view our archive of past news stories click here