.
Year by Year > 1989: Episodes 877-1113


Network Ten airdates: 17/01/1989-13/12/1989
BBC 1 airdates: 23/03/1990-21/02/1991
UK Gold airdates: 12/03/1996-05/02/1997
Number of episodes: 237
Regular Cast: Madge Bishop, Jamie Clarke, Harold Bishop, Des Clarke, Jim Robinson, Paul Robinson, Helen Daniels, Bronwyn Davies, Sharon Davies, Todd Landers, Gloria Gardner, Joe Mangel, Toby Mangel, Nick Page
Joining Cast: Lee Maloney, Kerry Bishop, Sky Bishop, Melissa Jarrett, Tiffany 'Lochy' McLachlan, Beverly Marshall (second casting), Melanie Pearson, Hilary Robinson, Matt Robinson, Cody Willis
Departing Cast: Jane Harris, Katie Landers, Rob Lewis, Henry Ramsay, Gail Robinson, Scott Robinson, Mike Young, Edie Chubb
Notable Guests: Noelene Vickers, Madeline Price, Poppy Skouros, Penelope Porter, Jenny Owens, Clive Gibbons
The 1989 season saw quite a few changes, with new characters and the departure of some of the most popular on the show at the time. Nevertheless Neighbours continued with another marriage, a new Beverly, a divorce, and the celebration of the 1000th episode.
1989 starts with Noelene and her new husband arriving to pick up Toby, however he hits Toby - horrifying Joe. After a long battle he does get to keep Toby. However not long later Edie helps Noelene run off with Toby! He does get him back quickly though, and makes up with Noelene.
Lucy returns to Erinsborough after being suspended for cheating. She tells everyone it wasn't her, but when Todd goes after the girl who really cheated, Lucy is quick to admit it was her, and leaves for school soon after.
The romance between American tycoon Mark and local girl Jane doesn't go too well - at a dinner party his mother asks Jane not to marry him because of their class differences. She tells Joe however she will marry Mark, but more trouble comes along when Rosemary tells her not to marry him! Although she does call off the engagement, there is still a grudge between Jane and Rosemary. Jane calls her jealous, and Rosemary tells Paul to sack her - she resigns.
Helen returns home after the stroke she had in 1988, but gets annoyed at how much people are caring for her, as she has to be cared for via a walkie-talkie system. However she gets extremely annoyed when Nick starts up a Help Helen rota and she makes it clear that she can cope on her own.
Harold discovers his daughter Kerry in the Coffee Shop at the start of the year. Although early on he doesn't really want to know about her or Sky, he eventually takes them in and invites them to live at No. 24, but is shocked at her way of living. Joe and Kerry become good friends, to Harold's annoyance, and eventually end up going on a date.
After having no success trying out for a baby, Paul and Gail try IVF treatment and she discovers she is pregnant with triplets. They hit troubles when he becomes obsessed with his work. In an explosive outburst she makes it clear what she thinks of him, leaving him devastated, and later threatens him with divorce, and although Paul tries to make up with her on their wedding anniversary, they stay at odds. Gail has made it clear that she thinks Paul concentrates more on work then her - after all, they were originally married for a business deal.
Madge learns her father has had a heart attack so rushes up to Brisbane, while Scott returns in the same episode. Meanwhile Beverly heads off to Perth for a conference - the last time we saw Lisa Armytage. While she is away, Scott's workmate Madeline tries to crack onto Jim, seeking comfort from him. When Beverly returns (with a new head), she finds the two in a compromising position. However, Scott helps the stubborn couple get back together.
Although he helped his dad get back with his wife, Scott later meets troubles of his own. Poppy Skuros, whom he works with, is now hitting on him, and even though there is a stern telling off from Jane, she persists. However Scott tells her he isn't interested and she leaves. It isn't long after that Scott gets itchy feet and decides to move back to Brisbane.
Mike returns, acting strangely - it turned out he'd met a girl, Jenny Owens, and while on his motorbike, she fell off the back and ended up a paraplegic. He felt extremely guilty and thought he should look after her. He says he will marry her but in the end she tells him that she can cope on her own and leaves Erinsborough.
Harold and Joe plan to go on a flying trip. Although Harold says he's an expert at it, Joe is scared of flying. However when they eventually get to the plane, Joe fits in perfectly while Harold's fears surface. Later, Joe and Des go on a challenge... but it almost ends in tragedy when one of them nearly drowns.
After being fired from the Coffee Shop, Sharon and Nick run away to work on a farm in the country. Sharon finds it hard, and throws mud in the farmer's daughter's face... when the farmer is behind them! They are both sacked and make their way back home.
Matt Williams arrives in Erinsborough and stays with Hilary, although there's more to the relationship then meets the eye. Des tries to start a relationship with banker Penelope, but she leaves town just as Des decides to try and move on from Daphne and propose to her! Later, he starts a relationship with Jane, and eventually proposes. Tensions rise between Mike and Des, and Des doubts if Mike should be his best man. At Des and Jane's engagement party, the 1000th episode, Hilary reveals to Matt that she is his mother. Jane leaves Des, and Erinsborough, when she hears that Nell is sick and she goes to England to look after her - she later calls to say that she won't be coming back, leaving Des shattered.
Todd's mother rings up No. 26 and tells that finally everything is fine between her and Bob. She says she wants Katie and Toby back. Katie is adamant to see her parents again, but Todd has now made all his friends in Erinsborough, so Katie goes home alone. Toby soon becomes very lonely, until he meets new playmate Tiffany. At first he doesn't like her, until he realises it's her mother that makes her put on a girly attitude and all the dresses. Tiffany tells Toby that her nickname is Lochy, and they stay friends. They get up to no good in an old house that they believe is haunted and are scared out of their wits when they meet the ghost, who turns out to be Lee, who is squatting there. She ends up getting together with Matt.
Gail's dad Rob is accused of having stolen parts at the garage and Paul discovers it's true. He tells him to own up, but Rob won't do it and goes off in a state. That night, he has a car crash and dies in hospital shortly afterwards, leaving Gail and his partner, Gloria, devastated. Gail writes Paul a note and leaves Erinsborough. Beverly is the only one who knows where she is, and has the painful decision of risking her job for supporting her family. She eventually puts her job on the line for Paul, but nonetheless he doesn't find her. Gail moves to New Zealand, and Paul stays annoyed at Beverly for not giving him her location earlier. Later on, a trial is raised for the death of Rob - Gloria doesn't want to give evidence as she has been threatened, but after No. 22 is vandalised she decides to speak up. Funnily enough, after this the whole trial was never mentioned again.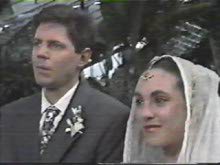 Joe and Kerry get engaged and they decide to have a double wedding with newly engaged Jane and Des, while Bronwyn and Henry also plan to marry. However, Bronwyn's father doesn't want her to rush into marriage and on the day of the wedding, she decides to call it off. Jane goes to England and calls her wedding with Des off, and so Joe and Kerry get married in a single ceremony at the Botanical Gardens.
Todd gets together with Melissa Jarret, but she goes to America for a few months. Although he says he'll be faithful, he meets Cody Willis, who sets him up at a fake party! He betrays Melissa while she is gone.
Lucy returns on holidays with a new look - long hair and all grown up. However she is upset when Helen continues to treat her as a child, but Jim tells her it's just what grandmothers do. To prove she is grown up, she goes to the pub with Nick, but is caught by the police. Paul gets extremely angry with her as she nearly cost him his business, and she leaves for school again!
Nick falls increasingly ill with meningitis and faints at No. 26 after hitting his head at the pool. Sharon grows uncomfortable around him and decides they should break up - much to Nick's disappointment. They decide to stay friends.
Kerry gets a letter addressed to Mrs Mangel, saying they want Dear Georgette back. Joe tells her not to do it as it just caused trouble, but she tries out anyway, having it renamed 'Dear George'. It soon becomes more trouble than it's worth so she gives it up.
Henry gets a job on talkback radio, but it is very boring! The Ramsay Street Residents feel sorry for him so ring up with fake names to make him feel better. He talks mostly about gardening, so gets Joe on the show too. This all leads to Henry becoming a DJ and saying a tearful farewell to everyone, including Bronwyn, to take a job in New Zealand. Also, at the end of the year Mike Young leaves to look after his mother.
Clive Gibbons makes a short reappearance in Erinsborough to help out Beverly. We meet a patient of hers, Debra, who has post natal depression. She ends up leaving her baby in Bev and Clive's surgery, telling Beverly to keep him. She gets very attached to the baby, having lost one before, and Jim is worried about her. However Debra makes it clear that they can keep the baby, and they name him Rhys. Later, Rhys develops a chest infection, and almost dies.
The year ends with Beverly being blackmailed over Rhys, as the baby's father asks for $1000 in return for her keeping him. Also, Matt heads off to Adelaide without telling Hilary, Lee gets a job at the Coffee Shop, and Madge wins the lottery!
1989 Episode Summaries | 1989 Magic Moments | 1989 Opening Titles
.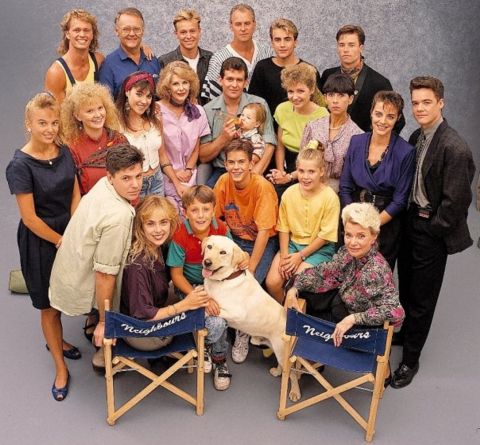 Review by Joe