.
Comment > Clocking Up The Miles by Steve
For a show that almost didn't make it to its first birthday, Neighbours has gone on to celebrate many major milestones…
Now Australia's longest-running television series, after only nine months on the Seven Network, Neighbours was axed. However, by the end of 1985, it had already hit a major milestone, at least within the Australian television industry, becoming the first series to be bought up by another network and so, in 1986, it started a new life on Ten.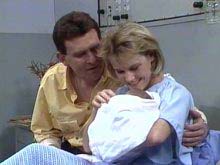 Neighbours' first big wedding came in 1985, when Paul Robinson married plumber's assistant Terry Inglis. But it was original character Daphne Lawrence who was at the centre of several more milestones as the 1980s continued. She and fiancé Des Clarke managed to have not one, but two weddings in 1986, the first being called off when Daphne turned up late and Des left, believing he'd been jilted. By the end of 1986, Daphne was pregnant and was responsible for Neighbours' first on-screen birth when little Jamie came along in 1987. And by 1988, she brought another milestone to Ramsay Street, becoming the first major character to be killed off and leaving Des to bring up Jamie on his own.
1989 brought with it another important milestone, as the show that almost ended with its 170th instalment celebrated episode 1000. This milestone took place as the programme was still at the height of its popularity and there were big celebrations both on-screen and off. On-screen, a party was held to celebrate the engagement of Jane Harris and Des Clarke, with the drama provided by the return of Des' good friend and former charge, Mike Young, who also happened to be Jane's ex-boyfriend and was unhappy with the news that they had coupled up. Meanwhile, starchy Hilary Robinson gave all of her friends and family a surprise when she announced that new Ramsay Street addition Matt Williams was actually her son. Nevertheless, as Jim Robinson pointed out at the end of the episode – nobody throws a party quite like Ramsay Street and the episode is fondly regarded by many long-term fans as the end of the show's "Golden Age" and is also notable as being one of the few times that the whole cast were in one episode together. A prime time 1000th episode celebration also screened on both Ten and the BBC to coincide with each channel screening the episode – which, in those days, was almost 18 months apart. Cast members past and present attended a gala dinner to celebrate Neighbours' success.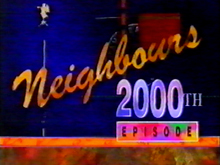 In 1993, Neighbours celebrated its 2000th episode on-screen with another party. This time, the excuse was the birthday of Helen Daniels, the last remaining original character, following the death of her son-in-law, Jim, earlier that year. As well as the culmination of many major storylines – including Lou and Cheryl's on-off romance, Stephen finally walking again following his paralysis and the Martins reuniting to give their marriage another shot – and the grand reopening of The Waterhole pub, it also saw the returns of two more original characters, Helen's grandchildren, Paul and Lucy, both of whom had last been seen in 1992. Again, the episode was a hit with fans and showed that, despite some major cast changes and only one character remaining who'd been there for episode 1000, Neighbours still valued its past. In real-life, the cast celebrated the milestone with a party at Melbourne's Churches restaurant, where the surprise guest of the evening was Elaine Smith, who had left her role as Daphne six years earlier, and who turned up on the arm of Stefan Dennis.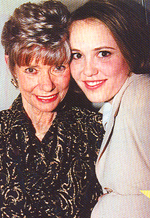 Episode 3000 proved to be a much more subdued affair. Screening at the beginning of 1998, only a week into the season and coming only five episodes after the show's biggest even season finale – which had contained two illicit kisses, a marriage proposal and a serious car crash – there was very little sense of an "event". A small party was held to celebrate Susan's new job as principal of the high school in Wangaratta, where she would be living during the week. Again, a real-life party brought cast, old and new, together and saw Anne Haddy, who had filmed Helen's death scenes only weeks before, make a triumphant public appearance, complete with new hairstyle (pictured).
Episode 4000, screened halfway into the 2002 season, was slightly more eventful, but this time, there was no party. The culmination of a week which had seen six of the regular cast leave Erinsborough, episode 4000 saw Felicity Scully, played by Neighbours' then Golden Girl Holly Valance, at the centre of two big events. Not only did she rescue Lou Carpenter and Reverend Rosie Hoyland from a burning church, but she admitted her love to Marc Lambert, the twist being that he was already due to marry Flick's older sister, Stephanie, a fortnight later. Fans were divided over this episode – although it was nice to see a big event, the fact that Holly Valance dominated proceedings was too much for some.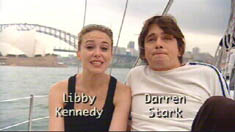 Disappointingly, Neighbours' 10th anniversary in 1995 passed by without any sort of mention or celebration on-screen. However, it wasn't a complete let-down for fans, as a special book and video were released to mark the occasion, the video being a documentary, opened by Anne Haddy and featuring classic clips and interviews with many cast members. But by 2005, and the show's 20th anniversary, things had changed and Neighbours fans were treated to a week of episodes featuring the returns of numerous past characters, including Rosemary Daniels, Philip Martin and Doug Willis. The highlight of the week proved to be a special documentary, filmed by another former Ramsay Street resident, Annalise Hartman. The documentary caught up with dozens of former Neighbours, finding out what they were up to these days and why that suburban street was so special to them. Storylines were also timed to come to their dramatic conclusions during a special anniversary week, with Steph and Max's adoption dramas, Paul's involvement with Affirmacon and Izzy's baby lies all providing the substance to back up the nostalgia.
Most recently, and the reason behind this look back at milestones, is episode 5000. Very few soaps can claim to have made it this far and Neighbours marked the occasion with several weeks of high drama for the Ramsay Street residents, including the return of old favourite Gail Robinson, two weddings with unexpected ending, a teen pregnancy, the gradual conclusion of Robert Robinson's vendetta against his father and, most importantly for many fans, the reunion of Karl and Susan, who had divorced two years earlier. The 5000th episode itself primarily featured the Robinson storyline, leaving the cast's only original character with his life in the balance as a cliffhanger.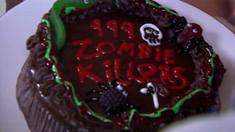 In the build-up to episode 5000, the writers took another chance to celebrate, as they included the block number of the episodes in each week's scripts. The block number is used for the weekly batch of five episodes, so, by episode 5000, they'd reached block 1000. The references for those ten weekly blocks were as follows: Mishka's flight number (990), the name of JP's art gallery (991 - though this was edited out of the final episodes), the council's building act under which the General Store had failed (992), the number of parking tickets written by Ned's rival in the past month (993), the catalogue number of a boiled egg spoon that Sky and Elle had to sell in telesales (994), the original name of Stingray's movie (995 Killer Zombies - also edited out of final episodes), the number of the police car called for back-up when Kim was arrested (996), the name of the vodka distilled by Lou and Mishka (old 997), the address of Bree's birth parents (998), the number on the cake Rachel baked to celebrate Stingray completing his film (incorrectly putting 999 Zombie Killers instead of 995 Killer Zombies) and finally, celebrant Sarah Green announced that Boyd and Janae were the 1000th couple that she had married.
Will Neighbours still be around to celebrate its 6000th episode, or its 25th and 30th birthdays? While we wait to find out, why not look back at episodes 1000, 2000, 3000, 4000 and 5000, the first wedding, the first birth, the first death and those 20th Anniversary celebrations, or look ahead with our episode 6000 predictions.