.
Year by Year > 1998: Episodes 2996-3220


Network Ten airdates: 19/01/1998-27/11/1998
BBC 1 airdates: 14/05/1998-31/03/1999
UKTV Gold airdates: 14/04/2004-28/10/2004
Number of episodes: 225
Regular Cast: Sarah Beaumont, Harold Bishop, Madge Bishop, Lou Carpenter, Philip Martin (second casting), Hannah Martin, Karl Kennedy, Susan Kennedy, Libby Kennedy, Billy Kennedy, Toadfish Rebecchi, Louise Carpenter, Ruth Wilkinson, Anne Wilkinson, Lance Wilkinson, Amy Greenwood, Paul McClain
Main Arrivals: Drew Kirk, Joel Samuels, Nicholas Atkins, Mike Healey, Sally Upton
Main Departures: Ben Atkins, Caitlin Atkins, Darren Stark, Nicholas Atkins
Notable Guests: Kim Howard, Geoff Burke, Tom Kennedy, Karen Oldman, Lily Madigan
The stability from the previous year continued, as the residents of Ramsay Street survived another year of weddings, affairs, stalkers and unrequited love…
The year began by answering some of the threads left dangling at the end of the fantastic 1997 season finale. Ben managed to survive the accident at the race track, but was hanging on by the skin of his teeth. Anne walked in on Caitlin and Billy kissing, and it looked like curtains for that particular couple. Sarah and Karl, meanwhile, tried to put their forbidden kiss out of their minds, but as the year commenced, it seemed that it would be a lot more difficult than either of them could have imagined.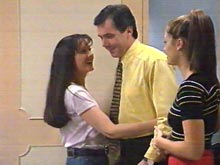 Karl and Sarah's kiss left them trying to avoid each other, but Karl's problems only increased as Susan made plans to leave for Wangaratta, where she'd be spending her weeks working as principal of the local high school. Regardless of their attempts, Karl and Sarah were constantly thrown into situations where they had to spend time together, with Karl even saving Sarah's life when a safety rail broke and she was left hanging over a cliff. In the end, Sarah decided that she had to leave, as Toadie found out about her feelings for Karl, and she moved into a caravan park down the coast. Karl was determined to bring her back to town, but when they were returning, his car broke down and they were forced to spend the night in a motel. Karl and Sarah were both determined to keep their feelings a secret, but it wasn't to last…
Ben's accident brought a couple of newcomers to Ramsay Street. While Ben was recovering, his and Caitlin's brother, Nicholas, came to stay to look after his younger sister. Meanwhile, Ruth was in for a big shock when Ben's natural father, Geoff Burke, turned up. Geoff made an attempt to get close to his son again and stayed around for several weeks, even threatening Ruth's happiness with Philip, but in the end he had to go back to his other family in Sydney. Once recovered, Ben accepted an offer of work from Geoff and left to get to know his father in Sydney.
Quirky couple Amy and Lance found themselves ballroom dancing when she convinced him that it would be a good idea to bring them closer as a couple. Lance tried to keep it a secret from his mates but he was forced to flee in his dancing outfit when his clothes were stolen at school and was caught by Toadie. Meanwhile, Erinsborough High had been threatened with closure, until a mystery person started canvassing the streets and putting across the word that the school must be saved. The plan worked and the mystery person was revealed to be Toadie, who was hoping to make up for the end of year prank that had seen him expelled.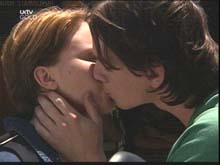 When Darren cheated on Libby with single mother, Shannon Jones, Libby had finally had enough of him letting her down and she called things off once and for all. This prompted Darren's decision to leave Erinsborough for good and he headed off for Byron Bay. A few days later, Libby was on her way to visit Grandpa Tom when she stopped off at a country pub and found herself face to face with her ex. The couple said what they believed to be a final goodbye the next morning. Meanwhile, Lou hired a new mechanic in the form of Drew Kirk, and he quickly took Darren's place at number 22 when he decided to move out of his aunt's flat.
The Kennedy family were in for a surprise when Joel Samuels turned up on their doorstep. A friend of Mal's from England, Joel was originally from Tasmania but had been travelling the world on the back of his abilities as a triathlete. Mal had promised Joel a room at the Kennedy house, but failed to tell his family. Still, Karl and Susan welcomed him in and he was soon causing problems as he got close to both Anne and Amy, leaving Billy and Lance jealous. He also caused problems when his drum kit arrived and it was ultimately relegated to Harold's garage.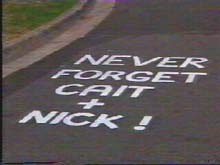 After her disappointment with Billy, Caitlin found new love when Josh Hughes joined her swimming team. When her older brothers objected to the relationship, she and Josh ended up running away together. They soon came back as they realised that they couldn't cope on their own, and Caitlin found a new goal when she began training to get into the Institute of Sport. Unfortunately, she pushed herself too hard and ended up collapsing by the pool at number 30. Following Ben's departure and the return of their mother to Australia, Nick announced that he and Caitlin would be going back to Western Australia. They managed to leave an impression though, when she painted 'Never 4Get Cait + Nick' on the street.
Toadie had a busy year as he moved out of number 28 and in with Lou at number 22. He also scored a job on the radio station UniFm and found himself attracting the attentions of Karen Oldman. At first, Toadie let her think that Nick was Toadie, as he didn't think she'd be very impressed with him, but when she found out the truth, she and Toadie started dating. Toadie also found another new home when he moved in to number 30.
Lou's year got increasingly bad, after a failed relationship with tax inspector Carol Maitland and buying a duff restaurant, Little Tommy Tucker's. Meanwhile, the Bishops ended up in a land dispute with Lou over a metre of land, but things turned serious when Lou suffered a heart attack and Madge found him floating in the spa. He recovered and they all agreed that they'd been behaving like children. Meanwhile, Madge and Harold's foster son, Paul McClain was struggling to get to know his father, recovering alcoholic, Leo.
Phil and Ruth's wedding day arrived, following his surprise proposal during the 1997 season finale. Ben returned for the event, as did Phil's son, Michael, and Ruth arrived at the ceremony, by Lassiter's Lake, on the back of a motorbike. She also received the welcome news that a lump she'd found in her breast wasn't cancerous and the Martin and Wilkinson families proceeded to unite as one, albeit with a few teething problems.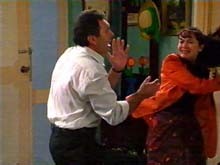 Meanwhile, Toadie finally let slip to Billy about Karl and Sarah. Billy told his mother, who promptly confronted Karl, slapped him and announced that their marriage was over. Karl found himself a place to stay and the Kennedy marriage looked to be beyond saving. Sarah's friendships with both Susan and Libby were destroyed forever. However, it seemed that Karl and Susan couldn't live without each other for long and, when Libby went missing during a uni trip, they united to search for her and found themselves closer than they'd been in weeks. Susan finally agreed to try again and Karl moved back home just in time for their 25th anniversary. It would be a long time before things were completely back to normal, though…
As her dalliance with Karl was finally revealed, Sarah struggled to get her life back to normal, but she continued with her decision to train as a nurse. Whilst working at the hospital, she found herself receiving some unwelcome attention from a stalker. At the same time, she grew very close to a colleague, Alex Fenton, but she messed things up when she accused him of being her stalker. In the end, it turned out to be an obsessive patient, Richard. Sarah felt so sorry for him when she saw him at the police station, that she couldn't press charges.
Lance began to develop an gambling obsession, once again threatening his relationship with Amy. When she found out, she made him promise that he would stop and he did, briefly. But the temptation got too much for him and he started placing bets again, in secret. When Anne found out, she forced Lance to be honest with Amy, who promptly ended things between them, apparently for good.
Anne Wilkinson befriended elderly Lily Madigan, whose house was under threat from developers and promised to support the old lady in her fight. They got closer over the weeks that followed, to the point where Anne was by Lily's side when she died. Anne was in for a massive shock when she found out that Lily had left her the house.
With the Wilkinsons all safely moved in at number 32, Hannah was confused when she thought she saw somebody moving around inside the empty house and convinced herself that it was haunted. When Amy was spotted making regular visits to the house, it emerged that the ghost was actually her younger brother, Patrick, who didn't want to go back to his boarding school.
Hannah Martin announced that she was going to be taking a break from Erinsborough for a few months to go and stay with her friend, Claire Girard, in France. Phil was unsure about his little girl going away so far for so long, but a chat with Claire's parents helped win him over, then Rosemary returned to Australia and agreed to accompany Hannah to Paris where she had some business to attend to.
Drew developed a close friendship with Libby Kennedy and was always there for her, but he was disappointed when she announced that she'd met someone – her university tutor, Mike Healey. Libby had many hurdles to cross in her relationship with Mike, including the opinions of her parents, Mike's mother and his wife, Victoria, who he was separated from. Libby also struggled to develop a relationship with Mike's young daughter, Sasha, but he was still determined that they would be together and asked her to move into number 32 with him. By the end of the year, Libby was shocked when she caught Mike spending time with Victoria, when he's assured Libby that he wasn't and she began to wonder whether she could trust him completely.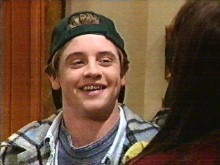 Toadie was in for a surprise when his Aunt Coral sent her wayward son, Wayne 'Tad' Reeves to stay with him for a few weeks, in the hope of getting him back on the straight and narrow. Tad caused trouble from the beginning, especially when he told his cousin that he was due in court for stealing a car…
Joel found himself a regular girlfriend in the form of kooky Sally Upton, who worked with Toadie at the radio station. The couple had their ups and downs, but they grew close as she revealed more about the death of her mother. They even managed to overcome the problem of Sally's shocking jealousy when she found out that Joel had harboured a secret crush on Libby for many months after arriving in the street. In the end though, they weren't strong enough to stay together and Sally ended things, leaving Joel devastated. Later, when she was left alone with Drew, she decided to make a move on her ex's best friend…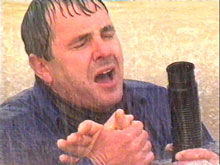 The dramatic 1998 season finale saw the gang decide to go away on a camping trip, to celebrate leaving school. The tension was building between estranged couple Lance and Amy and he was keen to get things started again. Meanwhile, Anne and Billy slept together for the first time, but when she overheard him telling Pinhead that it was no big deal, she drove off in tears, setting off a shocking chain of events. Karl was driving Joel up to the campsite so he could join the others, when they spotted Anne in the ute down by a river. They stopped to chat to her, but then realised that the ute wouldn't start, so Joel and Karl tried to give it a push. As the wheels locked, it rolled down the riverbank, crushing Joel underneath. With the rain showing no sign of stopping and the water level rising, Anne was forced to drive off in the Thunderbird to get help whilst Karl struggled to keep Joel's head above water and he slipped into unconsciousness…
1998 Episode Summaries | 1998 Magic Moments | 1998 Opening Titles