.
Neighbourhood > Places > Sonya's Nursery
Sonya's Nursery 2011-
Address: 237 High Street, Erinsborough, Victoria, 9571

Owners: Sonya Mitchell (2011-)
Employees: Nate Kinski (2014-2015), Josie Lamb (2013-2015), Rani Kapoor (2012-2013), Callum Jones (2012-2015)

After taking out a loan to buy the gardens to turn into a nursery, Sonya Mitchell became the proud owner of the site, having successfully bid $442,000 at the auction. Sonya soon set about improving the site for her business, enlisting the help of local handyman Kyle Canning to prepare her for the grand opening, which was a complete success. Continuing with the kitchen garden scheme with Erinsborough High, and adding other local schools to the list, Sonya business seemed to be going well, especially when a recommendation from Kyle led to a sale of 200 plants. Unfortunately, news of a local shopping centre development including a large garden centre put the business under threat and Sonya was upset to learn that her partner, Toadie was the lawyer representing the development, putting them both in an awkward position.
Trivia Notes
• In 2012, the telephone number for the nursery was (03) 7010 2564 and the fax number was (03) 7010 2575
• The e-mail address in 2012 was info@sonyasnursery.com.au

Previously...
Community Gardens and Allotments 1995-2011
Address: 237 High Street, Erinsborough, Victoria, 9571

Owners: Reuben White (19??-1995), Garnet White (1995), Erinsborough Council (1995-2011)
Managers: Old Sid (19??-1995)
Employees: Old Sid (1995)

In 1995, following the death of her new husband, Reuben White, Helen Daniels met an old friend of his, Sid, who explained that Reuben had given him a plot of land to grow fresh vegetables to sell to local outlets after he had fallen on hard times a few years before, however Sid feared that Reuben's death meant he would lose his right to the land. Helen vowed to help him, however, Reuben's son, Garnet, had already donated the land to the council. Helen felt awful about the situation when Sid revealed that he lived on the land in a converted bus and called on friend and local Mayor, Lou Carpenter, to see if he could persuade the council to let Sid stay where he was. Lou was able to convince them with Sid being allowed to continue living on Reuben's land, as well as putting him on their payroll by appointing him as caretaker of the Reuben White Memorial Fund. As Sid's health soon began to fail him, Helen eventually persuaded him to leave the bus and move in with his daughter, with the bus being made available for the community to use.
Later that year, Lance Wilkinson and Hannah Martin went on a date to the community bus, however as they shared a kiss, they heard someone coming down the stairs and ran off. Hiding behind some bushes, staking out the bus, they saw someone moving around in the compost bin. Going to the police, down and out television star, Flakey the Clown eventually emerged from the bin. Having been arrested and released, Flakey returned to search the compost bin for his missing pack of cigars. Initially wondering if the police took them, he then turned his suspicions to Lance, however Joanna Hartman attempted to placate him by offering to buy him some more cigars. As they left, former Ramsay Street resident, Luke Handley, who was thought to be in Japan, appeared on top of the bus smoking one of the cigars. As Billy Kennedy also began noticing strange noises around the community bus, nobody would believe his protests that it was haunted; however it was eventually revealed to be Luke. Turning away help from his friend, Sam Kratz, Luke finally agreed to see Dr. Karl Kennedy, who realised Luke was struggling following the breakdown of his relationship with Ren Gottlieb. Luke was extremely upset and angry, but eventually agreed to stay at the Robinson house for a while.
In 1997, Lou bought the bus for use as a mobile restaurant, much to the chagrin of neighbour, Harold Bishop who wanted to use it as a mobile shelter for street children; however it failed to get off the ground after it was torched by local teen, Jamie-Lee Duggan.
Harold meanwhile had taken up an allotment at the site and one day he and his wife, Madge came across a box containing a bequest now worth $7,000 from her grandfather, Jack Ramsay, which was available to 'any worthy member of the community' whoever can build a machine to fly over the Erinsfield River, leading to a race to build the perfect craft.
As Paul McClain, Tad Reeves and Hannah Martin began using the allotment as a BMX track, it quickly attracted the attention from other local BMXers, and Harold was devastated when it was later trashed by John 'Teabag' Teasdale who had been terrorising the Bishops for a while. Harold soon set to work restoring the allotment, enlisting new neighbour Joe Scully's help the following year to make some improvements.
In 2004, Harold's son, David suggested turning the allotment into a community garden to impress the Judges of the local Best Street Competition and so Harold and David set to work, with teen Scott 'Stingray' Timmins joining in, with Harold teaching him about gardening.
2006 saw Katya Kinski reveal to her brother, Zeke that she had buried some money belonging to Guy Sykes at the gardens, under a Lillipilli tree on the other side of the fence where it remained until 2009 when locals Declan Napier and Bridget Parker discovered a bag containing $20,000 during an Easter Egg Hunt at the gardens which Zeke recognised as Katya's, explaining that Guy having held him and others hostage, then shot neighbour Toadfish Rebecchi in the back. As Declan and Zeke buried the bag, they failed to realise that Bridget's cousin, Mickey Gannon had been watching with friend Callum Jones and so the pair later retrieved the bag, but were soon caught using a $50 bill to pay for something at Harold's Store. As word got out about money being buried in the Community Gardens, it soon made the front page of the Erinsborough News, catching the attention of not only the locals who began digging the allotment to find the cash, but also the recently paroled Guy.
In 2011, Erinsborough High School started a Kitchen Garden programme using the Community Garden, with parent, Sonya Mitchell volunteering and taking a keen interest, however a story written by Summer Hoyland for the Erinsborough News praising the programme backfired when the Publishing Editor, Paul Robinson rewrote the story, raising the issue of whether the funding could be better spent elsewhere. As the story gained public support, Erinsborough Council took the decision to sell the land, putting it up for auction.
Key moments (with episode links where available)
Luke Handley returns to Erinsborough
The bus is torched
Madge and Harold discover a bequest from Black Jack Ramsay
Teabag trashes the allotment
Luka Dokich sets fire to David's briefcase
Ringo begins living at the allotment
Ringo moves back to the allotment
Guy Sykes returns to Erinsborough
The teens plant a tree for Didge and welcome Kate and Harry into their gang
Erinsborough High begins a kitchen garden programme
The garden is put up for auction
Sonya buys the community gardens
Sonya's Nursery opens

Gallery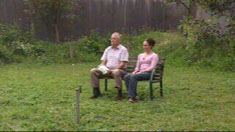 ..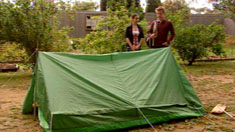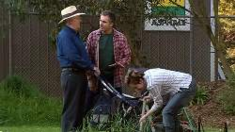 ..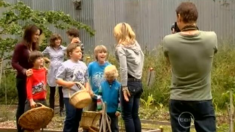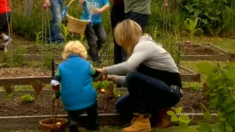 ..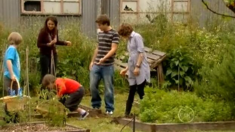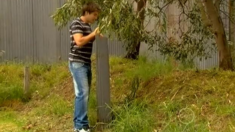 ..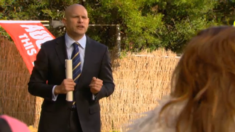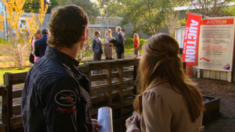 ..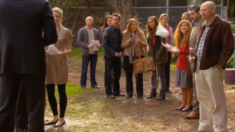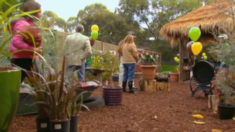 ..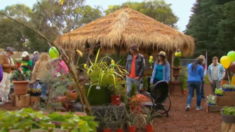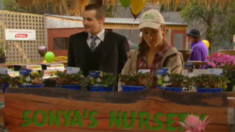 ..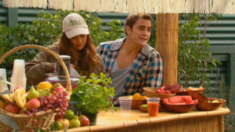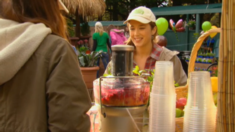 ..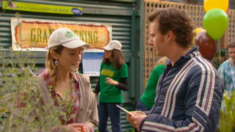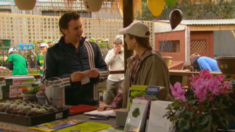 ..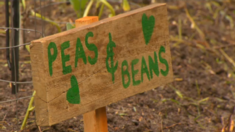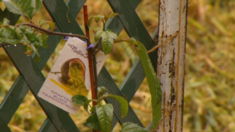 ..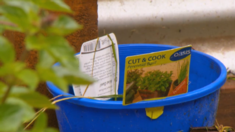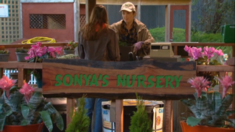 ..