.
Year by Year > 2001: Episodes 3681-3920


Network Ten airdates: 15/01/2001-14/12/2001
BBC 1 airdates: 09/02/2001-14/02/2002
UKTV Gold airdates: 30/09/2005-31/03/2006
Number of episodes: 240
Regular Cast: Harold Bishop, Lou Carpenter, Karl Kennedy, Susan Kennedy, Libby Kennedy, Toadfish Rebecchi, Tad Reeves, Drew Kirk, Joel Samuels, Felicity Scully, Joe Scully, Lyn Scully, Michelle Scully, Stephanie Scully, Dione Bliss, Darcy Tyler
Joining Cast: Elly Conway, Emily Hancock, Evan Hancock, Leo Hancock, Maggie Hancock, Matthew Hancock, Baby K, Stuart Parker
Departing Cast: Teresa Bell, Louise Carpenter, Madge Bishop, Paul McClain, Lance Wilkinson
Notable Guests: Allana Truman, Geri Hallett, Larry Woodhouse, Genevieve Murdoch, Jess Fielding
Another new family hit the street in a year that saw some dramatic changes for many of the characters.
Flick and Joel's romance dominated much of the year. Following on from their kiss after the Debutante Ball, Joel tried to avoid Flick, fully aware that their relationship would cause more harm than good. However, they started to see each other and decided to own up to Joe to avoid any further complications. When Joe forbade Flick from seeing Joel, she decided to carry on in secret anyway. However, it all ended in disaster when Joe caught them out whilst in his taxi one night, and was furious. Flick announced that she wasn't going to give up Joel, and would be moving across the road to number 30 instead. Joel wasn't quite prepared for that, and he decided to get away for a while and go to London for Mal and Catherine's wedding. Both of them met other people during the separation, but quickly got back together, and fled Ramsay Street to once again avoid her father. After only surviving on their own for a few days, they came back and Flick once again moved into number 30. However, she found it difficult to share a house and do her fair share of the housework, not to mention live with Joel's ex-girlfriend Dee. In the end, it was a combination of all of these problems that led to him dumping her.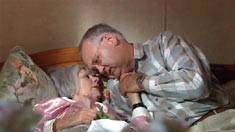 Madge was in for a cruel shock when she suddenly felt sharp stomach pains while at work one day. After being taken to hospital for further tests, she was told that she had pancreatic cancer and it was fairly advanced. As her body began to shut down, she was told that she would only live for another few months, and the shock was unbearable for Madge, her family and her friends. One of her dreams had always been to see Paris in Springtime, and Harold decided that this would be the final wish that he would grant for her. Lou helped them out by paying for business class tickets for the trip and they made plans to go. However, fate stepped in, when Madge was finally allowed home, and she collapsed in the lounge room. The fall resulted in a nasty cut and an infection that her body was unable to fight, meaning that she would only be alive for a few more weeks at the most and the trip would have to be called off. In her final days, she spent time at home with Harold, Paul and Tad, before quietly passing away in bed with her boys by her side. Her last words told Harold to still go to Paris for her, and so, he and Paul took the trip after the funeral. When Harold returned to the street, he announced plans to sell up and leave behind the painful memories, but fortunately his friends talked him out of it.
Lance finally seemed to have found true love in the form of fellow sci-fi fan Allana Truman. However, she told him that in order to win her love, he would have to complete seven bizarre labours. The labours included tracking down an old sci-fi star, making his own sci-fi movie, and tracking down a piece of a crashed satellite called Miron. He managed to win Allana over but her strange behaviour caused Lance to be suspicious. He found out that she had changed her name from Dorothy to Allana, and that she still lived at home with her possessive mother, Jeannie. After finding each other, the couple decided to go travelling together, starting with a big science-fiction convention in America. After appearing on the radio quiz, Brainbusters, Lance almost lost it all when he was tempted to take part in a scam that would see him fed the answers, as he was popular with listeners. When Allana found out, she threatened to leave him, so Lance decided to reveal the scam live on air in the middle of the quiz. A few days later, Lance and Allana set out to see the world together.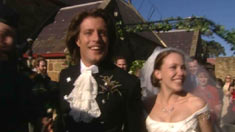 Libby and Drew finally got around to their wedding, after several years of not being a couple, then being a couple, getting engaged, splitting up and finally getting engaged again. The wedding proved to be particularly chaotic, as Drew's family came from all around the world to stick their oars in. Despite all that, the wedding turned out to be one of the few on Ramsay Street that went without a hitch. Drew even sang to his new bride at the reception. Even when Libby's arch-enemy Geri Hallett turned up on the honeymoon as a secret photographer, it couldn't really dampen the happy mood. Soon after the wedding, Libby realised that she was pregnant. She and Drew tried to keep the information from her family, particularly her father, who wouldn't approve of her risking her life, for the supposed 'miracle child'. Ultimately though, Libby's parents were unable to stop her as she decided that she had to keep this child, as it could be her only chance to be a mother.
Darcy and Dee's on-off relationship finally hit a smooth patch, but it wasn't long before Darcy managed to wreck it. After spending a great deal of time with Tess, she and Darcy began an affair. Although Tess felt terrible, Darcy assured her that he would end things with Dee. Unfortunately, Dee caught them out before he could, as she saw them together in his car whilst most of the neighbourhood was taking part in a fishing competition. Meanwhile, Darcy was causing even more problems as he plotted against his own family to take over the medical practice and sell it. When Darcy's plans fell apart and the Kennedys found out, he only managed to redeem himself slightly by saving Lolly from drowning in number 30's pool. Ultimately though, he had a long way to go before making things up.
Steph got back in contact with her ex-boyfriend, Larry 'Woody' Woodhouse, when he phoned her from prison. Soon after, he was given day release, and Steph, believing he had changed, allowed him to visit her and she let him borrow her bike to visit his mum. However, when it emerged that Woody had actually been involved in a jewel robbery, she forced him to own up. He returned to prison, but was out on parole a few months later, when he went to stay with the Scullys. He was also due to give evidence against Kev Kelly, a dangerous criminal, leaving the family in danger from Kelly's henchmen. Ultimately, it was decided to send Woody into witness protection, and a heartbroken Steph said goodbye. Witness protection wasn't enough to keep Steph and Woody apart though, and she soon began making secret trips to his new home. When she was found out, Woody asked her to leave with him and say goodbye to her family forever. She agreed, but only hours into their escape, Steph was horrified when she came out of a service station and saw their car speeding off with Woody in it. She started to chase after it, but was stopped in her tracks when she heard a crash and an explosion. Steph returned to Erinsborough for a memorial service.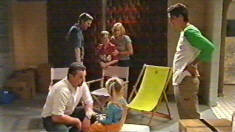 A new family came to Ramsay Street when Philip Martin decided to put number 32 up for sale. Although Tess and Dee tried to stump up the cash and buy their home, they ended up being outbid by Evan Hancock. His son Matthew had just started work at the pub, while Evan was the new science teacher at Erinsborough High. Before long, the rest of the family – law student Maggie, along with young Leo and Emily – had all moved in. The family had a few small problems, including Evan's ex-wife Genevieve, as well as both Leo and Emily running away from home on separate occasions, leading to an investigation by welfare services. Ultimately though, the Hancocks were one of the happier and more solid family units the street had seen over the years.
Jack Scully made a sudden appearance in Ramsay Street, after going missing from his soccer training in England. He admitted to his family that he wanted to give up on the soccer and come back home, leaving everyone, especially Joe, in shock. However, when he tried to hold down a job working as a labourer on one of Joe's sites, he realised that his life back in England wasn't so bad after all, and was soon on the next plane out of Australia.
When Jess Fielding arrived at Erinsborough High, she immediately turned both Susan and Tad's lives upside-down. After starting up a relationship with Tad, she saw an opportunity to cause chaos when she got into an argument with Susan, and managed to make it look like the principal had hit her. Just as it looked like Susan was about to lose her job, Tad convinced Jess not to go ahead with the complaint. Tad also began to realise that his relationship with Jess was more trouble than it was worth and they broke up. Meanwhile, Flick found herself with an unwanted admirer in the form of Colin Rogers, a fellow student. When a home-made bomb went off in a bin at the school, everyone immediately suspected Jess. However, Flick learnt the truth when Colin managed to lure her to an old boatshed. Colin had made the bomb as a twisted way to impress Flick, but luckily she was saved just in time.
When Tess was forced to move out of number 32, she found herself a new home and a new housemate in the form of Veronica Anderson. Ronnie seemed like a nice, normal young woman, until she met Drew. With Libby away in England, Ronnie took the opportunity to be the woman in Drew's life, looking after him in his wife's absence. However, her evil streak became evident as she vandalised her own car so that Drew would visit her, and then planted personal items around his flat for Libby to find. However, when Libby did return, she believed Drew's version of events, and, when she spotted a missing person poster at work, the pieces of the puzzle suddenly fell into place. Ronnie was actually Pamela McAdam, a woman who had gone missing following the death of her husband. She had seen Drew as a replacement. Her father came to take her home, and Drew and Libby put the whole thing behind them.
Dean Hearn arrived at Erinsborough High as a relief PE teacher, but before long he was showing a nasty side to his personality when he started bullying Leo Hancock. With Leo's father Evan also working as a teacher, and the only witness to the bullying, proving it looked to be difficult. However, when other people began to see Dean's temper, it didn't look good for him. In a moment of rage, he threw a board duster at Leo and, when Susan told him that a full enquiry would need to take place, he accused her of being biased towards him, as a relief teacher, before resigning.
When Toadie pretended to be going out with fellow uni student Laura Wallace, it sparked off a series of events that ended with Matt Hancock doing Elvis impersonations. Laura turned out to be far more interested in Matt than Toadie and the pair started dating. Matt was in for a shock though, when it turned out that Laura had a part-time job as a stripper. Unable to cope with his jealousy, Laura was forced to end things, but got back in contact some time later with the idea that Matt take up his own new career as an Elvis impersonator. Matt wasn't keen to begin with, but when Flick, the girl he had a crush on, agreed to join him as Priscilla, he suddenly found himself more interested and continued with the work until Flick decided to quit.
Following his dramatic split from Dee, Darcy found himself with no woman at all, as Tess also refused to see him. However, Darcy wasn't about to be beaten, and he turned up at her house and proposed. Never the sharpest tool in the box, Tess accepted and plans for the wedding began, despite the fact that it ostracised them both from most of Erinsborough. As the wedding got closer, even Tess began to have her doubts about the man who'd caused her to give up most of her friends. On the day of the wedding, she suddenly realised that she couldn't trust him, and a call from Darcy's ex-girlfriend, Alice, only confirmed her worst fears about him. As Darcy waited at the registry office, Tess visited Dee to apologise for everything she'd done over the past few months. She announced that she was leaving to stay with her mother for a while, then going on to England. Dee's life was about to be dramatically affected by her terrible relationship with Darcy, when she realised that she was pregnant. Deciding to keep the information to herself, she ended up confiding in her best friend, Toadie. Dee had only just decided to keep the baby when tragedy struck. She slipped on the driveway one day while Toadie was cleaning the car and landed awkwardly, losing the baby in hospital soon after.
When Lou received a strange letter one day, from a man claiming to be Lolly's real father, Lou refused to believe it and, infact, completely ignored it. Eventually, he told Harold about it, and decided to get a DNA test in order to hopefully put his mind at rest. When the results showed that he truly wasn't Lolly's father, Lou continued to try and ignore the situation, before calling John Allen and lying that he'd had DNA tests which showed him to be Lolly's dad. Lou realised that he couldn't continue lying to Lolly for the rest of her life, so he contacted John again and arranged to meet. Lou tried to work things so that everyone would be happy and John and his wife, Sandy, would be allowed limited access. However, the fact that Sandy couldn't have children led to John announcing that he would be applying for custody. The courts granted custody to the Allens, leaving Lou completely devastated. Feeling like he had no other option, Lou took off with Lolly and hid out in a caravan park, but their disappearance only lasted a few days before Joe and Harold found them and convinced Lou to return. The Allens took Lolly away with them and later decided to move to the country, even further away from Erinsborough, leaving Lou completely cut off and heartbroken.
After an encounter with the team the previous year, Paul started training again with the Eastside Dingoes football team. Paul was horrified to realise that Nathan, one of his team-mates, had been using steroids, and the revelations continued when it emerged that he'd been given them by Pat Miller, the team's coach. Paul felt that he had little choice but to blow the whistle on the drug use in the team, leaving him alienated from the other players. It was only when several of the players were injured that Pat was forced to let Paul play. Paul showed what a talented footballer he was, and managed to rescue his place in the team, before taking his anger out of Pat following more snide remarks. Karl also resigned from his position as team doctor and filed a complaint against Pat. Paul was therefore shocked when many of the players still accepted him back into the team. Following an incident during muck up week, Paul was punished by being forced to help train a junior team during his holidays. However, when one of the boys' parents turned out to be a talent scout, Paul suddenly found himself selected at the last minute for the Adelaide Crows. He had to leave for Adelaide the next day, and everyone turned out at the pub to say goodbye to Ramsay Street's first football star.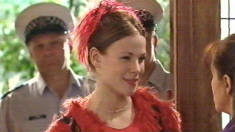 Susan's sister Liz suddenly got in touch after several years with little contact, and Susan was immediately suspicious. Her fears were well-founded when Liz suddenly asked if her daughter, Elly, could come and stay for a while. Susan barely had time to give an answer before Elly turned up on the doorstep escorted by the police, and it seemed that the Kennedys had a new troublemaker to contend with.
The younger Ramsay Street residents went away on a school camp. While Paul was out to impress Monique, Tad brought along some alcohol, and before long, the gang were all a little drunk. However, when Tad fell down and was bitten by a scorpion, everyone put his sudden illness down to the alcohol, before realising what had really happened. As Tad was airlifted to hospital, he surprised Flick by announcing that he'd always been in love with her. As he recovered in hospital, Flick told him what he'd said to her, and the couple decided to give a relationship a try. Their friends weren't so enthusiastic, with Michelle and Paul even betting on how soon the affair would end. As things got more and more serious between Flick and Tad, they found themselves spending the night in a hotel together, but ultimately realised that they couldn't sleep together, as they'd been friends too long and the transition was too awkward.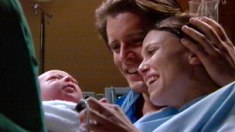 The end of the year brought shocks for several residents of Ramsay Street. Following Woody's death, Steph had been receiving mysterious deposits in her bank account, and had also started a relationship with a man named Mitch, who had known Woody in prison. Everyone was therefore astonished when Woody suddenly turned up, explaining that he'd been in hiding for Steph's sake. With Kev Kelly dead, Woody told Steph that they could be together, and he proposed. Meanwhile, Drew, along with a heavily pregnant Libby, was attending the annual Oakey rodeo. When Libby became tired, she went to sit down in a stable, but found herself locked in. Fortunately, she was found in time to be airlifted to hospital, where, after a difficult labour, she gave birth to a son. Just as everyone thought that Libby had pulled through her dangerous pregnancy, she suddenly went into cardiac arrest, leaving her family feeling helpless as they waited for news…
2001 Episode Summaries | 2001 Magic Moments | 2001 Opening Titles
Production Notes
• The final months of 2001 saw the opening titles updated to remove Teresa Bell and add Darcy Tyler. Darcy was added in a reshot version of Lou, Louise and Joe around the barbeque, whilst a new shot of Dee and Matt by the pool replaced the one originally featuring Tess. However, for unknown reasons, this version of the sequence was not added to any copies distributed by Pearson Television/FremantleMedia, and was only ever seen on Australian broadcasts. The BBC retained the previous edit on episodes through to the 2002 version, and it was this version seen on the DVD and VHS release of the 2001 finale. The alternative edit can be found in the site's Multimedia section.