.
Neighbourhood > Places > Erinsborough Community Centre

Erinsborough Community Centre 2012-
Burrow Street, Erinsborough, Victoria, 9571

In 2012, local councillor Ajay Kapoor passed a bill to merge the local Police Station with a nearby station. In it's place, opened a new Community Centre, designed to assist in lowering crime rates by offering after-school clubs and classes for the community.

Having been redecorated with a bright colour scheme inside and out, the centre opened soon after, offering a wide variety of classes from Art and Cookery to Yoga and Pole Dancing.

Previously...

Erinsborough Police Station 1985-2012
Burrow Street, Erinsborough, Victoria, 9571

Superintendents: Phil Rochford (2011), Duncan Hayes (2011-2012)

Inspectors: Insp. Jarvis (1985)

Senior Sergeants: Tim Stamisforth (1998-1999); Allan Steiger (2005-2007); Malcolm Hill (2007); Belinda Caskey (2009)

Detective Sergeants: Det. Sgt. Bridges (1992); Det. Sgt. Illich (1994); Clive Graham (2000); Det. Sgt. Goldstein (2001-2002); Michaela Morris (2008-2009)

Sergeants: Jim Hawkins (1985); Sgt. Phillips (1987); Sgt. Duigan (1988); Bill Mooney (1989); Sgt. Bowen (1990-1994); Sgt. Small (1991); Sgt. Franklin (1992); Sgt. Richardson (1996-1997); Sgt. Herron (1996); Sgt. McIntyre (1998); Brian Richter (1998); Joanna Douglas (1999-2006); Terry Walsh (1999); Ryan Moller (2000-2001); Peter Johnson (2000); Ralph Walker (2001); Sgt. Collins (2001); Mark Barrie (2003); Phil Seals (2003); Ray Moller (2006-2009); Matt Freedman (2008); Rick Lawson (2009); Mark Bernard (2009)

Senior Detectives: Sen. Det. Clayburn (1992); Alec Skinner (2009-2010)

Detectives: Det. Thomas (1985); Det. Conway (1985); Det. Bolton (1990); Alan Stewart (1990-1991); Det. Barnes (1992); Det. Burns (1992); Det. Taylor (1992); Detective no. 1 (1992); Detective (1993); Detective (1994); Male Detective (1994); Det. Illich (1994-1995); Det. Hackman (1994); Detective (1996); Det. Payne (1996); Det. Skilbeck (1996); Kimberley Stevens (1996); Det. Harris (1997); Det. Richards (2003); Alec Skinner (2003-2008); Phil Graham (2005); Chris Poulos (2005); Laura Chisholm (2008); Mark Brennan (2010-2011)

Senior Constables: Sen. Constable Cummins (1991); Sen. Constable Hill (1992); Sen. Constable Walker (1999); Allan Steiger (2004); Gary Hume (2004); Olivia [Mac] McPherson (2004); Sophie Cooper (2007); Peter Griffiths (2007)

Constables: Constable Bright (1985); Constable Archer (1986); Constable Conlon (1987); Constable Arnott (1991); Constable Roberts (1992); Constable (1992); Constable No.1 (1994); Constable No.2 (1994); Constable Day (1995); Reg Barker (1996); Luke Handley (1996); Matt Compton (1997); Joanna Douglas (1998); Constable Dougherty (1999); Ralph Walker (1999-2000); Constable Col (2002); Terri Hall (2002); Bill Webber (2002); Constable Hamblyn (2002); Margaret Clark (2004); Peter Parthimos (2004); Stuart Parker (2004-2006); Constable Dwyer (2005); Mark Phillips (2005); Mark Doney (2006); Tyson Harrison (2006); Adam Rhodes (2007); Mike Watt (2007-2008); Simone Page (2008-2010); Peter Carlyle (2008); Constable Hume (2009); Constable Hoffer (2009); Tony Blunt (2009); Len Sambell (2009); Constable (2009); Lee Davis (2010-2012)

Other Staff: Naomi Cruise (2007); Tom Urban (2007) Denise Nicoll (2007)


First seen on screen in episode 27 when Danny Ramsay and Scott Robinson were taken in for questioning over neighbour Carol Brown's accusations that Danny mugged her, Erinsborough Police Station is home to the Metropolitan Police Force who are entrusted with keeping the streets of Erinsborough safe.

It was not however until episode 386 that the exterior of the station was seen, with Daphne Clarke bailing Kelly Morgan out after being arrested for stealing the handbag of Daphne's mother-in-law, Eileen.

Intermittent appearances followed over the years, but with Ramsay Street resident Stuart Parker joining the force in 2004 a regular location was introduced using office space at Global Studios where Neighbours is filmed. The station included a reception area, office space & an interview room.

2010 saw the construction of a number of new permanent sets complete with working interiors, the largest being a new Police Station featuring several interior rooms and office spaces.

In 2011, the Erinsborough Police underwent investigation for corruption which ran deeply through the force. Detective Mark Brennan, a key witness in the case went into the Witness Protection Programme as a result, however he was found soon after.

In 2012, Erinsborough Police Station was closed following a merger with a nearby station.

Trivia Notes
• In episode 172, the Police Station is mentioned as being up the street from the original location of Daphne's Coffee Shop
• In episode 854, the Police Station is mentioned as being on Burrow Street
• The Metropolitan Police motto is Verum Quod Justicia, meaning Truth and Equity


Key moments (with episode links where available)

Danny is questioned over the mugging of Carol Brown
Max Ramsay is charged with drink driving
Daphne is questioned over the murder of Charles Durham
Steph is questioned over Charlie's death
The residents learn of the plane crash
Teresa Cammeniti is questioned over the abduction of baby Kerry
The teens are questioned over the assault on Chris Knight
Steve Parker admits to attacking Chris to cover for Bridget
Zeke is charged with trespass & wilful damage on Elliot Park Testing Facility
Lucas is charged with wilful damage on Toadie's car


Gallery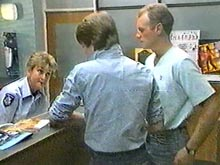 ..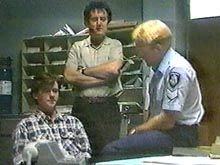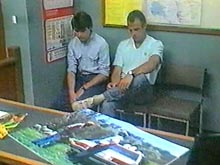 ..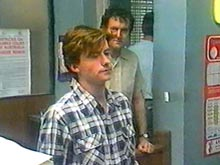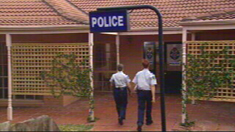 ..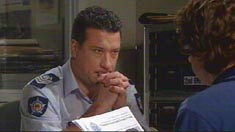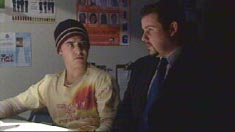 ..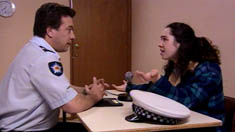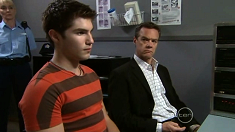 ..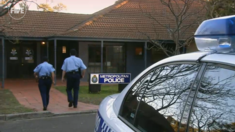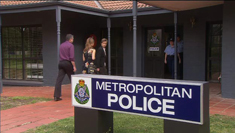 ..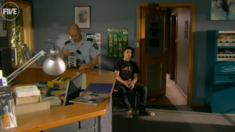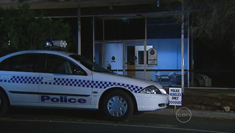 ..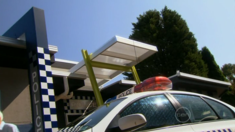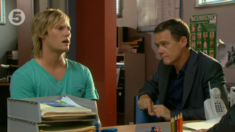 ..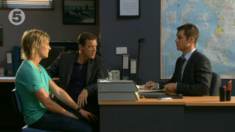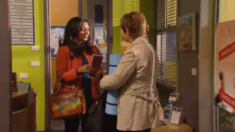 ..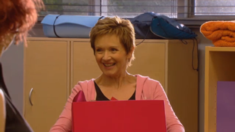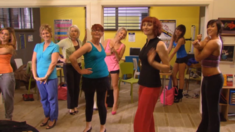 ..