Eden University, also known as Eden Hills University, was first seen on-screen in 1995 as Ramsay Street resident, Cody Willis began her studies there. For many years, most of the scenes at the University were filmed on location or in parts of Global Studios, where Neighbours is filmed, however in 1998 a regular set was introduced for the University and its radio station, UniFM.
In 2006, Rachel Kinski and Stingray Timmins broke into the former office of her father, university lecturer, Alex Kinski and liberated the university mascot, a turtle named William McChesney Martin Junior and brought him back to live with her at 28 Ramsay Street.
In 2010, a new permanent set for the University Campus was built on the Neighbours backlot, complete with working interiors. Whilst the interior set included a student common room, from which Donna Brown sold Shrugaleros from a display cupboard, and a tutorial room, the exterior set featured a courtyard and stage area with additional filming taking place at nearby Deakin University's Melbourne Campus at Burwood.
The University offers a variety of courses across their various faculties including (with students listed):

Arts, Design and Education
Art - Anne Wilkinson, Fanto Hodges and Sky Mangel
Dance - Megan Townsend
Ethics in the Media - Susan Kennedy and Gemma Pickford
Family Studies - Helen Daniels
Film Studies - Stingray Timmins and Dex Cummings
Journalism - Libby Kennedy
Music Engineering - Tad Reeves
Performance Arts - Stonefish Rebecchi, Catherine O'Brien and Natasha Williams
Photography - Amber Turner
Politics - Zeke Kinski
Teacher Training - Craig Pinders, Libby Kennedy, Susan Kennedy and Kate Ramsay
Visual Merchandising - Donna Freedman
Business and Law
Law - Toadfish Rebecchi, Laura Wallace, Rupert Coburn, Maggie Hancock and Imogen Willis
Management - Declan Napier
Business Studies - Andrew Robinson
Mathematics
Advanced Mathematics - Natasha Williams and Ed Lee

Medicine and Biological Sciences
Horticulture - Lance Wilkinson
Human Movement - Malcolm Kennedy
Marine Biology - Joel Samuels
Medicine - Cody Willis, Jen Handley, Hamish Dwyer, Vince Hayworth, Boyd Hoyland and Sasha Hennessy
Paramedic Practice - Ringo Brown
The University also offers a number of Adult Education courses, including Draughting which Jack Scully briefly attended, Hypnotherapy which Darcy Tyler studied and Psychology on which Karl Kennedy, Lyn Scully and Susan Smith were enrolled. In 2012, Chris Pappas began his mechanics TAFE course here.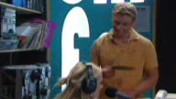 The University's radio station, UniFM, was originally an independent station run by students such as Toadfish Rebecchi and Sally Upton, however in 1999, it merged with Erinsborough Radio and their station manager, Tony Simpson, took charge, giving George Caruana his own show, which proved unpopular. Joel Samuels joined Toadie on his show for a time and journalist, Geri Hallett was later hired as Toadie's co-host, much to his disapproval, especially when he discovered that she was being paid to appear on the otherwise volunteer radio station. Eventually he discovered that Geri had been receiving bribes in exchange for plugging local businesses and took the story to friend, Libby Kennedy, who had the story published in Margeurite magazine, resulting in Geri being sacked. Shortly afterwards, Stephanie Scully joined Toadie's show as agony aunt 'Lucy Love'.
In 2001, Toadie found himself facing legal prosecution when he gave out tips on how to con bus drivers into thinking you were blind and other money-saving techniques for his fellow students. Radio Manager, Tony pointed out to Toadie that what he was telling people to do was illegal and he could land the radio station in trouble. When one of the show's sponsors phoned in to object to the illegal practices Toadie was advocating, forcing Tony to fire him. Things got a lot more tricky when Toadie was charged with inciting a crime, for prompting a group of students to rob from a supermarket. His legal career in jeopardy, Toadie took the dangerous step of defending himself, despite warnings from his family and friends not to and enlisted the help of fellow student, Maggie Hancock, to help with his case, and between the two of them, came up with the defence that Toadie had a constitutional right to have a sense of humour. The gamble worked and Toadie successfully won his case and his job back.
In 2002, the station ran a contest to find the next 'Undiscovered' talent, with Connor O'Neill secretly entering a recording of friend, Nina Tucker, much to her dismay. However, when Nina won the contest and was too afraid to come forward to claim her prize, Tahnee Coppin decided to take the credit. Just as Tahnee was about to sing the song, Nina arrived at the station at announced that she was real winner, proving it by singing her song, Born To Try, for the audience. In 2006, student Sky Mangel started presenting her own show on the station, on which Jenny McKenna announced her engagement to Karl Kennedy, much to his surprise.