.
Neighbourhood > Lassiter's > Harold's Store
Harold's Store 2008-
Owners: Matt Turner (2013-), Lauren Turner (2013-), Lyn Scully (2009-2013), Elle Robinson (2008-2009)
Managers: Stephanie Scully (2013), Lou Carpenter (2009-2010)
Employees: Lou Carpenter (2014-), Amber Turner (2013-), Bailey Turner (2013-), Lauren Turner (2013), Margie Chan (2012-), Vanessa Villante (2012-2013), Summer Hoyland (2010-2012), Margie Chengatu (2010-2012), Terry Kearney (2010), Andrew Robinson (2010), Harry Ramsay (2009-2010), Jumilla Chandra (2009-2010), Kate Ramsay (2009-2012), Lou Carpenter (2008-2009), Harold Bishop (2008-2009)
At the end of 2008, part-owner of the store Carmella Cammeniti left for a new life in Europe and, after contemplating whether she could give up her last link to Erinsborough, she agreed to sell her half to Elle Robinson, making Elle the sole owner of the business. It came with a condition, however, which was that the store was renamed Harold's Store, after long-time Erinsborough resident and former owner Harold Bishop, who had recently been diagnosed with cancer, to remind him how highly everyone in the community thought of him. The official renaming ceremony took place on Christmas Day 2008.

In September 2009, Elle found herself having financial difficulties after conman, James Linden cleared out her bank account and was forced to sell one of her businesses to free up some capital. Opting to sell the profitable store over the loss-making Carpenter's Mechanics, Elle faced opposition as she prepared to accept a generous offer from coffee chain, Apollo's, with her cousin & employee, Kate Ramsay organising a protest. After a touching speech from Jarrod 'Toadfish' Rebecchi about how the store was more than just a shop & cafe, but an important part of the community, Elle agreed to accept an offer from an anonymous local buyer, despite it being for $50,000 less than Apollo's. The residents were shocked however when the recently returned Lyn Scully revealed herself as the new owner. In 2010, the layout of the store was altered slightly, with the counter being moved to the wall opposite the main door, providing a larger dining area.
In June 2013, the store underwent a few cosmetic changes, including new seating booths, a lighter colour scheme and brighter chairs. At the same time, Lyn was forced to sell the business, to pay for daughter Steph's legal bills, and, although there was competition from Paul, Lucas and Vanessa, the Turners became the new owners of Harold's Store.
Trivia Notes
• In 2010, the telephone number for the store was 55505869.


Previously...
Bishop & Carpenter's General Store 2005-2008
Owners: Carmella Cammeniti (2008), Elle Robinson (2008), Marco Silvani (2008), Frazer Yeats (2008), Lou Carpenter (2005-2006, 2006-2008), Paul Robinson (2006), Harold Bishop (2005-2006)
Managers: Elle Robinson (2006), Dylan Timmins (2006)
Employees: Sienna Cammeniti (2008), Lou Carpenter (2008), Harold Bishop (2006-2008), Sky Mangel (2005-2006, 2006-2007), Mishka Schneiderova (2006), Connor O'Neill (2005-2006), Liljana Bishop (2005), David Bishop (2005), Serena Bishop (2005), Gabrielle Walker (2005), Boyd Hoyland (2005)
Having both wanted to offer a more varied service for the community, Harold Bishop & Lou Carpenter teamed up to open their General Store. The business offers customers the facilities of dry cleaning and postal services as well as gourmet foods, stationery, newspapers and a selection of light snacks and beverages that are served on the premises and to take-away. Lou also wanted to the premises to be licensed to sell alcohol, however Harold was against the idea. The General Store originally had a traditional feel, with the walls originally being tiled in crème and grey. A solid stained wood counter was the centre piece on which food could be seen on display. Also, the building was separated from the previously adjoining offices next-door. Following a short stint in the hands of Paul Robinson in 2006, having driven Harold & Lou out of business, Lou & his Russian Internet girlfriend, Mishka tricked Paul into selling them the lease back cheaply. In 2007, following Stephanie Scully's renovations of the neighbouring bar, Harold & Lou decided to follow suit, reducing the counter in size and moving it back against the kitchen doors, opening up the space for more tables and displays, with some high benches added as well for customers to sit at. The pink granite worktops and tables were replaced with red ones, whilst the grey tiles were painted crème and the beige walls were painted light green.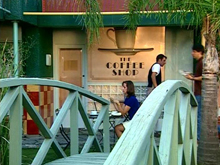 The Coffee Shop 1997-2005
Owners: Isabelle Hoyland (2003-2005), Harold Bishop (1997-2005), Madge Bishop (1997-2001), Debbie Martin (1997), Joanna Evans (1997)
Managers: Debbie Martin (1997)
Employees: Sindi Watts (2004), Lana Crawford (2004), Sky Mangel (2003-2005), Penny Watts (2003), Ruby Dwyer (2002), Susan Kennedy (2002), Tad Reeves (2000-2002), Paul McClain (1999-2000), Toadfish Rebecchi (1997), Cassandra (1997-1999)
Having taken over the lease from Angie Rebecchi, Debbie Martin decided to give The Coffee Shop a new look, employing Darren Stark to redecorate, continuing Angie's cinematic motif and using primary colours. The counter and tables remained the same, however the chairs were replaced with blue & yellow wicker style. Red & yellow tiles covered the floor and the bottom half of the walls, blue wall lights and a white/creme stippled effect on the top part. The lit wall behind the counter was replaced with glass blocks, whilst the shop frontage, previously clear with blinds to partially mask the painted Lassiter's backdrop, now consisted of frosted glass and glass blocks, hiding the 'view' outside. The shop was also renamed simply, 'The Coffee Shop'. The lease was taken over by previous owners, Madge & Harold Bishop the same year, with Isabelle Hoyland buying 20% of the business in 2003, a couple of years after Madge's death. Following the arson attack started by Paul Robinson, the Coffee Shop temporarily operated from the community hall, before Harold & Izzy's partnership was eventually dissolved after they failed to agree on their plans for its replacement.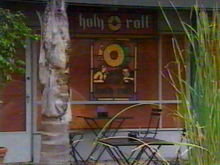 The Holy Roll 1995-1997
Owners: Joanna Evans (1996-1997), Debbie Martin (1996-1997), Angie Rebecchi (1995-1996), Mark Gottlieb (1995)
Managers: Catherine O'Brien (1996)
Employees: Catherine O'Brien (1996), Angie Rebecchi (1995), Luke Handley (1995)
After Mark Gottlieb took over the lease to the Coffee Shop, he re-named it The Holy Roll, due to his recent discovery of religion, however this put many customers off. Again, the decor stayed much the same, apart from the previously pink lighted wall behind the counter changing colour to blue with moving white swirls. During this time, Luke Handley tried opening the shop in the evenings as a pizza takeaway named Doobee Pizza, but it failed miserably. When Angie Rebecchi took over, she attempted a mini-makeover with new pink uniforms and images of famous Australian films and actors on the walls.
The Hungry Bite Cafe 1993-1995
Owners: Annalise Hartman (1994-1995), Cathy Alessi (1993-1994)
Managers: Rick Alessi (1993-1994), Phoebe Gottlieb (1993), Stephen Gottlieb (1993)
Employees: Lauren Carpenter (1993-1994), Annalise Hartman (1994), Susan Kennedy (1994)
In 1993, the new owner of the lease, Cathy Alessi renamed Daphne's to The Hungry Bite, at the suggestion of Stephen Gottlieb and in the hope that they might attract in a younger clientele. The inspiration for the name came from a surfboard which had a huge bite mark in it, after Brad Willis was attacked by a shark whilst surfing and this was hung above the counter as part of the new logo. The decor remained much the same.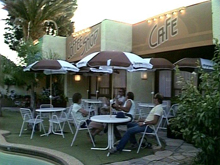 Daphne's 1986-1993
Owners: Cathy Alessi (1992-1993), Madge Bishop (1990-1992), Harold Bishop (1989-1991), Des Clarke (1988-1990), Daphne Clarke (1986-1988)
Managers: Brenda Riley (1991-1992), Harold Bishop (1987-1989)
Employees: Lauren Carpenter (1993), Guy Carpenter (1991-1992), Joe Mangel (1991), Lee Maloney (1989-1990), Gemma Ramsay (1990), Brownwyn Davies (1989), Eddie Buckingham (1990), Ryan McLachlan (1990), Sharon Davies (1988-1990), Sally Wells (1987-1988), Gino Rossini (1987), Charlene Robinson (1987), Eileen Clarke (1986-1988), Mike Young (1986-1988), Scott Robinson (1986)

Originally Wally Walters' restaurant, it was won in a poker game by Harry Henderson, who gave it to his granddaughter, Daphne Lawrence, to run. In 1985, it was a very dark, traditional-looking restaurant, though by 1986, the layout and look had changed completely, with booths and lots of pine (images of the 1986 interior and exterior can be seen in the first two pictures in the gallery below). Daphne's Coffee Shop then moved to the Lassiter's Complex in mid-1986 from its existing location. The new coffee shop had much the same layout and decor as its former location, with light wood panelling and furniture. The walls, however were now terracotta rather than blue. Following Daphne's death and an explosion caused by a cigarette which nearly killed Des Clarke, the shop was renovated by Joe Mangel and repainted a beige/yellow colour with much of the panelling removed and a new counter, with Harold becoming part-owner in reward for saving Des' life. In 1991, The Coffee Shop was given a major revamp, including an aqua colour scheme, along with a new counter, aqua tables & black chairs, shop frontage and neon sign. No on-screen explanation was given for the change.

Key moments (with episode links where available)

Annalise's Return
Lassiter's Reopening
2005 Premiere
2004 Finale
Harold is electrocuted by the jukebox
Daphne's Coffee Shop blows up
Daphne learns that she'll have to move her shop


Gallery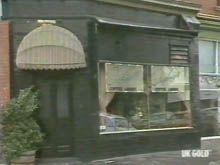 ..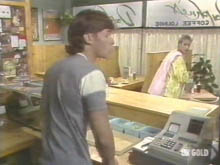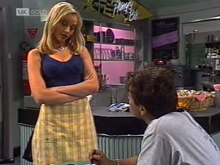 ..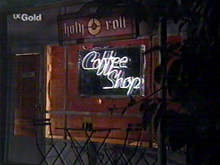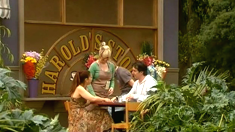 ..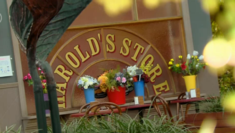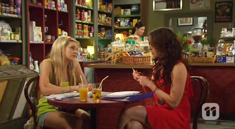 ..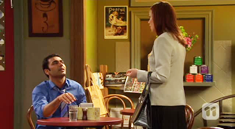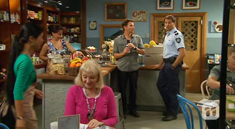 ..