.
Year by Year > 2005: Episodes 4631-4875


Network Ten airdates: 10/01/2005-16/12/2005
BBC 1 airdates: 11/03/2005-13/03/2006
UKTV Gold airdates: 06/08/2007-21/01/2008
Number of episodes: 245
Regular Cast: Harold Bishop, Lou Carpenter, Karl Kennedy, Susan Kennedy, Toadfish Rebecchi, Lyn Scully, Stephanie Scully, Stuart Parker, Boyd Hoyland, Max Hoyland, Connor O'Neill, Sky Mangel, Izzy Hoyland, Oscar Scully, Scott 'Stingray' Timmins, Paul Robinson
Joining Cast: Rachel Kinski, Zeke Kinski, Katya Kinski, Ned Parker, Elle Robinson, Bree Timmins, Dylan Timmins, Janae Timmins, Janelle Timmins
Departing Cast: David Bishop, Liljana Bishop, Serena Bishop, Summer Hoyland, Sindi Watts
Notable Guests: Joe Mangel, Gabrielle Walker, Kayla Thomas, Genevieve Doyle, Alex Kinski
2005 was a year of big changes and big drama in Erinsborough, with a couple of new families, a plane crash, a whole new Lassiter's complex and a 20th anniversary celebrated in style…
Paul Robinson's return to town provided much of the drama as the 2005 season began. He agreed to help fund a temporary coffee shop and pub at the community hall, and won over many residents in the process, but others, including Karl Kennedy and Sky Mangel, found it very difficult to trust him. He also bought back the hotel and announced his charitable organisation, The Helen Daniels Trust, which awarded grants to charities and needy causes.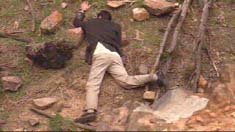 Not long after arriving, Paul started to get his claws into the local residents, when he decided to help David Bishop run for local council. One of David's first ideas was to create a time capsule, featuring video diaries of the local people talking about their lives in 2005. The capsule was then buried, but not before Paul had watched the clips and learnt of several people's dirty secrets – not least that Karl had not been the father of Izzy's baby. With David on council, Paul worked with American politician Lee Thomas – the major of Erinstown, Idaho which, it was planned, would be twinned with Erinsborough – to build a megamall on top of Ramsay Street. The plan was to make it look like Ramsay Street was going to fall victim to a rising water table and force the residents to sell their homes, before giving the land to Affirmacon, for whom Lee and Paul had been working, in order to build the mall. However, the more time Paul spent in Ramsay Street, the more guilty he became about the plan. He also found himself falling in love with David's wife, Liljana and it wasn't long before he was plotting to steal her away. With Ramsay Street under threat and his marriage in ruins, David became convinced that Paul had set the whole thing up, but most of the locals refused to listen, as Paul had been so generous since he returned. However, when Paul's young protégé Dylan Timmins was exposed to nuclear waste, dumped in the lake to make it look like there was a serious problem with the local water, Paul realised that things had gone too far. He gave Dylan and Sky Mangel the information they needed to prove what Affirmacon had been planning, before making his own plans, to run away to Sydney with Lil. Unfortunately, the Affirmacon heavies caught him first and he was taken for a little ride to some deserted bushland. As he tried to escape, Paul fell from a cliff, where he was eventually found by Sky and Dylan. In hospital, he was forced to have one of his legs amputated to save his life. Liljana, meanwhile, realised how wrong she'd been about him and ended their relationship, eventually reuniting with David.
Meanwhile, police officer Stuart Parker found himself blind following the Lassiter's fire and Sindi, who he'd been saving when he'd become trapped, felt that it was all her fault. Desperate to raise the cash for a risky eye operation for her boyfriend, Sindi went back to her old job as an exotic dancer and, when the chance came up to earn all the money she needed, just by spending one night with a businessman, she was sorely tempted. In the end though, she talked the man, Gary Evans, into a deal – the toss of a coin would decide whether he slept with her or simply gave her a cheque to pay for the operation. Having been shown a coin trick by Stingray, Sindi won the bet, but Stuart had already worked out what his girlfriend was up to and refused to take the 'dirty money'. Struck with guilt, Sindi donated the money to the Salvation Army, just as Stuart swallowed his pride and decided to accept it. Fortunately, another miracle came their way when Paul agreed to fund the operation using money from the Helen Daniels Trust. As Stuart's problems were finally over and his eyesight was restored, Susan's were just beginning when she met Gary Evans at a yoga class. Although Sindi pleaded with him, Gary refused to give up on his new romance with Susan. Fate stepped in though, when Stuart was discussing the situation with Toadie and, as he said Susan's name, his voice-activated phone, used when he was blind, dialled her number and the whole conversation was left in her message bank. Susan immediately ended things with Gary, but accepted that Sindi had only had good intentions.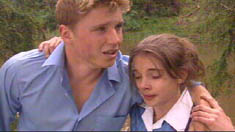 Sky bid farewell to Lana as she returned to Canada, and so began a new chapter in the relationship between Sky and Boyd. Boyd failed to get the grades he wanted in year 12 and decided that, rather than go to university, he would get a job. He soon found work in a gym and it wasn't long before he was training to be a junior bodybuilder, under the tuition of gym manageress Krystal. Before long, he was relying on injections of HGH to improve his chances against guys who had been training for much longer and he became obsessed with food. Summer became extremely concerned when she caught her brother making himself sick in the garden, while Sky tried to end Boyd's obsession with little luck. However, when Boyd started suffering from paranoid delusions, he wondered if the HGH was behind it all, and decided to stop using it. Things got worse as his motor skills abandoned him and he started talking to people who weren't even in the room. When he believed that his mother was still alive and he was going to meet her, the family realised that something needed to be done. With Max away on the rigs trying to make some money for the family, it was left to Steph to deal with things. Boyd was admitted to the psychiatric ward but, with the help of Sky, he made an escape. When he later collapsed and started fitting, he was taken back to hospital where a new diagnosis was made – a brain tumour. Following an operation, Boyd was left in a coma…
After being rebuilt, the Lassiter's complex re-opened with a few changes. The Coffee Shop had become The General Store, with Harold and Lou owning the new business that contained a café, post office and dry cleaners. Meanwhile, the pub became the modern Scarlet Bar, owned by siblings Max and Izzy, and the surgery grew slightly to accommodate some more waiting space for the clients of Tim Collins & Associates. The exterior part of the complex also saw a few changes, with the pond and bridge gone and a new 'outback' theme complete with windmills, indigenous plants and plenty of corrugated iron.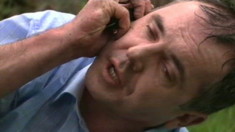 Another person who quickly fell under Paul Robinson's spell was Izzy, as he helped her with a business loan to realise her dream of opening a bar. As Paul and Izzy started an illicit affair, Karl grew suspicious but felt guilty as Izzy insisted that nothing was going on. During one particular liaison, with Karl making an early return from a visit to Grandpa Tom's farm, Paul accidentally left his watch behind in the bedroom. When Karl found it, he asked Izzy if she was cheating, but she quickly covered, explaining that it was a gift for him, leaving Karl feeling guilty once more. Struggling to cope with his feelings – and Izzy's mood swings – a huge argument ensued and Karl ended up spending the night on Susan's sofa. When Izzy found out, there was a dramatic showdown between the two women, with Susan telling her younger rival that Karl had wanted to spend the night in her bed but she'd turned him down. Looking for an escape from all of the drama, Karl went for a drive but found himself with a flat tyre. As he was changing it, all of the stress built to the point where he had a heart attack. After calling an ambulance, he called Susan to tell her that he loved her, before trying Izzy, who ignored the call. She later got the message and, with Susan, rushed to the hospital where the two women fought over who should be at his bedside. Over the weeks that followed, as Karl recovered, Izzy gradually managed to win him back and soon, things were back to normal, with her back living in his flat.
Stingray was in for a shock when various members of his family started descending on Erinsborough, complicating his life. First to arrive was his older brother, Dylan, an animal lover who had just been released from juvenile detention and managed to con his way into number 28. It wasn't long before the brothers were joined by their mother Janelle, back in Erinsborough after a brief stint the year before, to take an apprentice hairdresser's job at Lyn's salon. Although she had problems bonding with Dylan, as he reminded her so much of absent husband, Kim, Janelle decided to stick around at number 26 and try to make a fresh start for her and her family. Soon, she had been joined by the boys and sent for her two daughters, Janae and Bree. The girls proved to be true Timminses by shoplifting from the General Store on their first day in town, but then things settled down. Bree showed herself to be the black sheep of the family, spending a lot of time reading and even winning a national spelling bee. Janae, meanwhile, showed a penchant for boys and quickly started a relationship with school stud Mike Pill. When he finally pushed her too far at an all-ages rage one night, she almost became another victim of Chris Cousens, the photographer who attempted to seduce Serena Bishop the year before, but her siblings saved her. Janae then set her sights on newly single Boyd, as Dylan got close to Sky. Stingray's love life was no less complicated as he met soul-mate Shazza, who quickly dumped him for a newer model. He then got back together with Serena, but that reunion didn't last long, as she admitted to a brief affair with Boyd the previous Christmas and Stingray couldn't cope with being second best.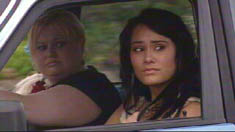 Connor's relationship with Carmella was progressing nicely as she moved into number 30 with him, but it wasn't long before her mother, Lucia, was sticking her oar in. Lucia needed convincing that her daughter's new boyfriend was worthy and set him several challenges to prove it. Although he managed to pass, there was soon something else to worry about when Carmella became the victim of a stalker. It wasn't long before it was revealed to be Frank Romano, her driver who was supposed to be looking after her, but the incident made her very uncomfortable, particularly in her relationship with Connor, after Frank was granted bail. Meanwhile, Toadie found himself a new career as he secretly took on a new identity as the Lawman, a wrestler. Through this new career, he met Genevieve Doyle, a teacher who wrestled under the name Eva Destruction. Connor also got in on the action as The Shamrock, but both he and Toadie were left devastated when Eva was offered the chance to go on a wrestling tour around Australia. Still unsure of her future with Connor, Carmella decided to join the tour as a publicist, and both Toadie and Connor waved goodbye to romance.
Harold was in for a big surprise when, whilst looking for new staff at the General Store, a young woman named Gabrielle Walker came through the door. Gabby was the spitting image of Harold's dead daughter, Kerry and, despite the advice of Lou to the contrary, Harold decided to employ her. Soon enough, a shocked David was insisting that she should be fired, but Harold grew close to her and leaned on her for friendship as David and Lil's marriage fell apart and the family was thrown into turmoil. However, the boundaries of the new friendship became blurred as Harold attempted to help a lonely Gabby get in touch with her father in Darwin and she returned the favour by kissing him. Before long, Sky had met Gabby and was causing further problems as she became obsessed with getting to know the newcomer and using her as the mother figure she'd been looking for. Harold realised that it was not healthy for Sky to have this woman close by and offered to pay for Gabby to fly up to Darwin for a family reunion.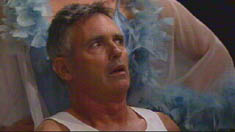 Lyn started to move on from the end of her marriage to Joe and found herself a new career as a life coach. It was through this new career that she met Andy Tanner, one of her clients who was going through a crisis in his marriage. It wasn't long before he was professing his love for Lyn, who was concerned about both the age difference and the fact that he was still married. After throwing caution to the wind, Lyn was shocked to be confronted, on more than one occasion, by Andy's furious wife, Sandy. But it wasn't until Lyn found out that Andy had children, a fact that he'd neglected to divulge, that she ended things. It wasn't long before she had another man in her life, in the form of Max and Izzy's father, Bobby. Unfortunately, Lyn wasn't the only woman in his life, as he also made a pass at Janelle, and started up a romance with Susan. Bobby's main purpose for coming to Erinsborough, however, was to reconnect with his kids. Although Izzy was thrilled to have him around, Max was convinced that Bobby would let them down again and refused to let him get too close. On Bobby's first day in town, he visited a comatose Boyd, who suddenly woke up, and he spent the weeks that followed trying to get close to his kids, taking on a job at the bar and giving Steph the money to appeal her court case, so that she and Max could legally adopt. Although he slowly managed to win over Max, it wasn't long before Janelle, Lyn and Susan realised that he had strung them all along, and they confronted him. Izzy also witnessed the confrontation, shattering her illusions about her dad, and Bobby decided to get out of town, borrowing money from Izzy as he went. A disappointed Max spotted him at the bus stop and told him to never come back.
Summer Hoyland found herself returning to her old hobby of piano playing and, when a teacher suggested that she might be good enough to specialise in it, she decided to go for a place at the prestigious Gillard School of Music. Meanwhile, Steph and Max were thrilled to be accepted as candidates for adoption and were soon put in touch with a young homeless girl, Kayla Thomas, due to give birth within the following month. After a meeting, Kayla decided that the Hoylands were the perfect people to give a loving home to her child, but the three of them soon broke the rules as Steph and Max found Kayla begging for food at Lassiter's. After another incident in which she was forced to change hostels, Steph insisted that Kayla move in with them. Whilst staying at number 32, Kayla grew close to Boyd, who realised that she didn't really want to give up her baby, but she felt that it wouldn't be fair to raise it without a father. After going into labour, Kayla was joined at the hospital by Boyd, who lied that he was Anthony, the father of the baby, who was born a girl and named Ashley. After the birth, Boyd suggested to Kayla that they get together and raise Ashley. Kayla agreed to the idea, and they were forced to break news to Max and Steph that the adoption wouldn't be going ahead. Over the weeks that followed, the five of them struggled to live under one roof, and things only got worse when adoption official Peter Reece called by, having had reports that Kayla had lived with the Hoylands before and after the birth. As a result, Max and Steph's hopes of ever becoming adoptive parents were dashed and Kayla, believing it was all her fault, disappeared, leaving Ashley for Steph to look after. They soon tracked her down to Anthony's place, where they found out that, rather than abandoning her when he found out she was pregnant, Anthony actually knew nothing about Ashley. He was thrilled with the news and promised to look after her and Kayla. Although disappointed, things picked up soon after for Max and Steph when she found out that she was finally pregnant.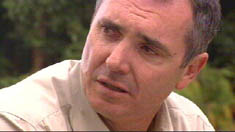 Just as Izzy was starting to relax again, she was in for a huge shock when Darcy awoke from his coma. At first, he pretended to have no memory of the incident that had led to his coma, but Izzy soon realised that he was faking and he proceeded to blackmail her with what he knew. However, as his demands increased, Karl was alarmed when Izzy gave Darcy a glowing character reference in court and he was allowed to go free. Izzy was surprised when Darcy then decided to leave town, and told her that he was wiping the slate clean. But, little did she know that he'd left a letter with Susan, explaining everything and it was going to be her undoing. At first, Susan decided not to tell Karl anything, but, during a check-up at the hospital, she snuck a look at the computer records and realised that it was all true and Izzy had fallen pregnant before she got together with Karl. Susan told Izzy what she knew and gave her 24 hours to own up to Karl. After a night sleeping in the park, Izzy returned home and told Karl that Gus was the father of the baby, before winning him back by lying that Gus had forced himself on her. Both Susan and Max were alarmed by this revelation, and, in the bar office, Izzy admitted to her brother that she'd lied. Karl overheard everything and, in the middle of Lassiter's, he told her it was over and he never wanted to see her again.
There was a big surprise for the locals mid-year when former Ramsay Street resident Annalise Hartman returned to town. During her nine years away from Erinsborough, Annalise had become a documentary maker for the BBC and was filming a piece about small communities. She'd done her research, and had tracked down dozens of former residents to ask them what the street meant to them. Once back in Erinsborough, she announced plans for a special screening of the documentary and several old faces returned for the event, including Rosemary Daniels, Lucy Robinson, Lance Wilkinson, Doug Willis, Philip Martin and Joe Mangel. Although Philip had a few choice words for Paul, who he'd last seen just before he was framed for fraud, and Lance found himself jealous of Connor, who'd apparently replaced him at number 30, things went well and everyone raised a toast to the neighbours.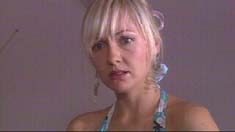 Stuart and Sindi's romance was shaping up nicely, though a string of accidents involving other neighbours – whenever Sindi was around – began to cast a shadow over things. When it looked like young Janae Timmins was coming between Sindi and Stuart, she suddenly found herself knocked off her bike by Sindi, and when Liljana's presence at number 28 threatened a romantic night in for Sindi and Stu, she suddenly found herself slipping off the greasy steps of a ladder. Meanwhile, when a reunion of Sindi's old high school class was held at the bar, her strange behaviour aroused Stu's suspicions and he found out that Sindi was held responsible for an accident which had left another girl, Kelly Weaver, in a wheelchair. It emerged that Sindi and Kelly were still close friends and Sindi regularly visited her in a local hospice. Sensing that Stu was starting to become concerned about her, Sindi decided to propose, desperate not to lose him, and the preparations for the wedding began. When Stuart was up for a promotion at work, with only one rival, Trent, for the job, another mysterious accident took place as Trent was knocked off his mountain bike in a hit and run accident. When the car matched Susan's, which Sindi had borrowed that day, Stuart started to worry, until Trent identified the driving as having dark hair and glasses. As the wedding drew closer, Stu went out on his bucks' night, but Toadie became convinced that he'd seen Sindi at the club – dressed in a dark wig and glasses – spying on her husband-to-be. However, when his proof – a video of the bucks' night – suddenly disappeared, he burst into the church, trying to stop his best mate marrying a mad woman. His plan failed and wedding went ahead, but before long, with some technical help, Toadie had retrieved his proof and headed to the honeymoon resort where Sindi quickly spotted him. Up in the bedroom, Toadie confronted her and said that he was going to tell Stu everything, at which point she pushed him down the stairs. Stu witnessed the whole thing, and although Toadie wasn't injured, he realised that Sindi desperately needed help. In the psychiatric hospital, she told Stu that she wanted an annulment and Stu learnt that this wasn't the first time that his wife had suffered such mental problems, with a previous spell in her teens. He refused to give up on her, so Sindi announced that she could never get better if Stu was around, and she transferred to another hospital in New South Wales.
Just as Karl's relationship with Izzy was collapsing around him, Susan found herself a new love interest in the shape of Alex Kinski. Alex was a widower, whose two children, Rachel and Zeke, had been home-schooled all their lives, but he had then decided to send them to Erinsborough High. Although Susan and Alex got off to a difficult start – with him voicing his concerns about the school and the fact that they had employed Paul Robinson as a business studies teacher – they were soon going on their first date.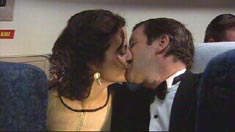 As Lassiter's hotel celebrated its twentieth anniversary, Dylan came up with a promotional flight from Melbourne to the Lassiter's casino in Hobart. Many locals received invitations but the weeks leading up to the big event proved difficult for some. With Roo - a former friend of Dylan's who he'd shopped to the police - having escaped from prison and kidnapped Stingray, Dylan was put in an impossible situation when he was then forced to commit armed robbery at a service station in broad daylight. Meanwhile, Connor, desperate to pay for a ear operation for Maddy, stole from Bounce bikini shop. Although the money was returned, Connor couldn't live with the guilt and confessed all to Toadie, just before leaving to go on the Lassiter's flight. Dylan also managed to board with the police hot on his trail, and he and Connor joined, Paul, Elle, Izzy, Susan, Alex, David, Lil, Sky and Serena on a flight which was doomed from the beginning. As the plane was being prepared, a mysterious figure planted a bomb on board and, as the plane flew over the Bass Strait, it exploded. The plane plummeted into the water and relatives and, as loved ones back in Ramsay Street waited for news, all were accounted for, except the Bishops, Dylan and Connor. Days later, David's body was found, but there was no sign of Liljana or Serena. Dylan and Connor, meanwhile, found themselves washed up on a beach, and realising that neither of them had much to return home to, decided that they would stay "dead".
As news of the plane crash, and the missing, spread, errant Timmins father Kim read a newspaper report and headed to Erinsborough to be with his family. Although his kids were happy to have him back, Janelle was furious with him and delivered a slap. Before long, the truth had come out about why Kim had walked out in the first place. There had been no other women, but Kim had turned down the offer of a huge sum of money from his parents out of pride, and, unable to live with himself for denying his family of a better life, he disappeared. In the bush, Connor and Dylan struggled to survive and made plans to get some fake new identities and head up to the north of Australia, where they could make new lives. With Dylan missing, Stingray was left to take the rap for the service station robbery and, as Dylan found an old newspaper, he realised that he would have to go home and clear his brother's name. In Erinsborough, Dylan was shocked to realise that he'd returned just in time to witness his own memorial service. As he listened to the speeches made by his family, Dylan emerged from the bushes, whilst Connor vanished once again. Dylan and Stingray's trial then came and everyone was shocked as they were both sent to prison.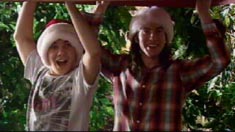 With the Timmins brothers in prison, Kim and Janelle tried to raise the money for an appeal, while Paul tried to track down Roo Hausman and prove Dylan's innocence. Meanwhile, Dylan struggled to control Stingray, whose ADHD flared up again due to his poor diet and the stress of being in prison. He soon managed to carve out a niche for himself with the other inmates, however, when he started fixing their radios. Just as the brothers were beginning to settle in and accept their fate, they were in for a shock when Roo was captured and placed in the same prison wing as them. Roo was soon head honcho around the place, but things took an unexpected twist when Stuart turned up at the prison, undercover as Roo's new cellmate Mick. It wasn't long before he was trying to get a confession out of Roo, not realising that Roo had recognised him, from a time when Stu, Sky and Stingray had been in Colac, and Roo had been spying on them. Not letting on, Roo asked 'Mick' to prove himself by beating up Stingray, but he couldn't go through with it. Roo, however, had already arranged for a riot to begin on C Wing, and the rest of the prison went into lockdown. Although Stuart managed to get out of the cell, along with Stingray, Dylan and Roo were left trapped, and Roo was armed with a knife, set to kill his former friend. During their time trapped together, Dylan forced Roo to admit to all of the crimes he'd committed, including the service station robbery, and, due to a microphone hidden in the radio, the whole thing was overheard by Stuart, and the Timmins brothers were released from prison just in time for Christmas.
Lyn soon found herself a new romance when Joe Mangel decided to hang around in town, in order to avoid going back to girlfriend Celia on the farm. However, the couple took their time getting together, with neither Steph nor Sky approving of their parent's respective new partner. In the end, it was up to Janelle to push the pair together, with Steph and Sky gradually forced to accept the idea. However, as Joe started spending most of his time at number 26, he made Lyn think about asking the Timmins family to leave. After coming home and finding the house in a mess one day, Lyn was finally pushed too far and told them to leave, with Janelle finding them a bus to live on in a nearby caravan park. Before too long, the bus was parked outside number 26, with the Timminses taking full use of Lyn's facilities and, within no time at all, they were back living in the house. Joe, meanwhile, started to realise how short life was, following David, Lil and Serena's deaths, and he proposed to Lyn. She accepted, but the wedding plans didn't get much further than ordering the wedding stationery, as Joe received a call from Toby in Western Australia. Joe explained to Lyn that he had always promised to help Toby when he started up his own farm, and so he headed back to WA to do just that, with Lyn unsure whether he would ever be back.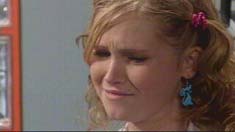 Karl, meanwhile, found himself a new role as student counsellor at Erinsborough High, with one of his regular visitors being Janae Hoyland. Janae's experiences with Chris Cousens had led to her becoming even more insecure than usual and desperately trying to keep her boyfriend, Mike Pill, by having unprotected sex with him. When she realised that he had no respect for her, she ended their relationship and started viewing Karl as something of a father figure in the absence of her real dad, Kim. But when Karl realised that Janae was relying on him too much, he suggested that perhaps she should start to see another counsellor. Janae viewed this as a betrayal and decided to run away, back to Colac, to track down Kim. Before she went, however, she left Janelle with the impression that something more than just friendship had developed with Karl and, when Janelle read her daughter's diary and saw her strong feelings for her counsellor, this only seemed to back that up. Janelle immediately confronted Karl, warning him that she would take legal action and Karl was suspended from the school. In Colac, Janae was confused as she confronted Tracey Richardson, who Janelle had claimed Kim had left her for. Tracey insisted that she'd never had any affair with Kim, as he would never do that. At her grandparents' house, Janae spoke to the housekeeper, who revealed more secrets, explaining that Kim's parents had tried to bribe him into ending his relationship with Janelle. Janae headed back to Erinsborough, more confused than before, but just in time to save Karl's reputation at his disciplinary hearing.
There were more new faces in town as Stu's younger brother, Ned, turned up to help out his brother following Sindi's departure. Across the street, one of Paul's three children with Gail, Lucinda, better known as Elle, arrived to visit her father. Paul, meanwhile, had been helping Izzy get her life back on track following her very public separation from Karl. Paul and Izzy had decided to team up, since neither of them had any friends left on the street, and he even supported her through an addiction to prescription drugs. Elle proved to be their next big obstacle. She quickly developed a crush on Ned, who in turn had fallen for Izzy. Desperate to remove the 'other woman' from her father's life, Elle set about drugging Izzy's food and making it look like her addiction had made a return. Although she almost succeeded in destroying Paul and Izzy's relationship, Elle was found out and nearly shipped back to Gail in Tasmania, until Paul had a change of heart and decided that he would like to get to know at least one of his five children. Elle, meanwhile, tried to get closer to Ned by helping him with his secret passion – to act and sing. As he auditioned for a local musical, Elle helped him with the role and quickly realised that showbiz aspirations weren't his only secret – he also had a problem with reading and writing. Over the weeks that followed, Elle stuck by Ned and eventually, whilst rehearsing a kiss in the script, it became clear that the passion had spilt over into their real-life relationship.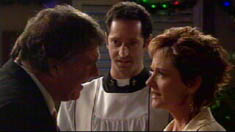 Susan's relationship with Alex quickly proved to be an eventful one when he was diagnosed with leukaemia and given only months to live. Rather than burden Susan, Alex decided to keep the information to himself and split up with her. They were unable to stay apart, however, but Alex still struggled to tell Susan the truth, instead deciding to propose to her. Susan accepted, and Alex desperately tried to find a way to beat his illness, even visiting a natural healer, who turned out to be the con artist Jonathan Verne, who had almost destroyed Stuart's life by getting him involved in Life Mechanics. Although Jonathan was finally arrested, Alex struggled to cope, admitting to his new GP, Karl, that he hadn't told his family about his condition. It wouldn't be long before both Karl and Alex realised their connection through Susan, and Karl warned Alex that he couldn't string her along like this. In the end, he told her and admitted that he had only proposed so that he could guarantee that the children wouldn't grow up alone. Susan was shocked and briefly ended the relationship, before the couple got back together. For a time, it seemed that Alex's health was improving, but, as Christmas approached, Karl explained that Alex had only days left to live. When Rachel and Zeke were finally told the truth, they set about tracking down their sister, Katya, who Alex had thrown out of home five years earlier when she rebelled following her mother's death. They found Katya and brought her to Ramsay Street just in time for Alex's wedding to Susan and to see him die later that night.
As her pregnancy progressed, Steph became more and more agitated as she started having dreams about Drew Kirk, who she'd once been in love with. When the dreams took an erotic turn, she began to wonder what it could all mean, and became concerned that her baby's life was in danger. She then began to wonder if it was a warning about Max's health, before realising that Drew had been visiting her to tell her that it was her life at risk, and, after checking, she told Max that her worst nightmare had come true – her cancer had returned.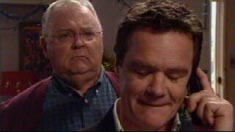 Although life in Ramsay Street continued following the plane crash, the one person who found it impossible to move on was Harold. Having lost his son, daughter-in-law and granddaughter, he was desperate for answers and for somewhere to lay the blame. He found some solace when he discovered Connor living on the streets of Melbourne and took him in. However, as the weeks went on, it became apparent that Harold was relying on Connor too much, allowing him to wear his son's clothes and even, on one occasion, accidentally calling him David without realising it. Toadie and Sky both became worried about the way Connor and Harold were handling their grief but, as Connor finally came to the realisation that his behaviour wasn't healthy, Harold's emotions poured out in an unexpected way. When Ramsay Street lost power on Christmas Day, Paul invited everyone down to the function room at Lassiter's where he laid on a banquet. Although everyone was extremely grateful, Harold was furious to see Paul happily laughing with Elle and Izzy. Later that day, as Paul spoke to his son, Cameron, Harold walked into his house and strangled him, before calmly walking away…

2005 Episode Summaries | 2005 Magic Moments | 2005 Opening Titles

Production Notes
• The 2005 season began with an updated version of 2004's opening title sequence, using the same style but all new character shots.
• Although the actual 20th anniversary was in March 2005, the anniversary episodes were screened in July of that year.