.
Neighbourhood > Ramsay Street > No. 22

22 Ramsay Street 1985-
Address: 22 Ramsay Street, Erinsborough, Victoria, 9571


Current Residents:
Terese Willis (2013-2014, 2014-),
Piper Willis (2015-),
Madison Robinson *Guest* (2016-)












Past Regular Residents:
Paul Robinson (1987-1990, 1990-1992, 2005-2007, 2007-2008, 2008-2009, 2009, 2010, 2010-2013, 2015-2016), Imogen Willis (2013-2016), Joshua Willis (2013-2016), Brad Willis (2013-2015, 2015), Kate Ramsay (2012-2013), Sophie Ramsay (2011-2013), Andrew Robinson (1991-1992, 2009-2013), Susan Kennedy (2002, 2012), Rebecca Robinson (2007-2008, 2009-2011), Declan Napier (2007-2008, 2009-2010, 2010-2011), India Napier (2009-2010, 2010-2011), Donna Brown (2008-2010), Lucas Fitzgerald (2009, 2009, 2010), Elle Robinson (2005-2009), Oliver Barnes (2008), Ned Parker (2006, 2007), Mickey Gannon (2007), Lyn Scully (2006), Oscar Scully (2006), Isabelle Hoyland (2005-2006), Lou Carpenter (1994-2003, 2003-2005), Harold Bishop (2005), Sky Mangel (2005), David Bishop (2005), Liljana Bishop (2005), Serena Bishop (2005), Valda Sheergold (2003, 2004), Nina Tucker (2003), Libby Kennedy (2002), Ben Kirk (2002), Stephanie Scully (2002), Darcy Tyler (2001), Drew Kirk (1998-2001, 2002), Louise Carpenter (1994-1996, 1996-2001), Toadfish Rebecchi (1998), Marlene Kratz (1996-1997), Darren Stark (1996-1998), Cheryl Stark (1993-1994, 1994-1996), Danni Stark (1993-1994, 1994-1995, 1995-1996), Brett Stark (1993-1994, 1994-1996), Benito Alessi (1992-1993), Cathy Alessi (1992-1993), Marco Alessi (1992), Rick Alessi (1992-1993), Christina Robinson (1990-1992), Caroline Alessi (1990-1992), Gail Robinson (1987-1989), Rob Lewis (1987), Susan Cole (1986-1987), Sam Cole (1986-1987), Clive Gibbons (1986-1987), Mike Young (1986), Zoe Davis (1986), Daphne Lawrence (1986)

Past Guest/Unseen Character Residents: Brodie Chaswick (2016), Pam Willis (2014), Doug Willis (2014, 2015), Samantha Fitzgerald (2008-2009), Robert Robinson (2006), Cameron Robinson (2006), Trixie Tucker (2003-2004), The Tuan family (1994), Raymond Lim (1992), Jenny Lim (1992), Jonathan Lim (1992), Sarah Lim (1992), Tommy Lim (1992)

Past Pet Residents: Cat (2008-2010), Jake (2007), Harvey (2006), Boots (2005), Shadow (2004), Audrey (2002), Dahl (1994-1996), Jeffrey (1993)

Despite being very much a part of Ramsay Street since 1985, the interior of Number 22 was first seen in 1986 when Dr. Clive Gibbons rented the house from landlord, Mr Harding. The house was initially decorated with white walls and white sofas and a dark wood dining suite. In mid-1986, the house was bought by the Daniels Corporation who intended to knock down the street and build a supermarket access road, but that plan was shelved, with Paul Robinson retaining ownership of the house.


In early 1987, Clive moved out of the house and into his surgery flat, with Rob and Gail Lewis taking over the lease. Paul Robinson moved in shortly afterwards having purchased the house. Paul and Gail lived there as man and wife, until she walked out on him in 1989. Although Gail received the house in the divorce settlement, Paul bought it back. In early 1990, Paul moved out into a suite at Lassiter's Hotel, renting the house to the Alessi twins, however later lodged with them, before marrying Christina.


The house was renovated extensively in early 1991 without onscreen explanation, having been repainted and refurnished. The new look included black curtains and vertical blinds.


After Paul, Christina and Andrew moved abroad in 1992, her aunt and uncle Cathy and Benito lived there for a while, until they moved to Sydney the following year. The house was rented to the Lim family for a month before being bought outright by Cheryl Stark in late 1993. The house was redecorated in Cheryl's typically tasteless style, with pink walls and pink leather sofas.


In 1994, Cheryl and her children moved into Number 24 with Lou Carpenter and the house was briefly rented to the Tuan family, however when Cheryl's mother, Marlene Kratz bought number 24 from Madge Bishop later that year, Cheryl moved back to Number 22, along with Lou and her children.


Following Cheryl's death in 1996, Lou took over the house and kept it as she had it for three years before allowing Geri Hallett and Drew Kirk to redecorate in 1999 with masculine furnishings and green walls.


In late 2003, after the house had not been seen on screen for several months, it returned with a new, pale blue colour scheme, just in time for Trixie and Nina Tucker to move in briefly. In 2004, having found himself in financial difficulties, Lou was forced to put the house on the market, selling the house to Valda Sheergold, under the guise of the Iponema Investment Group.


Valda sold the house in early 2005 to Paul Robinson, who had recently returned to the area. Following the house being trashed in mid-2005 by Liljana Bishop, who was getting revenge on new owner Paul Robinson, her ex-lover, Paul redecorated the house with a more contemporary look featuring red sofas and curtains with lilac and purple walls with an additional opening added in the wall between the hall and the lounge. In 2006, Paul signed over ownership of the house to his daughter, Elle, for financial reasons.


In mid-2009 a fire broke out in the kitchen which led to a new kitchen as well as new furniture with mainly dark wood and leather furnishings in the rest of the living area. The new decor featured blue walls with red wallpaper on the wall by the stairs. Later that year, looking for a home in which he & his fiance, Rebecca Napier, would feel able to make their own, Paul bought the house back from his debt-stricken daughter. Between 2009 and 2011 the pillar between the dining room and kitchen would appear and disappear between scenes, however this has since been removed completely.


In May 2013, the house was taken over by Terese Willis and her family, as she began working as manager at Lassiter's hotel, with number 22 provided as accommodation. In the weeks before the Willises moved in, Paul frequently mentioned that the house was being renovated. The new look number 22 was a lot brighter with more of an open plan, and the staircase had been completely opened up with a whole wall taken out. At the same time, a new purpose-built outdoor set for a number 22 back garden debuted, with a large lawn and a seating area.


In late 2015 as the bank called in loans Paul had taken out for a development project, he was forced to liquidate some of his assets including Number 22. He gave his tenant and employee, Terese Willis, who had been living in the house rent free first refusal, which she accepted off-screen. In January 2016, Terese confirmed that she now owned the house.

Trivia Notes
• The house used for the exterior of Number 22 is 2 Pin Oak Court, Vermont South, Melbourne, Victoria, 3133.
• When filming exterior scenes, an additional number 2 is stuck alongside the house numbers on the wall and mailbox.
• In real life, the living area of the house is on the upper floor, which opens on to the back garden, with the bedrooms located downstairs.
• A spa used to be located on the decking at the rear of the house.



Floor Plan (click image to see full scale)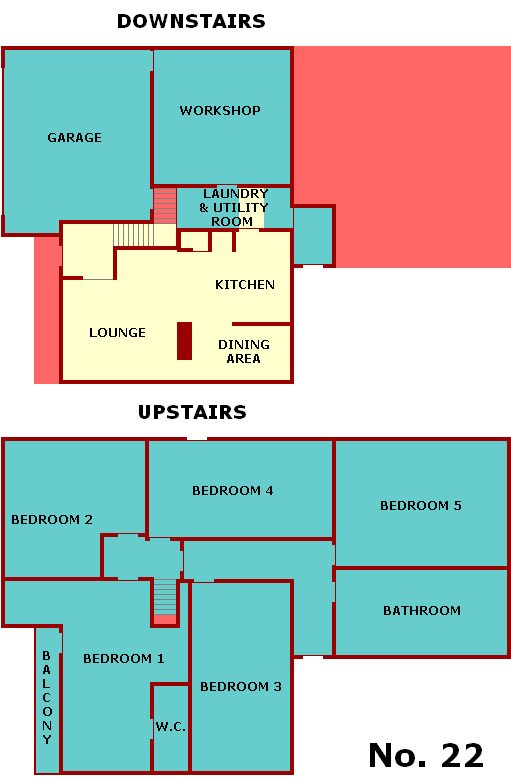 Please note: Due to studio and production constraints, alterations are often made to the layout of rooms/sets. Thus, the above illustration is intended as a plan based on the architecture of the actual houses on Pin Oak Court, and the various replicated interior layouts that have appeared on-screen over the years. Blue sections show areas which are rarely, if ever, shown on screen.
Illustration by Rhys and David
Click here for satellite photograph (from Google Earth)
Key moments (with episode links where available)
Paul and Gail's wedding
Paul and Christina re-affirm their wedding vows
Stephen and Phoebe get married and are reunited with baby Hope
Lou is shocked to find out that Cheryl Stark is the new owner
Mark Gottlieb falls off the roof
Harold strangles Paul

Gallery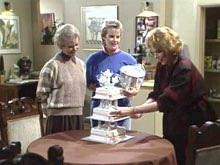 ..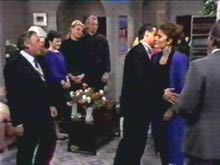 ..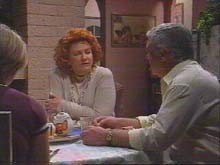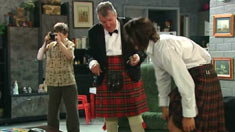 ..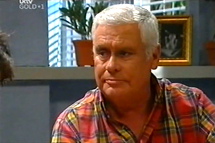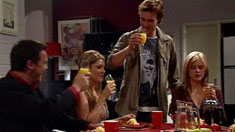 ..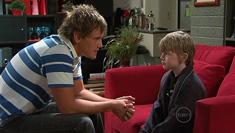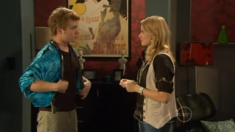 ..