.
Neighbourhood > Lassiter's > Lassiter's Hotel
2015-
Owners: Terese Willis (2016-), Quill Group (2015-2016), Paul Robinson (2015)
Managers: Terese Willis (2015-2016)
Employees: Xanthe Canning (2017-), Gary Canning (2016-2017)
Later on in 2015, for Lassiter's 30th anniversary, a new lilypad logo was created by Lauren Turner, reflecting the nearby lake. The logo was revealed during a relaunch event organised by Naomi Canning which had the concept of recreating the Lassiter's luxury hotel room experience in a glass box for all to see. Naomi had hired Aaron Brennan as one half of a couple to act out the experience, however when the actress hired to play his partner failed to turn up and Aaron's boyfriend, Nate Kinski stopped by to apologise following an argument, Naomi locked them both in the box. Realising that Naomi wasn't going to let them out until they put on a show for the gathering crowd, Nate began to act out the experience of being in a hotel room, but Aaron was desperate to escape. Nate tried to stop him, which eventual led to a full blown wrestling match between the two. The event turned out to be a complete success because of it's positive depiction of a same-sex relationship, promoting Lassiter's as a gay friendly hotel.
By the year end, Paul had lost ownership of Lassiter's after the bank called in his loans for the Freestyle development and the Quill group regained ownership.
The following year, an explosion ripped through Lassiter's, leaving Toadfish Rebecchi trapped under rubble and Daniel Robinson & Josh Willis pinned by a fallen pillar in reception. Toadie survived, being located after days of searching, but Dr. Karl Kennedy was left with option of saving Daniel by lifting the pillar however, doing so would result in Josh dying before reaching hospital. As it was likely that if Karl did nothing, both of them would die, Josh bravely instructed Karl to save Daniel, who was dating Josh's twin sister, Imogen and she would need him for support if Josh were to die as well. Daniel was rushed to hospital and lived, but Josh passed away after saying a sad goodbye to his parents, sisters Paige & Imogen and skyping his daughter, Matilda. Josh's grandfather, Doug, also died from a heart attack brought on by the explosion. Josh & Doug are memorialised by a plaque in reception.
The explosion was found to have been caused by the boiler having been tampered with. Paul Robinson, who had tampered with the air conditioning previously was the prime suspect and was later convicted, however it was eventually revealed that new owner, Julie Quill was responsible as the boiler needed replacing and after the council had rejected her plans to build a second tower for the hotel, there was no cash flow to replace it, so she intended to claim on the insurance. Unfortunately, Jacka Hills, who she had paid to damage the boiler did caused more damage than was intended, causing the explosion.
After Julie's arrest, the Quill group were forced to sell the hotel, with Terese Willis aquiring financial backing to do so, with major investment from the Udagawa Group, led by Mr Toshiro Udagawa who had done business with Paul Robinson in the 1980s.
In 2017, after a series of poor decisions by Terese, including hiding her breast cancer diagnosis, the Udagawas looked to withdraw their investment, with Paul Robinson buying their shares.
Previously...
2010-2015
Owners: Paul Robinson (2010-2015, 2015), Quill Group (2015)
Managers: Declan Napier (2010-2011), Terese Willis (2013-2014, 2014-2015, 2015), Ezra Hanley (2015)
Employees: Lisa (2010), Andrew Robinson (2010, 2012), Declan Napier (2010, 2011), Glen Darby (2012-2013), Caroline Perkins (2012-2013), Wendy Leung (2013), Mason Turner (2013-2014), Rhiannon Bates (2013), Chris Pappas (2015)
In 2010, following a downturn in business, Paul Robinson visited Lassiter's Head Office in New York to meet with the board of The Daniels Corporation to ask for a cash injection to make refurbishments to the hotel and surrounding areas in order to attract more guests. This was agreed on the basis that Paul increase increase revenue flow from Lassiter's and all associated enterprises by thirty-three and a third percent by the end of the financial year, with failure to do so resulting in him forfeiting all stock options and the termination of his employment. Work quickly began refurbishing the courtyard and adding a new mezzanine level to the hotel complete with a cafe bar and terrace overlooking the complex. The logo was also updated with a new orange, black and silver design.
Shortly afterwards, Declan Napier discovered that Paul had transferred $100,000 from Lassiter's accounts to one of his other businesses, PirateNet. Not realising that as CEO of PirateNet, his mother, Rebecca could be held accountable, Declan contacted the Chairperson of the Lassiter's board, Diana Marshall to advise her of the fraudulent transactions, who quickly flew to Australia to investigate. With the business having become Paul's top priority, his wife, Rebecca, issued him with an ultimatum to choose between Lassiter's and her. After talking to his Aunt and owner of the Lassiter's franchise, Rosemary Daniels, Paul was allowed six months off from the business and quickly appointed Declan as the new General Manager of Lassiter's Australia.
In 2013, the top two floors of the hotel were converted into a new luxury apartment complex, named Eclipse Apartments.
In 2015, Paul sold Lassiter's to the Quill group after having been falsely diagnosed with cancer by Nick Petrides, the brother of hotel manager, Terese Willis. Upon the revelation that Nick had been poisoning him and he didn't really have cancer, Paul managed to regain control.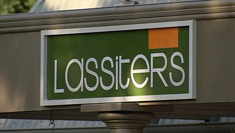 2005-2010
Owners: Elle Robinson (2007-2008), Sebastian Barnes (2007-????), Oliver Barnes (2007), Paul Robinson (2005-2007; 2008-2010), Janelle Timmins (2006-2007), Scott Timmins (2006-2007), Janae Timmins (2006-2007), Bree Timmins (2006-2007), Dylan Timmins (2006-2007), Loris Timmins (2006), The Johnson Group (2006)
Managers: Paul Robinson (2005-2007, 2007-2008), Oliver Barnes (2007-2008), Elle Robinson (2007)
Employees: Andrew Robinson (2010), Miranda Parker (2009), Yasmine Murphy (2008), Natasha Long [unseen] (2008), Brian [unseen] (2008), Simone [unseen] (2008), Kirsten Gannon (2008), Paul Robinson (2007), Elle Robinson (2006-2007), Andrew [unseen] (2007), Jamal [unseen] (2007), Rebecca Napier (2007), Declan Napier (2007-2010), Ned Parker (2006), Dylan Timmins (2006), Simon Burns (2005-2007), Carla Marshall (2005-2007)
In early 2005, coinciding with his return to Erinsborough and arson attack on the complex, Paul Robinson took over ownership, though the layout and design of the hotel itself remained much the same. In 2007, Elle Robinson conned her father out of his shares in the hotel, while Oliver Barnes also inherited a share from his late parents. Having taken over, Oliver and Elle updated the hotel logo to a modern green and orange design, and repainted the reception area and pillars in a slate grey. The hotel has numerous rooms, a Presidential suite, function rooms and suites used for business meetings, as well as a gym and swimming pool.
2002-2004
Owners: Lambert Industries (2002-2004)
Managers: Chloe Lambert (2002-2004)
Employees: Marc Lambert (2002), Felicity Scully (2002), Taj Coppin (2002-2003), Toadfish Rebecchi (2002), Tahnee Coppin (2002), Nina Tucker (2002), Andy Cooke (2002), Carla Marshall (2002-2004)
In 2002, the hotel returned to the storylines when Lambert Industries took over Lassiter's in Erinsborough and subsequently seemed to own all over branches across the world. Chloe Lambert was installed as manager, while her son Marc was vice manager. In early 2002, extensive renovations to the exterior set saw a canopy with white pillars added and a usable reception set and front entrance to the hotel complete with driveway and fountain. During this time, many younger Erinsborough residents found work with the hotel, at reception, the restaurant and in the kitchens. The gold logo was updated at this point to a new blue and yellow design.
1986-2001
Owners: Rosemary Daniels (1987-1989; 1994-2001), Cheryl Stark (1994), Paul Robinson (1989-1994), Jack Lassiter (1986-1987)
Employees: Rick Alessi (1993), Harvey Johnson (1993), Kelvin Stubbs (1990), Carl Banks (1987), Dean Bartholomew (1987), Prue Watkins (1987-1992)
Lassiter's Hotel was first mentioned by the residents of Ramsay Street in early 1986, though it was not made clear how long it had been there before that. Originally owned by Jack Lassiter, he sold it to the Daniels Corporation after they managed it well for him whilst he was touring Europe. In 1989, Paul Robinson took over as owner of the hotel, after buying out the Australian end of the Daniels Corporation, renaming it the Robinson Corporation. He remained as owner until 1994 when he sold the business to Cheryl Stark, who, later that year, sold it back to Rosemary Daniels. Very little changed about the hotel during those years, with the gold Lassiter's signage remaining until 2002, and occasional glimpses inside the hotel saw typically sterile hotel décor, featuring a lot of brown. Other branches of Lassiter's are known to exist in New York, Montana, London and Darwin. In 1999, it was mentioned that a room at Lassiter's cost over $200 a night.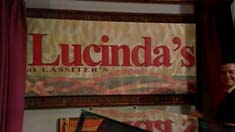 Lassiter's Restaurant, Brasserie, Lucinda's Café and The Terrace Cafe Bar have all been housed within the hotel. The Brasserie fell out of use in the mid-1990s, as did the restaurant, though it started being mentioned again when the Lambert family took over the hotel and, as of 2002, was regularly being used in storylines and for the employment of characters. In 2006, Paul Robinson temporarily replaced the restaurant with a coffee shop named Lucinda's, with the intention of driving Lou Carpenter and Harold Bishop's General Store out of business. He succeeded, and took over the store, but Lou managed to con him out of it a few months later, with Paul also agreeing to turn the café back into a restaurant so they were no longer vying for the same customers. In 2010, a major refurbishment of the hotel complex saw The Terrace Cafe Bar added on the new mezzanine level.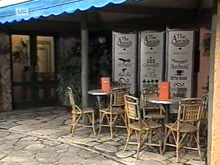 The shopping centre attached to the hotel, it housed the Lassiter's Gift Shop, run by Christina Alessi in 1990, Gabrielle's boutique owned and run by Gaby Willis which opened in 1991 and burned down in 1992, and the newsagency, originally run by Wendy Slater, then taken over by Philip Martin in 1994. He ran it for two years before quitting to become a romance novelist. From this point on, the arcade was rarely used or mentioned on screen.

Key moments (with episode links where available)

Sky & Boyd's leaving party
Rosie & Frazer's Wedding Night
Rosie & Frazer's Hen & Buck's Party
Sky goes into labour
Kim & Janelle's Wedding
Christmas 2005
Ned's Arrival
Elle's Arrival
Karl & Izzy's non-wedding
Lori's return
Karl & Susan's vow renewal
Nina loses her virginity to Jack
Jack sleeps with Izzy
Glen falls from the roof
Charlene tells Scott she isn't a virgin
Lassiter's Video


Gallery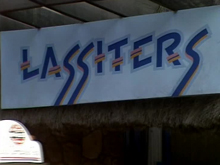 ..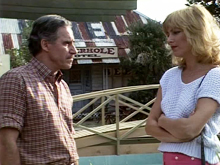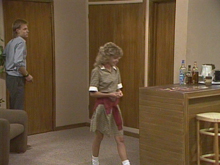 ..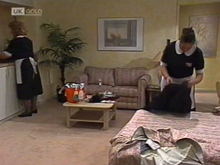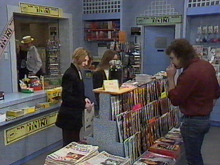 ..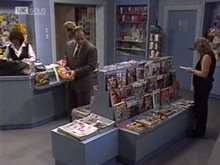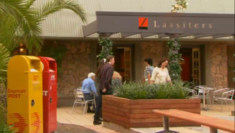 ..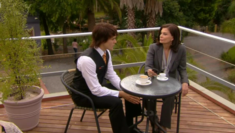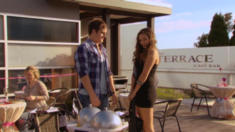 ..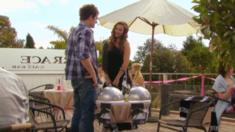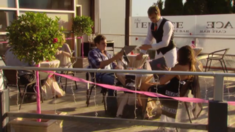 ..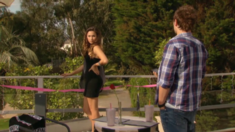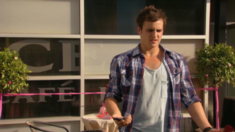 ..