.
Neighbourhood > Ramsay Street > No. 32

32 Ramsay Street 1985-
Address: 32 Ramsay Street, Erinsborough, Victoria, 9571


Current Residents:
Shane Rebecchi (1995, 2017-),
Dipi Rebecchi (2017-),
Mishti Sharma (2017-),
Yashvi Rebecchi (2017-),
Kirsha Rebecchi (2017-),
Clancy (2017-)









Past Regular Residents: Lauren Turner (2013-2017), Brad Willis (2015, 2016-2017), Paige Smith (2014-2017), Amber Turner (2013-2016), Matilda Turner (2015-2016), Lou Carpenter (2012-2015, 2015-2016), Bailey Turner (2013-2015), Matt Turner (2013-2015), Mason Turner (2013-2014), Lucas Fitzgerald (2009-2010, 2012-2013), Vanessa Villante (2012-2013), Patrick Villante (2013), Natasha Williams (2010-2012), Chris Pappas (2012), Michael Williams (2010-2012), Lyn Scully (2008, 2009, 2011), Charlie Hoyland (2006-2009, 2011), Rebecca Robinson (2009, 2011), India Napier (2011), Summer Hoyland (2002-2005, 2006, 2007, 2011), Daniel Fitzgerald (2000, 2009), Stephanie Scully (2003-2009), Zeke Kinski (2009), Ty Harper (2008-2009), Declan Napier (2009), Libby Kennedy (2008-2009), Ben Kirk (2008-2009), Toadfish Rebecchi (1995-1996, 2007-2008), Valda Sheergold (2007-2008), Boyd Hoyland (2002-2006, 2006-2007), Janae Timmins (2006-2007, 2008), Max Hoyland (2002-2007), Ned Parker (2006-2007), Isabelle Hoyland (2003-2004, 2005, 2006), Evan Hancock (2001-2002), Maggie Hancock (2001-2002), Matthew Hancock (2001-2002), Leo Hancock (2001-2002), Emily Hancock (2001-2002), Dione [Dee] Bliss (2000-2001), Teresa [Tess] Bell (2000-2001), Mike Healey (1998), Anne Wilkinson (1996-1998, 1999-2000), Ruth Wilkinson (1996-1998), Lance Wilkinson (1996-1998), Angie Rebecchi (1995-1996), Stonefish Rebecchi (1995-1996), Danni Stark (1995), Malcolm Kennedy (1995), Philip Martin (1992-1994), Julie Martin (1992-1994), Debbie Martin (1992-1994), Hannah Martin (1992-1994), Michael Martin (1993-1994), Helen Daniels (1993), Marco Alessi (1992), Beth Brennan (1992), Cameron Hudson (1992), Faye Hudson (1992), Sky Bishop (1989-1991), Joe Mangel (1988-1991), Toby Mangel (1988-1991), Melanie Pearson (1990-1991), Matthew Robinson (1990-1991), Kerry Bishop (1989-1990), Jane Harris (1986-1989), Bronwyn Davies (1988), Sharon Davies (1988), Harold Bishop (1987-1988), Mrs. Mangel (1986-1988)

Past Guest/Unseen Character Residents: Kathy Carpenter (2014), Lolly Allen (2013), Troy Miller (2012), Ashley Thomas (2005), Kayla Thomas (2005), Gus Cleary (2004), Isabella Garvey (2002), Saxon Garvey (2002), Len Mangel (1986)

NB. Len Mangel was often referred to, but never seen, until he made a brief appearance in the show in 1994.

Past Pet Residents: Cat (2010, 2010-2011), Harvey (2007-2009), Bob (2007-2008), Shadow (2004), Barney (2000), Bonnie (1996-1998), Holly (1993-1994), Crackers (1993), Fluffy (1992), Bouncer (1988-1991)

Although very much a part of Ramsay Street since 1985, the interior of Number 32 was first seen in 1986 when Nell Mangel bought the house with her husband, Len. The house had a very traditional feel with dark wood furniture, a wooden framed armchair and a small sofa with dark wood legs. The walls were white with red curtains in the lounge.


Len and Nell's son, Joe took over the house in 1988, changing the furniture slightly by adding a lot of his junk. Joe lived here with his wife Kerry until her death and then later wife, Melanie, until they departed Ramsay Street in 1991.


The house was then purchased by Helen Daniels as an investment, renting it to various people until Helen's granddaughter, Julie Martin and her family moved in at the end of 1992. The decor remained much the same, with the Martins bringing their own furniture, including an orange sofa.


Helen sold the house in 1994 to an unknown buyer, forcing Julie, husband Philip and family to move into Number 26. Philip then bought the house as an investment in 1995, subsequently renting it to the Rebecchi and Wilkinson families. Philip left Erinsborough in 1999 and rented the house to teacher Teresa Bell.


In 2001, Philip sold the house to Evan and Maggie Hancock who redecorated throughout with a yellow colour scheme in the hallway and lounge, with grey sofas and a purple kitchen. Facing huge legal bills, they sold it in 2002 to Mal Kennedy who subsequently rented the house briefly to Isabella Garvey and her son, Saxon, before renting it to Max Hoyland.


When Max's sister, Izzy began a relationship with Mal's father, Karl, in 2004, Mal put the house up for auction, with Max buying he house with his partner, Stephanie Scully. The decor remained much the same, although in late 2004, a new kitchen was fitted by Jack Scully after the old one was petrol bombed by an enemy of Boyd Hoyland's, although it was not seen on screen until early 2005. The kitchen had pale green walls and a new, half glazed door, painted blue on the inside.


With Steph having bought & moved into Number 26 in 2009, the house stood empty for many months, with Lucas & Dan Fitzgerald briefly staying rent free. In 2010. Steph finally found a buyer in school principal, Michael Williams. By the time Michael and his daughter, Natasha, moved in the house received a makeover when the Williams' moved in with new furniture, a new yellow and blue colour scheme, new doors to the kitchen and corridors to the bedrooms, plus a stained glass window between the lounge and hallway.


The house went on the market again in 2012, following Michael leaving to move to Europe with his sister-in-law, Emilia, and despite the best efforts of his daughter, Natasha who rented a room out to her friend, Chris Pappas, the house was sold to Troy Miller. Troy's ownership was relatively brief when after holding his son Callum Jones, plus ex-partner's Sonya and Jade Mitchell hostage he died following a head injury. Local mechanic, Lucas Fitzgerald used his knowledge of the events to help him secure the purchase of the house from the bank at a low price. The colour scheme remained unchanged, although the furniture was replaced.


In 2013, Lucas moved out, renting the house to the Turner family. In 2014, Lauren's mother, Kathy Carpenter purchased the house from Lucas in trust for her grandchildren, Mason, Amber and Bailey.

2015 saw the Turner children discover due to a bank error that they owned the house and in agreement they each signed over part of their shares so that half-sister, Paige would join them as equal owner of the house. With Matt unable to handle his children knowing they were his landlord, he and Lauren took on a mortgage to buy the house which despite valuations of $800,000, the children agreed to accept $740,000 which was the price Kathy had paid. Following Matt's death later that year, Lauren became sole owner of the house.


In 2017, Lauren and new husband, Brad Willis moved to Queensland to be nearer her daughter, Amber. Their daughter, Paige oversaw the rental of the property to former resident, Shane Rebecchi and his family. The Rebecchis brought with them new furniture and redecorated the hallway to replace the yellow with an off-white and main living area slightly changing the feature colour from a teal to a pale blue.


Trivia Notes
• The house used for the exterior of Number 32 is 1 Pin Oak Court, Vermont South, Melbourne, Victoria, 3133.
• When filming exterior scenes, a wooden board with the number 32 is placed over the real house number on the mailbox.
• In 1986, this house was referred to as number 19, before later becoming number 32. Up until the early 90s, establishing shots of the house still showed the letter box with the number 19 on it.
• In 2010, the owners of the real property on Pin Oak Court added stone cladding to parts of the house's exterior with no onscreen explanation.
• In 2013, the kitchen of the house was seen for the first time since 2009. Since then it had been extended giving space for a sofa. The house also gained a rear living room and a swimming pool as part of a new exterior backyard set, which included a facade of the rear of the house.



Floor Plan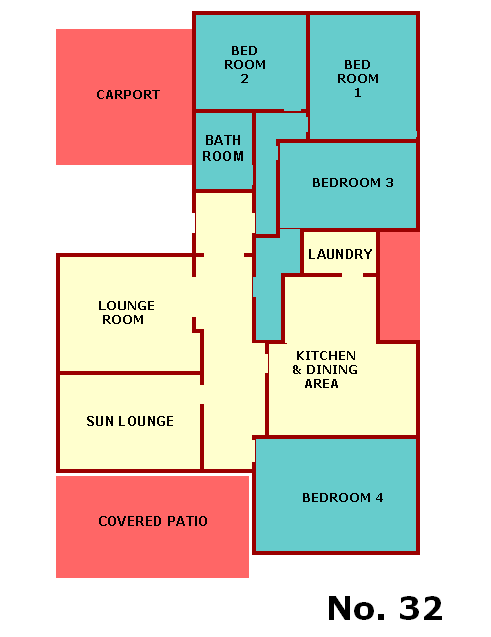 Please note: Due to studio and production constraints, alterations are often made to the layout of rooms/sets. Thus, the above illustration is intended as a plan based on the architecture of the actual houses on Pin Oak Court, and the various replicated interior layouts that have appeared on-screen over the years. Blue sections show areas which are rarely, if ever, shown on screen.
Illustration by Rhys and David
Click here for 1 Pin Oak Court's floor plan (from realestate.com.au)
Click here for satellite photograph (from Google Earth)
Key moments (with episode links where available)
The kitchen is petrol-bombed
Toadie is shot in the back by Guy Sykes


Gallery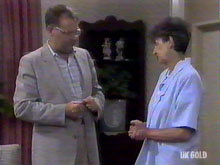 ..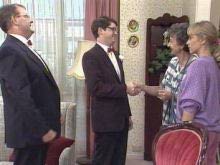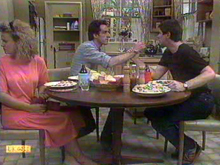 ..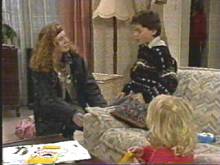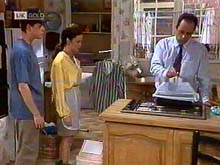 ..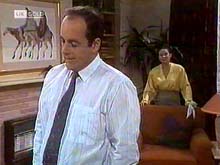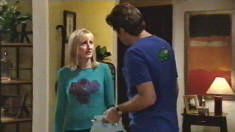 ..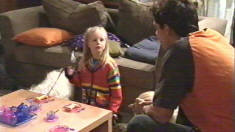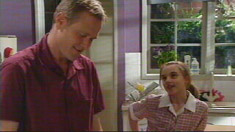 ..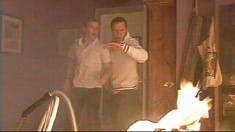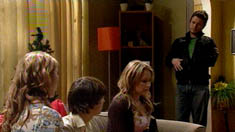 ..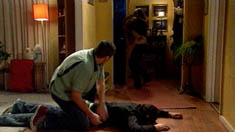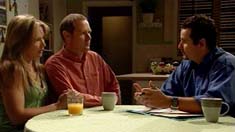 ..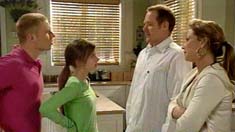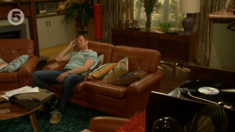 ..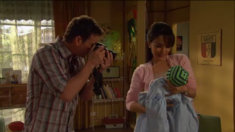 ..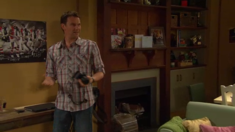 ..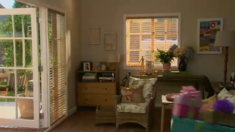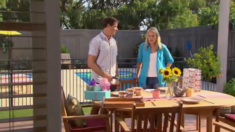 ..