.
Neighbourhood > Ramsay Street > No. 30

30 Ramsay Street 1985-
Address: 30 Ramsay Street, Erinsborough, Victoria, 9571


Current Residents:
Toadfish Rebecchi (1998-2006, 2008-),
Sonya Rebecchi (2010-2011, 2011-),
Nell Rebecchi (2013-),
Stephanie Scully (2010, 2015-),
Charlie Hoyland *Guest* (2010, 2016-)








Past Regular Residents: Georgia Brooks (2012-2014), Callum Rebecchi (2008-2014), Susan Kennedy (2011-2012, 2012), Mark Brennan (2011), Jade Mitchell (2011), Libby Kennedy-Fitzgerald (2009-2010), Ben Fitzgerald (2009-2010), Lou Carpenter (2005, 2009), Daniel Fitzgerald (2008-2009), Lucas Fitzgerald (2009), Nicola West (2008), Rosetta Cammeniti (2006-2008), Frazer Yeats (2006-2008), Ringo Brown (2007-2008), Pepper Steiger (2006-2007), Carmella Cammeniti (2005, 2006, 2007), Oliver Barnes (2007), Will Griggs (2006-2007), Ned Parker (2005-2006), Janae Hoyland (2006), Boyd Hoyland (2006), Connor O'Neill (2003-2006), Stuart Parker (2002-2003, 2004-2006), Elle Robinson (2006), Serena Bishop (2005), Sindi Watts (2005), Scott Timmins (2004), Taj Coppin (2003-2004), Dee Bliss (2001-2003), Joel Samuels (1998-2002), Felicity Scully (2001), Lance Wilkinson (1999-2001), Tad Reeves (1999), Sarah Beaumont (1996-1999), Nicholas Atkins (1998), Ben Atkins (1997-1998), Caitlin Atkins (1997-1998), Lisa Elliot (1997), Catherine O'Brien (1996-1997), Joanna Hartman (1996-1997), Jen Handley (1996), Luke Handley (1995, 1996), Cody Willis (1995-1996), Serendipity Gottlieb (1994-1995), Danni Stark (1996), Mark Gottlieb (1993-1995), Rick Alessi (1994-1995), Annalise Hartman (1994), Wayne Duncan (1994), Beth Brennan (1993-1994), Phoebe Gottlieb (1991-1993), Stephen Gottlieb (1992-1993), Hope Gottlieb (1993), Dorothy Burke (1990-1993), Toby Mangel (1991-1993), Ryan McLachlan (1991), Lochy McLachlan (1991), Matt Robinson (1989-1990), Hilary Robinson (1989-1990), Sharon Davies (1988-1990), Bronwyn Davies (1988-1989), Edith Chubb (1988-1989), Paul Robinson (1985), Terry Robinson (1985)

Past Guest/Unseen Character Residents: Harold Bishop (2011), Samantha Fitzgerald (2008), Jess Fielding (2001), Katie Freeman (1999), Peter Hannay (1999), Matt Compton (1997), Richard Jones (1997), Russell Butler (1993), The Simpson family (1985-1988), Bernie Sutton (1985), Bob Sutton (1985), Jan Sutton (1985), Carol Brown (1985), Ted Brown (1985), Josie Brown (1985), Tommy Brown (1985)

Past Pet Residents: Rocky (2009-2010), Bob (1997-2007, 2008-2009), Tazzle (2007), Yorick (2005), Audrey (2004), Bib (2003), Howard (2002), Fluff (1999), Oscar (1992-1993), Bouncer (1991-1993), Rosie (1990), Arthur (1988-1989)

Number 30 was first seen in 1985 when the house was owned by Ted Brown and his alcoholic wife, Carol. As Carol's drinking problem developed, Ted took their children away from Ramsay Street, giving Carol the wake up call she needed to seek help. The house was then sold to Jan and Bob Sutton the same year, whose son, Bernie who became a menace to the residents after being given a new BMX by his parents, narrowly avoiding being hit by neighbour Jim Robinson as he was driving into the street in his car. A few weeks later however, the Suttons were left devastated as Bernie was hit by a truck and killed whilst riding on a main road.


The house was then rented by Jim Robinson later in the year for his son, Paul, and new wife, Terry. Their marriage and tenure in the house was short lived when Terry shot Paul in the shoulder before fleeing and leaving him for dead. The house then remained off-screen with the occupants unknown until 1988 when the Simpson family moved out and the house was auctioned.


The house was purchased by Edith Chubb as an investment and when seen on screen, the layout of the house had changed completely, but the colour scheme was still very brown. The house was later rented to Hilary Robinson.


In 1990, the house was sold to Dorothy Burke, who repainted the house with a blue colour scheme and brought new furniture. The kitchen was repainted in early 1991 by Dorothy and Ryan McLachlan in a light peach colour.


Following Dorothy's departure in 1993, the house was sold to an unknown buyer, with Dorothy's lodgers Stephen and Phoebe Gottlieb renting the house and redecorating in a lime green colour. The tenants changed numerous times in the following years, but the house continued to be a share house.


Mark Gottlieb repainted the house in 1995 with a purple and yellow colour scheme. The house mysteriously changed colours again in 1997 with a light peach colour scheme throughout with no onscreen explanation.


In 1998, the then tenants, Toadfish Rebecchi, Sarah Beaumont and Joel Samuels were worried when the house was put on the market and it looked like they would have to move out, but there was relief all round when neighbour Lou Carpenter bought the house as an investment. In 2003, after threats from Lou about the state of the house, Toadie and partner, Dione Bliss redecorated the living room and hallways with a purple, yellow and blue colour scheme and a new wicker sofa with red and white cushions. The kitchen remained unchanged.


When Lou was forced to sell the house in 2004 due to financial difficulties, the house was purchased by Toadie and his housemates, Stuart Parker and Connor O'Neill. A new front door was installed later that year.

In 2006, Toadie put the house up for rent. 2007 saw Carmella Cammeniti replace the sofa and arm chair with a brown futon and matching arm chair and later the same year, Toadie oversaw the redecoration of the property with a red and brown colour scheme, new kitchen units and new furniture, including the addition of a dining table in the lounge.


2012 saw the house redecorated once again after the sofa got broken. Following Toadie's partner, Sonya Mitchell replacing the broken sofa with her own white sofa from storage, she set about refurbishing the whole house. The layout of the house was changed, with the kitchen moved, closing off the hallway, making it open to the lounge room. A fireplace was installed and the house was repainted with a turquoise colour scheme throughout, new kitchen units and furniture. Wooden blinds were added to the windows, replacing the previous net curtains.


In 2015, Toadie signed half of the house over to Sonya to show his trust in her, presumably having taken over Stuart and Connor's shares at some point off-screen.

Trivia Notes
• The house used for the exterior of Number 30 is 3 Pin Oak Court, Vermont South, Melbourne, Victoria, 3133.
• When filming exterior scenes, a number 0 is added to the brick mailbox.
• In 2004, the owners of the real property on Pin Oak Court added a new front door, which was duplicated on the studio interior. An identical back door was also installed, but was not seen on the set.
• A swimming pool is located in the back garden of Number 30.



Floor Plan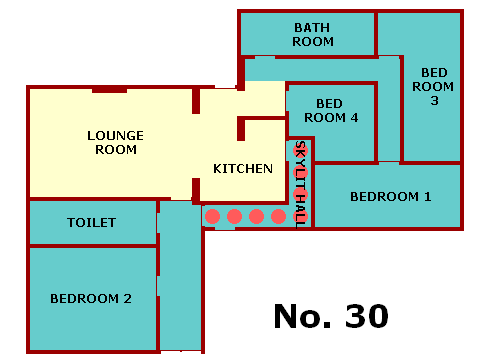 Please note: Due to studio and production constraints, alterations are often made to the layout of rooms/sets. Thus, the above illustration is intended as a plan based on the architecture of the actual houses on Pin Oak Court, and the various replicated interior layouts that have appeared on-screen over the years. Blue sections show areas which are rarely, if ever, shown on screen.
Illustration by Rhys and David
Click here for the floor plan used from 1988 to 2012
Click here for 3 Pin Oak Court's floor plan (from realestate.com.au)
Click here for satellite photograph (from Google Earth)
Key moments (with episode links where available)
Paul is shot by Terry
Brad is shot by Bob Landers
Cody is shot by drug dealers
Mickey is electrocuted by a faulty pool light


Gallery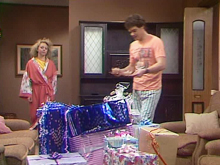 ..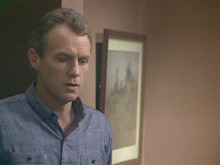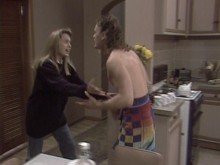 ..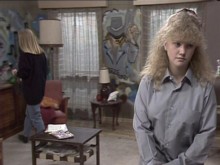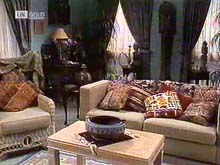 ..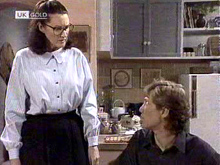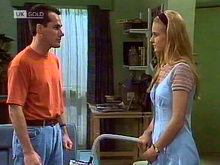 ..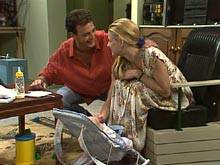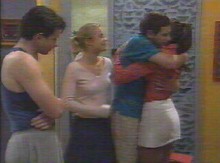 ..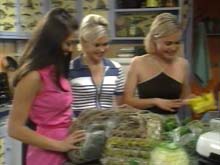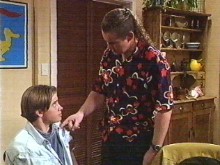 ..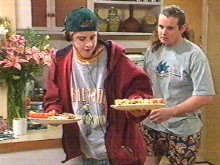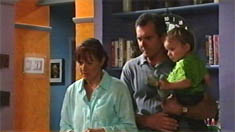 ..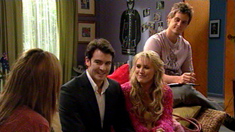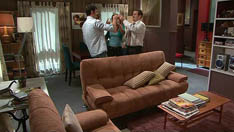 ..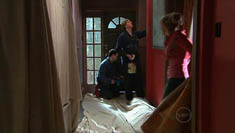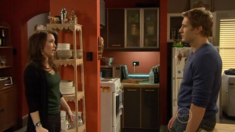 ..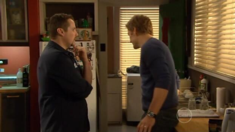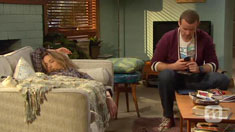 ..